Why Russia's rhythmic gymnasts are always on top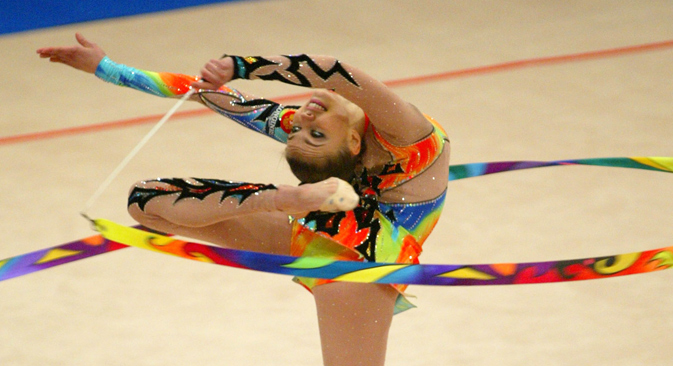 Alina Kabayeva performs with the ribbon during her routine in the team competition at the European Rhythmic Gymnastics Championship in Kiev, June 5, 2004. Source: Reuters
Russian athletes trounced their competition at this year's Rhythmic Gymnastics Championship, held in Stuttgart, Germany from Sept. 9 to 13, with new stars Yana Kudryavtseva and Margarita Mamun continuing the tradition of success built by Alina Kabayeva, Irina Chashchina and Yevgenia Kanayeva. So why are Russian gymnasts so successful?
1. Competition within the national team
Russia's rhythmic gymnastics team has always had a strong stable of gymnasts, which allows the team's star to be backed up by other athletes. The most obvious example of such "assistance" – which could also be considered healthy competition – occurred during the 2000 Summer Olympics in Sydney, Australia. After Alina Kabayeva, Russia's big favorite for the individual all-around gold medal, dropped her hoop, leaving her to claim only bronze, another Russian athlete, Yulia Barsukova, came from behind to win the competition.
All the Russian gymnasts who start practicing under Irina Viner, head coach of the national team and president of the Russian Rhythmic Gymnastics Federation, must learn one rule.

"If an athlete locks herself into her grandeur, her stardom, it is bad for everyone and, above all, for the athlete herself," Viner said in an interview with Russian daily Rossiyskaya Gazeta.
"There will be no progress in this case. While you are standing on the podium, you are lovely, you are fabulous, yes. But as soon as you get back down, you have to forget about the triumph and start practicing twice as hard."


2. My greatest rival is myself
Russian athletes have great respect for competitors from other countries, but during the events, they try not to rival someone else, but rather strive to conquer themselves.
Retired rhythmic gymnast and coach Amina Zaripova emphasized the importance of self-control when commenting on the success of her protégée Margarita Mamun, who won the individual all-around gold medal, as well as all four individual events – hoop, clubs, ball and ribbon – at the World Cup in Kazan earlier this year.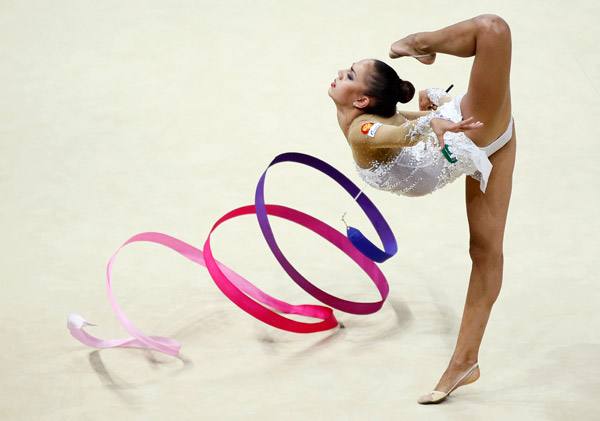 Margarita Mamun of Russia performs during the individual ribbon competition final at the 32nd Rhythmic Gymnastics World Championships in Kiev August 29, 2013. Source: Reuters
"I loved everything about Margarita's performance at the World Cup in Kazan, including her mental condition," Zaripova told the Ves Sport news agency.
"Her main rival is herself. She has to learn to deal with her fears and insecurities – not to beat Yana Kudryavtseva or some other competitor, but to conquer herself."



3. Pushing it to the limit
Russian gymnasts have always set the bar high. Being leaders, they set the pace both in individual and in group events, even when the team's lineup changes almost completely. Russia's squad for the upcoming group event of the 2015 World Championship will consist of Anastasia Maximova, Diana Borisova, Darya Kleshcheva, Maria Tolkacheva, Sofia Skomorokh and Anastasia Tatareva.
Out of the six athletes, only Maximova has some credentials – she is a three-time world champion. Nevertheless, back at the start of the season, the Bulgarian choreographer Lucy Dimitrova staged incredibly elaborate programs for the Russians, complete with "insane stunts and furious pace." The group's coach Tatyana Sergayeva explained why.
"We never go the easy way. The Russian team is the leader, so it's supposed to be head and shoulders above everyone else. We need to work so hard and later perform so well, that all the contestants should say in the end: 'Russia is out there, we cannot catch up with them!'" she said.

4. A Coach with a capital 'C'
When, back at the 2015 European Games in Baku, international journalists asked yet again how Russian rhythmic gymnasts manage to dominate and sweep all the medals at major competitions, Russia's Yana Kudryavtseva said: "Our rhythmic gymnastics school is the best – we have all the conditions for success and professional growth. In Russia, we are provided with everything – accomodation, food, training halls."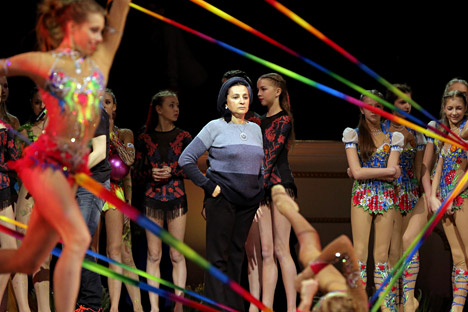 Irina Viner. Source: TASS
Margarita Mamun added that it was possible thanks to Irina Viner, saying that the coach really does know how to treat the athletes right.

"Seventy percent of my job is counselling," said Viner. "This cannot be substituted by physical exercises or brilliant choreography. I try to explain what the highest level of skill actually is, try showing them examples of such skill. It is all about a positive attitude, you have to perform with love, get into the so-called 'flow,' which is when time has no power over you and you don't care about any issues of technique."
All rights reserved by Rossiyskaya Gazeta.