6 Russian racewalkers suspended in new doping scandal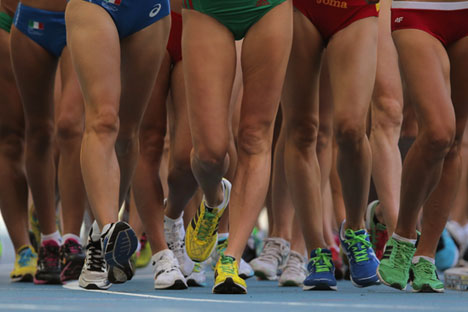 Athletes compete in women's 20 km race walk at the 2013 IAAF World Championships in Athletics in Moscow. Source: RIA Novosti/Vitaliy Belousov
Group includes European 20-km walk champion Almira Alembekova.
Six Russian racewalkers have been suspended after testing positive for doping, reported the Associated Press on Sept. 22.
Among the suspected athletes are the reigning European 20-km walk champion Almira Alembekova and 2013 World Championship 50-km walk silver medalist Mikhail Ryzhov.
The Russian side has reacted cautiously to the news, the latest in a series of doping scandals to hit Russian athletes in the last year.
"While the investigation has still not come to an end, while Test B has not been concluded, it is not worth speaking about disqualification," Vadim Zelichenok, acting president of the All-Russian Athletics Federation, told R-Sport.
"Until the official results of the investigation are announced there will be no commentary."
In mid-July the Russian anti-doping agency, RUSADA, said it was investigating notorious racewalking coach Viktor Chegin, whose students have been involved in numerous doping scandals.
Among those disqualified were Olympic champions Olga Kaniskina, Sergei Kirdyapkin and Valery Borchin.
All rights reserved by Rossiyskaya Gazeta.