Russia's 2018 World Cup director denies knowledge of prearranged decision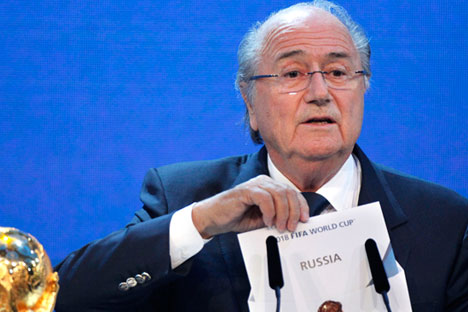 FIFA President Joseph Blatter announces Russia to host the 2018 World Cup during the announcement of the host country for the 2018 soccer World Cup in Zurich, Switzerland, Thursday, Dec. 2, 2010.
AP
Decision to hold tournament in Russia was made before vote, says FIFA head.
General Director of the Russia 2018 Organizational Committee Alexei Sorokin has denied statements by FIFA President Joseph "Sepp" Blatter suggesting that Russia could have guaranteed itself the right to hold the 2018 soccer World Cup even before the vote, which took place in 2010.
"If there were people who made the decision before December 2, fine. But we didn't know about it. We weren't aware of the executive committee's decision. I can swear on the Bible that we didn't know," the World Football Insider cites Sorokin as saying.
On Oct. 28, in an interview with the Russian news agency TASS, Blatter said that there was "an inner conviction that one championship would be held in Russia."
"It was decided, although not in writing, I suppose, that the vote would give the championship to the two superpowers: Russia and the U.S.," Blatter explained in an interview with the Financial Times. Blatter also told TASS that he had spoken about possibly holding the World Cup in Russia with President Vladimir Putin.
At the same time Alexei Sorokin says that the FIFA delegates had the right to make a decision before the official presentation of the candidates. "If there were people who had precise positions on who to vote for, that is their right. It is absolutely normal," he said.
According to Sorokin, Russia's candidacy won in a honest fight.
"We insist that our candidacy was honest, transparent and in accordance with FIFA regulations," he said.
The voting on Dec. 2, 2010 resulted in the World Cup going to Russia in 2018 and to Qatar in 2022.

All rights reserved by Rossiyskaya Gazeta.