Russian sports group suspected of bribery in doping scandal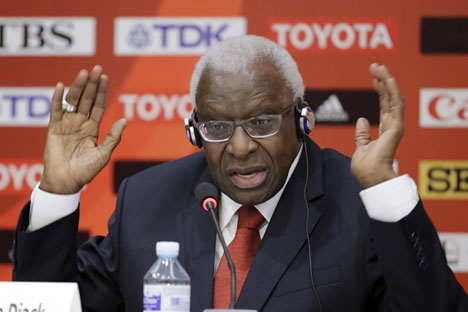 Former President of International Association of Athletics Federations Lamine Diack.
Reuters
Former IAAF head Lamine Diack is investigated on suspicion of corrupt schemes involving Russian athletes.
Russian athletes have found themselves in the center of a scandal again. This time, the All Russian Athletics Federation (ARAF) is suspected of bribery in order to conceal the use of doping.
The former president of the International Association of Athletics Federations (IAAF), Lamine Diack was arrested on suspicion of corruption in France on Wednesday, November 2. The official is suspected of accepting a bribe from the ARAF for concealing Russian athletes' doping cases, Reuters reports.
Earlier, German broadcaster ARD aired a documentary that provided evidence that suggests that Lilia Shobukhova, a winner of multiple international marathons, was caught doping and paid 450,000 euro to the ARAF management for a place on the team in the 2012 Olympic Games in London.
TASS Russian news agency reported ARAF General Secretary Mikhail Butov as saying that the federation "has never entered such relationships."
Sports lawyer Artem Patsev believes that it makes no sense for the ARAF to hide the positive doping tests of its athletes.
"Information on the doping tests of international pool athletes is first sent to the IAAF and only then goes to the national federations," Patsev said in an interview with the R-Sport news agency. "So this is a question directed primarily to the IAAF. I do not think that anyone, including the ARAF, is willing to pay that kind of money just to maintain their image in the case, which primarily concerns an athlete."
At the same time, an anonymous source of the business daily Kommersant said that corrupt machinations of the former IAAF president were not a secret for insiders.
"It is no secret for anybody in the world of athletics that Diack has created a whole system of bribes and extortion through his son, Papa Massata Diack, who until recently headed IAAF's marketing programs," the source said.
However, according to the source, not only Russia was involved in these schemes.
"The cases of doping were also covered up in the interests of other countries. Of course, not for free," the source said.
Diack, who headed the IAAF beginning in 1999, yielded the presidency in August 2015 to British two-time Olympic champion Sebastian Coe.
All rights reserved by Rossiyskaya Gazeta.