Russian sports facing Olympic ban over latest doping scandal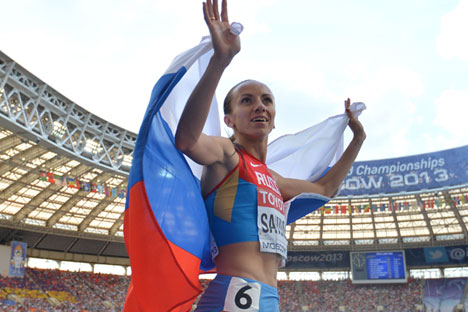 Mariya Savinova after the final 800 meters race at the women's World Championships in Athletics in Moscow.
Ria Novosti/Ramil Sitdikov
The World Anti-Doping Agency (WADA) has released a damning report revealing the far-reaching extent of the practice of doping in Russian sports, based on evidence gathered over 11 months. How have Russian and world sports officials reacted to the publication of the report and what are the likely repercussions for Russian sport?
What happened?
On Nov. 9 the World Anti-Doping Agency (WADA) presented a report outlining the vast scale of the doping problem in Russia. Prepared by a special committee headed by former WADA president Dick Pound, the dossier is based on an investigation that had lasted 11 months. It states that for a long time Russia has covered up its track and field athletes' doping violations. Now WADA is demanding harsh sanctions for Russian athletes and officials, with the possibility that Russia may be completely banned from international competition.
Where did it all begin?
In December 2014 the German TV channel ARD showed a documentary film detailing the results of an investigation into the systematic use of doping in Russian track and field events. This spurred WADA to begin its own inquiry.
In turn, the Russian anti-doping agency RUSADA also carried out an investigation, as a result of which in January 2014 an entire group of athletes was disqualified, including practically the entire racewalking team.
At the beginning of November, Senegalese Lamine Diack, who had been president of the International Association of Athletics Federations (IAAF) from 1999 to 2015, was arrested. He is suspected of having received bribes from RusAthletics for covering up doping cases involving Russian athletes.
What is Russia being accused of?
The main charge has been filed against the Moscow anti-doping laboratory, which, according to the WADA report, allegedly rigged doping tests for Russian sportsmen, first and foremost track and field athletes. In particular, citing anonymous sources among the athletes, the report says that head of the Moscow anti-doping laboratory Grigory Rodchenkov destroyed 1,417 doping tests. Consequently, with the connivance of the IAAF and RUSADA, athletes using drugs had been admitted to the Olympics in London.
Furthermore, WADA is also pointing to the fact that the Russian secret services were involved in covering up the positive doping tests: the FSB had allegedly installed its agents in the laboratory.
What is Russia being threatened with?
WADA recommends immediately banning Russian track and field athletes from participating in all international competitions, starting with the 2016 Olympics in Rio de Janeiro. Moreover, the agency suggests permanently banning five Russian female athletes, including London Olympics 800-meter champion Maria Savinova, and five coaches for anti-doping violations, as well as depriving the Moscow anti-doping laboratory of accreditation. And according to WADA chief Pound, this is only the tip of the iceberg.
"It is very probable that the Moscow laboratory contained tests taken by representatives of many other sports," he said.
What are officials saying?
WADA's report has provoked a stormy reaction from officials, with a statement made by the International Olympic Committee describing the report as "shocking." In the event the anti-doping legislature violations are proven correct, the IOC will "react by using zero tolerance." IAAF President Sebastian Coe remarked that in the current situation it would be better if Russia voluntarily withdrew its track and field team.
In turn, Russian Sports Minister Vitaly Mutko called for a more comprehensive approach to the fight against doping. "Isolation is bad for everyone. We are not the only ones to have problems in track and field. We cannot lay all the problems with track and field on Russia," he said in an interview with the R-Sport news agency, claiming that WADA had thoroughly examined the Moscow laboratory and there had been no complaints.
"For six months before the Olympic Games in Sochi about 30 WADA specialists studied the laboratory's activities under a microscope. Afterwards we went on to a brilliant performance in the games," Mutko told the Rossiya-24 TV channel.
"Then there was the water sport championship in Kazan, where we also received top marks. I don't know what went on in those six months, but again there are problems with the laboratory. And half of the problems are correctable, while nothing has been proven about the other half," he said.
Meanwhile, in an interview with the TASS news agency RUSADA Executive Director Nikita Kamayev called the WADA report "raw," saying that all he could see were "declarative statements without proof." "As of now all accusations are groundless," he said , adding that his organization had begun its own internal investigation.
What do experts think?
Sports lawyer Artyom Patsev believes that WADA's accusations are politically motivated.
"That is why all the information is given in the 'recommendation' form. Because if there was anything to be banned for, the athletes would have been banned a long time ago," Patsev explained in an interview with R-Sport.
However, anti-doping specialist Sergei Ilyukov predicts negative consequences for Russia.
"The report actually seems to be confirming rather than proving. I think the discussion will continue. I am convinced that there will be repercussions and it cannot be ruled out that they will be most sorrowful for Russia," he told Sports.ru.
Read more: Political game or 'gift' for Putin: Russian web users on the doping scandal
All rights reserved by Rossiyskaya Gazeta.