Leonid Slutsky: Footballers must be allowed to express themselves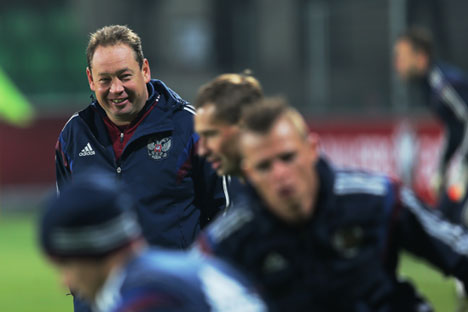 Head coach of the Russian national football team Leonid Slutsky.
Ria Novosti/Vitaliy Belousov
The Russian national soccer team's coach talks about his personal approach to player management, his attitude to limitations on foreign players in the Russian Premier League, and how he has been able to revive the national side's fortunes in three months.
The career path of Russia's national soccer team coach Leonid Slutsky is worthy of a good biopic. After being forced to retire professional football at the age of just 19 due to a serious injury, three years later he was already working as a professional coach.
By the time he was 33 he was working in the Russian Premier League and at 38 he was appointed coach of CSKA, one of the country's best teams. His second game with the army club brought him to Old Trafford, where CSKA tied (3:3) with Sir Alex Ferguson's Manchester United in a gripping Champions League match.
Having reached one Champions League quarter-final and won two Russian championships with CSKA Moscow, at the age of 44 Slutsky is now managing the national team, which has not had a Russian coach for over nine years.
Immediate adaptation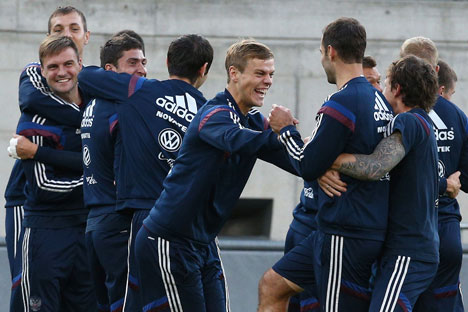 Take a guess: How justified are salaries of Russian players?
Despite having no experience with national teams, Slutsky won his first four matches in charge of the Russian side to take the squad to Euro 2016, arresting a run of lackluster results that had thrown the team's qualification for the tournament into serious doubt. Despite common opinion, he does not see a big difference in working in club or national teams.
"The principles are the same, as is the training process, the same theories, the same explanation of playing models, the same establishing of relations," Slutsky told the Kommersant business daily.
"The only thing is that what is fundamental in a club team, in a national team, let's say, must be built in a rather short period of time. Due to the tightness, work with the national team is certainly more difficult," he said.
A warm microclimate
Unlike the tough discipline espoused by former coach Fabio Capello, Slutsky coaches the team with laughter and smiles.
"I like when in the group there is a relaxed situation in non-working time. I think that football is a creative profession and in order to create, people must be spontaneous, they shouldn't live in harsh surroundings," he told Kommersant.
"But again, everything is judged based on the result. Now we see a good result and everyone says that the smiles had a positive effect. If there was no result, everyone would say there's no discipline."
Motivation and stress levels
For Slutsky motivation is very important. He invited a psychophysiologist to the national team, who then worked out each player's individual portrait.
"Many think that a psychologist is one who comes, tells the players that they're the best and they all run out onto the pitch. It's not as simple as that… I needed to see what their level of stress resistance was, how motivated they were and which of the motivating forms is the best," said Slutsky.
"Someone may have a high stress level that needs to be lowered, someone is not motivated enough and must be spurred on, someone is over-motivated and needs to be calmed down," he told Kommersant.
No to limitations on foreign players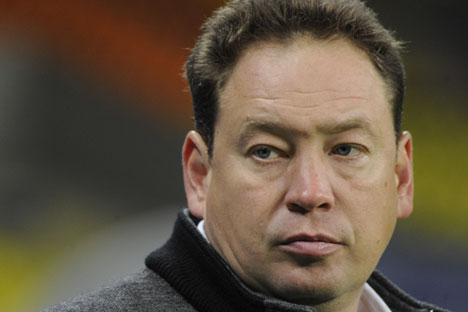 Leonid Slutsky becomes head coach of Russia's national football team
Nor is Slutsky afraid of criticizing the government. He is openly skeptical about the new rule introduced by Sports Minister Vitaly Mutko, according to which Premier League coaches must play at least five Russian players in the main line-up.
"I'm an opponent of limits. If the national team aims to achieve a maximum result, then our players must compete with the same players they play against in the European and world championships, in equal conditions, without any additional advantages," he told Kommersant.
It's all in the details
Often in his interviews Slutsky talks about the small details of the coaching process.
"I believe that one of the main components of my profession is the popularization of football. Therefore, if I'm working on such a level, I must stimulate the highest degree of interest among people. This can be done also by talking about what is happening very frankly," he said.
Contains material previously published by Kommersant
All rights reserved by Rossiyskaya Gazeta.