Winter season begins for Russia's Pacific surfers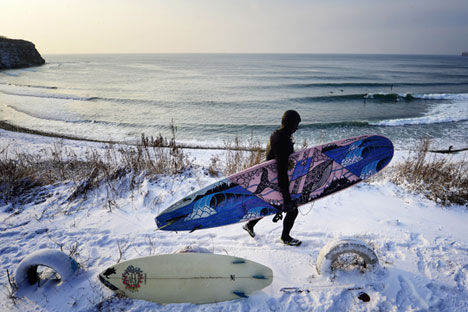 Russia. Vladivostok. 3 December 2015. A surfer on the coast of the Ussuri Bay in the Bay on the island of Russian Chernyshev.
Yuri Smityuk/TASS
Boarders from Vladivostok take on freezing waters and low temperatures.
Surfers from Vladivostok, Russia's largest port on the Pacific coast, have braved low temperatures and near-freezing waters to inaugurate the winter season, reports the website vl.ru.
In a video published by the website on Dec. 2, two young people in wetsuits venture out into the water at Chenyshev Bay on the city's Russky Island. The air temperature was about 5˚C while the water was just 3˚C.
Local surfers use wetsuits all year around since even in the summer the water is not warm enough. They do not have special "winter" boards – They use the same ones in both the winter and the summer.
"There are more of us in comparison to last year, about 15 to 20 people more," said surfer Yelena, who preferred to remain ashore. "In this weather everything freezes. You can't stay in the water for more than an hour. The bravest come ashore and then go in the water again," she told vl.ru.
Video by YouTube/ newsvlru
All rights reserved by Rossiyskaya Gazeta.