Moscow court: Doping accusations against Russian athletes are groundless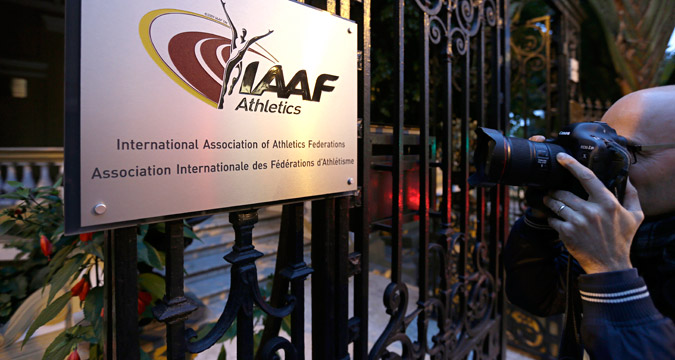 The International Association of Athletics Federations (IAAF) commission on a reform of the Russian Athletic Federation is expected to visit Russia on Jan. 10-15.
AP
Сourt rules controversial German documentary contained false evidence.
The Basmanny district court in Moscow has upheld the claim of the All-Russian Athletics Federation (ARAF) for injury to business reputation against the authors of a controversial documentary film on doping in Russian athletics screened by German TV channel ARD, which led to a ban on Russian athletes participating in international competitions.
The court found a number of the allegations made in the documentary to be untrue, TASS reports.
The film, screened in December 2014, alleged that Russian athletes were encouraged by their coaches to take banned drugs regularly.
The documentary's main whistleblowers were athlete Yuliya Stepanova and her husband Vitaly Stepanov, a former employee of the Russian Anti-Doping Agency (RUSADA), as well as the Russian national athletics team's former coach Oleg Popov.
The film caught the attention of the World Anti-Doping Agency (WADA), which soon announced the launch of its own investigation into violations of anti-doping legislation in Russia.
On Nov. 9, WADA's independent commission presented its report, in which it accused the Russian authorities of covering up positive doping tests of athletes.
On Nov. 13, following a recommendation from WADA, the Council of the International Association of Athletics Federations (IAAF) decided to suspend Russia from the competitions under its auspices, including the Olympic Games in Rio de Janeiro in 2016.
ARAF's lawyer Artyom Patsev believes that the roots of the doping scandal should be sought in the ARD film.
"Dissemination of information which is untrue provoked a global public debate," Patsev told Interfax.
"It is because of those allegations, including those that are contested by us, that the federation has been barred from participating in international competitions."
All rights reserved by Rossiyskaya Gazeta.