The 44-year-old American mixed martial arts (MMA) fighter Jeff Monson fought his first fight under the Russian flag on Christmas Day, losing to Cameroon's Donald Njatah in the town of Khimki near Moscow. In an exclusive interview with RBTH, the fighter, who has been granted Russian citizenship and has plans to settle permanently in the country, talked about his connection to Russian people, Russian literature and traffic jams in Moscow.
RBTH: How did you come up with the idea of getting Russian citizenship? What connects you to Russia?
Jeff Monson: I've been coming to Russia for five years already and it was really love at first sight. I really felt deep down right away that this is my home — the one place where I feel whole and at peace with myself and my surroundings. Home isn't necessarily the place you were born.
I love Russian art, culture and literature — especially [writer] Leo Tolstoy. I'm actually rereading War and Peace at the moment. It has so many historical themes that still have meaning today. Russian literature is fascinating for just that reason — it never loses relevance and each time you reread a Russian classic it's as if you are reading it for the first time.
But it's the Russian people more than anything else that keeps me here. They've provided me with so much support over the years. Russians are a generous, strong and thoughtful people, who embody many of the characteristics that you find in the world's best leaders and fighters.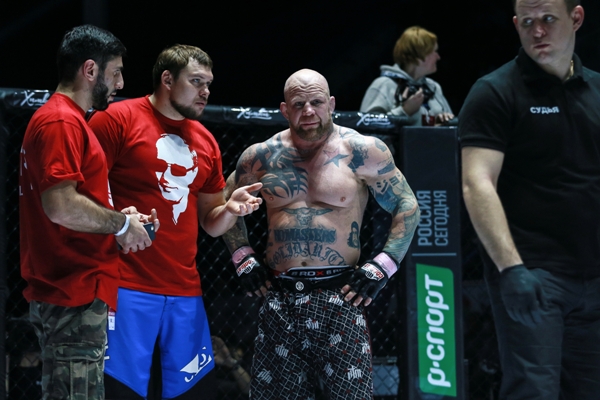 Jeff Monson. Source: Anton Denisov/RIA Novoti
RBTH: Are you planning on living in Russia permanently?
J.M.: I do plan to live in Russia on a permanent basis. The only thing preventing me from doing that now is that my family is still in America. My goal is to permanently relocate to Russia by this time next year.
I have already started studying the language and will take things up a notch in 2016. Russian is such a difficult language, but I'm extremely competitive with everything I do and will see this through. As the Chinese say, a journey of a thousand miles begins with a single step!
RBTH: How do you find Russia in everyday life? Is there anything hard or bizarre to get used to?
J.M.: I prefer life here because there is an authenticity and a humanism in Russia that is unfortunately lacking in today's heavily consumer-driven Western societies. Russia has such a kind spirit and it resonates with me. That's why I'm here.
It's funny you mention things that are hard to get used to. That would have to be the traffic. I've competed all over the world but I've never seen thicker traffic jams than in Moscow! Well, with the exception of the Philippines! But as soon as I get a handle on the language and Moscow metro, it shouldn't be much of a problem.
RBTH: You said that you were going to open martial arts schools in Russia. What exactly do you want to teach Russians?
J.M.: There are two primary goals. The first will be to teach adults self-defense. It increases your confidence and your ability to deal with unpredictable situations. Self-defense is not just about fighting. It's about becoming more attuned to your surroundings and learning to control yourself.
The second will be to teach children martial arts for free. I'm interested in helping all children but especially those in problematic situations. I'm a child psychologist and care more than anything about helping kids.
One of the things that I like about Russia is that people with a lot of money feel obligated to help others. Unfortunately, this is lacking in the West where there is so much senseless hoarding.
RBTH: Do Russian fighters have the potential to set the pace in the leading MMA promotions?
J.M.: Absolutely. There is no doubt in my mind that Russia will be the number-one MMA country in the world in a few years' time. MMA is more developed in America simply because it's been around longer. In Russia you have this wonderful tradition of sending your kids to study martial arts at a young age — sambo, judo, boxing… America unfortunately doesn't have this tradition.
If I compare MMA in Russia five years ago to MMA in Russia today, it's night and day. MMA here is fierce. This is thanks to fighters like Fedor Emelianenko, who I truly think is the best MMA fighter to have ever lived. For 12 years he faced the best fighters at the highest level and never lost. It's something that's really beyond the realm of comprehension. He's the best of the best and I hope to help him develop the future of martial arts in Russia.
RBTH: Have you been to the Caucasus? Dagestanis and Chechens are traditionally strong in the martial arts. What are your thoughts on that?
J.M.: Yes, I've visited [the Russian republics of] Ingushetiya and Chechnya. There is a storied martial-arts tradition in the Caucasus. Dagestan and Chechnya are known for their top-level wrestling. [Chechen president] Ramzan Kadyrov has played a big role in further popularizing sports in Chechnya by building infrastructure for children and also through promotional work in the media. He regularly works out with friends on camera and invites well-known athletes to the republic.
RBTH: You're 44. For how long do you plan to perform? Roy Jones failed to reach his previous level after becoming a Russian citizen. Does his experience worry you?
I'm not worried. First, let me say that Roy is a legend. He's one of the greatest fighters who ever lived. His opponent just happened to fight better that day. It's true that you always feel pressure before a fight but I do feel a bit more now because I owe it to the Russian people to win. I do realize that I am closer to the end than the start of my career, but I plan to keep going until I start to feel as though I am slowing down. Until then I will fight whoever they put in front of me in the ring. I don't care who he is. I am a fighter. This is who I am and what I do.
RBTH: Do you go to other regions of Russia?
I have traveled all over — from [Lake] Baikal to Nizhny Novgorod. And every time I visit a new city I think to myself: "Hmmm. Maybe this is where I will move for good!" That's a nice problem to have, isn't it? Russia is such a lovely country. I don't think there's any other country in the world quite like it. No kidding.
RBTH: What qualities does Jeff Monson value the most in people?
Kindness and thoughtfulness. The ability to look beyond oneself — to see the whole picture and that life isn't just about "me" and "more, more, more." If people understood that better, the world would be a much nicer place.
Most people know I'm a communist and a primary reason why is exactly that — that we've become so consumed with material things that we've forgotten we're all human and how to care for each other. We need a fairer division of wealth and opportunity.
Russia's experience with communism was in no way unambiguous but I do think that it created a certain rift between the culture here and the materialism of other developed nations. It's really tangible to me and something that I feel in my bones whenever I spend time with Russian people.
All rights reserved by Rossiyskaya Gazeta.