Will Blatter's resignation be fatal for Russia's World Cup in 2018?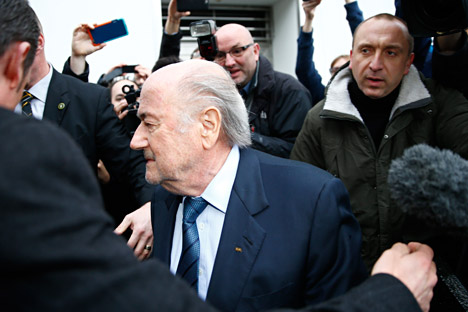 FIFA's suspended president Sepp Blatter leaves after a news conference in Zurich, Switzerland, Dec. 21, 2015.
Reuters
Following the resignation of FIFA President Joseph "Sepp" Blatter after the international soccer governing body found him guilty of a breach of ethics, speculation is again swirling about the future of the 2018 World Cup, to be hosted in Russia. RBTH asked three officials and football insiders to comment on Blatter's departure.
On Dec. 22, Joseph "Sepp" Blatter, the longstanding head of soccer's global governing body FIFA, announced that his career in football is finished. A day earlier the FIFA Ethics Committee banned the 79-year-old Swiss from all activities related to the sport for eight years.
The committee found Blatter guilty of a breach of ethics for transferring a sum of 2 million Swiss francs ($2 million) to Michel Platini, president of European soccer body UEFA, in February 2011 without documentation. Platini has also been banned from the sport for eight years.
According to the pair, Platini received the money for his work in FIFA between 1998 and 2002 as Blatter's consultant. But according to the investigation, the money was compensation for Platini's support of Blatter as FIFA's president.
Blatter's lawyers are in no rush to file an appeal, while he himself is thinking of working in journalism (Radio France International has invited him to collaborate on covering the French Cup).
Cameroon's Issa Hayatou has assumed the role of FIFA president on an interim basis in Blatter's absence, with elections for the new president to be held on Feb. 26.
Bookmakers are backing the head of the Asian Football Confederation, Sheik Salman bin Ebrahim Al Khalifa, to become the new FIFA boss. However, Russia will support the candidature of UEFA Secretary General Gianni Infantino, as Sports Minister Vitaly Mutko stated on Dec. 21 in an interview with the TASS news agency.
Will Blatter's departure prove fatal for Russia?
Boris Ignatiev, former coach of the Russian national team:
"Vyacheslav Koloskov (President of the Russian Football Association from 1992 to 2005) had established excellent relations with Blatter. He was FIFA's vice president and did a lot to help the Swiss. I think it was at that point that Blatter began considering the Russians as friends. We never let him down. Russia held and continues to hold many tournaments under the aegis of FIFA and we never refused to do so.
"Blatter valued this and defended us when Russia was faced with groundless accusations. Now the situation may change. FIFA may be led by a person who can be controlled, one who may let politics penetrate the organization. If the new director judges us not on football activities but on foreign policy, Russia may lose the opportunity to hold the World Cup. This cannot be excluded."
Nikolai Pisarev, Russian Football Association sports director:
"We don't need to worry. Russia is not being investigated by the Swiss prosecutor's office. We are calmly preparing for the Confederation Cup, which will take place in the summer of 2017. We must concentrate on the construction of stadiums and infrastructure for the 2018 World Cup, and not react to provocations.
"We have problems with the stadiums in Volgograd and Kaliningrad, but I am convinced that we will overcome the difficulties. All of FIFA's committees are pleased with our work. Only the mass media is spreading talk of the fact that the World Cup should be taken away from Russia and Qatar. I am not sure if they want to present their readers with objective information."
Alisher Aminov, independent football expert, vice president of the international foundation for human rights initiatives:
"FIFA is going through a tragic period. In the current situation it would be easier to just close FIFA and establish a new international football organization. The corruption level has reached an all-time high. It's possible that FIFA will be dissolved next year, especially if a non-European candidate wins.
"There's already been news that Europe's leading football federations are ready to leave FIFA and organize their own tournament. This will have bad consequences for Russia.
"I don't know if the World Cup will be taken away from us. There's little time left basically. But there definitely won't be any broad Russian representation in FIFA. And in the long run this will be a big blow to our interests."
Subscribe and get RBTH best stories every Wednesday
All rights reserved by Rossiyskaya Gazeta.