Pavel Kulizhnikov skates during the 500 meters at the World Cup speedskating event Friday, Nov. 20, 2015, in Kearns, Utah.
AP
With attention currently on Russian athletics for all the wrong reasons following allegations of having a state-sponsored doping program, the world records recently broken by two Russians came as welcome news. RBTH looks back at four world records set by Russians in the past that remain unbroken.
Despite the current gloom surrounding Russian athletics, which is currently mired in a doping scandal that has seen the country banned from international competition and which threatens its participation in the 2016 Rio Olympics, sports fans found something to cheer in late 2015, when Russian athletes set two new world records.
On Nov. 20, skater Pavel Kulizhnikov became the planet's fastest; he won the 500-meter event in 33.98 seconds at the ISU World Cup in Salt Lake City. By doing this, Kulizhnikov broke his own record set in the previous week in Calgary, Canada.
Nine days later, on Nov. 29, weightlifter Aleksey Lovchev marked a historic achievement. At the IWF World Weightlifting Championships in Houston, the Russian set a world record in the most prestigious contest – the clean and jerk – in the men's +105 kg. Lovchev's result was 264 kg.
Here are four Russian athletes whose records remain unbeaten even today:
Weightlifting: A record that can't be beat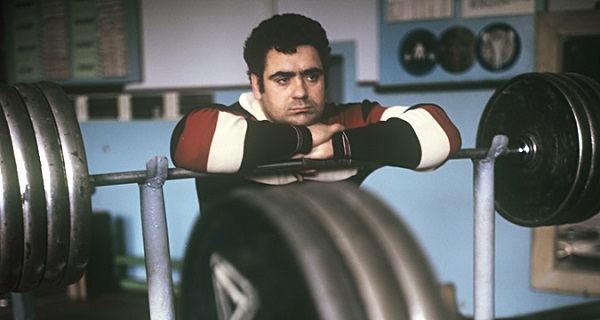 Weightlifter Vasiliy Alexeyev. Source: Fred Grinberg/RIA Novosti
The current generation of Russian athletes has someone to look up to – the most brilliant example to follow is 1972 Munich Olympic champion Vasily Alekseyev, who set 80 world records during his career.
One of them remains unbroken; in 1972, the legendary Soviet super heavyweight totalled 645 kg in the triple event (clean and press + snatch + clean and jerk) at a competition in Tallinn (then part of the USSR). This achievement cannot be beaten official triple events are no longer held.
At the time, Alekseyev was out of competition. So what was the reason for his success?
"Psychology," an article by the championat.com website quotes him as saying. "People climbed on the platform in such a state that I stared and wondered. You look closer than usual at one and he drips with sweat. You try to have a small talk with another, and he blushes and grows pale at the same time. They had weak nerves, and that's why they lost. They always fought against both me and the weight. And you should [fight] only against the weight, without looking at anyone."
Pole vault: Isinbayeva's 27 bars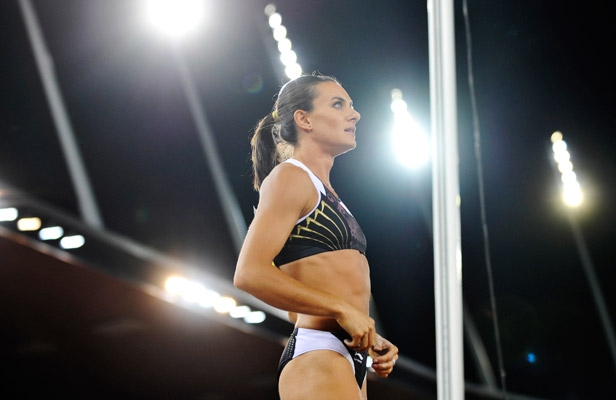 Yelena Isinbayeva. Source: EPA
The most famous Russian record belongs to one of the best athletes of our time, pole vaulter Yelena Isinbayeva.
In Zurich in 2009, the Russian vaulted a bar set at 5.06 m. No one in the world can even come close to this phenomenal achievement by Isinbayeva, for whom this record was the 27th in a row.
For example, the winning height at the 2012 Olympic Games in London turned out to as much as 30 cm lower – Jenn Suhr of the United States became an Olympic champion with a modest result of 4.75 m. Isinbayeva herself performed unsuccessfully in Britain, finishing in third place.
However, Isinbayeva, who after the Moscow World Cup in 2013 took a break in her career to have a child, has not come close to her record of six years ago. So the result of 5.06 may become a benchmark for new generations of athletes.
Hammer throw: A mighty effort from the 1980s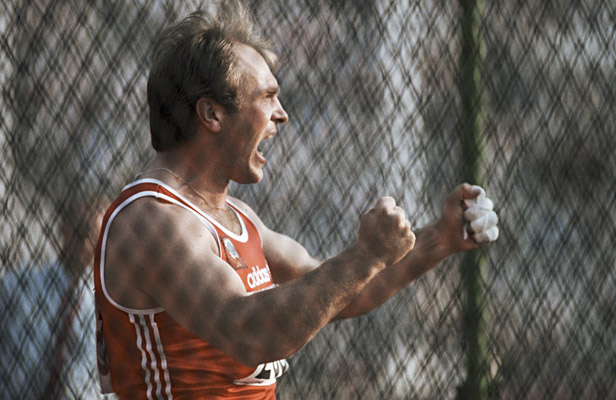 Goodwill games Champion in hammer throwing Yuri Sedykh. Source: Sergey Guneev/RIA Novosti
Over the past 30 years, athletes have managed to update world records in almost all disciplines. Few achievements remain the same.
One of them belongs to Soviet hammer thrower Yuriy Sedykh. Sedykh, a two-time Olympic champion, sent his hammer flying out to an unthinkable 86.74 m at the European Championships in Stuttgart in 1986.
"So far I can't see a man who could beat my record," the athlete – who moved to France in 1991 – was quoted (link) by the Russian weekly Argumenty i Fakty as saying.
With 16 years of professional teaching experience at the Leonardo da Vinci University behind him, Sedykh can make such a statement. The record breaker has also achieved success in coaching; his daughter Alexia became champion at the 2010 Junior Olympics in Singapore.
Shot put: Family record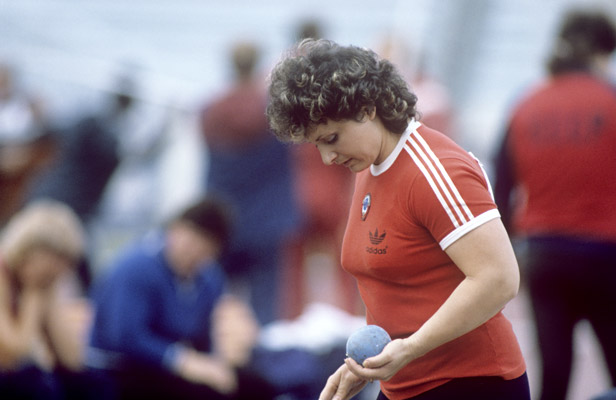 Natalya Lisovskaya. Source: Dmitry Donskoy/RIA Novosti
Sedykh's family also boasts an old track and field achievement; the athlete's wife, Natalya Lisovskaya, threw an unprecedented distance of 22.63 m in 1987.
In 1991, the Olympic champion pair moved to Paris.
"A French athletics club invited me to perform for them at a commercial competition," said Sedykh.
"I thought, why not. Especially since it was such a time: Athletes and coaches were grabbing at any offers in order to survive. It was 1991. It was not clear what would happen to the country, not to mention sports. Natalya and I were on our way to Sheremetyevo [airport] – and a column of tanks was rolling toward us..."
All rights reserved by Rossiyskaya Gazeta.