Moscow hosts its first winter bike parade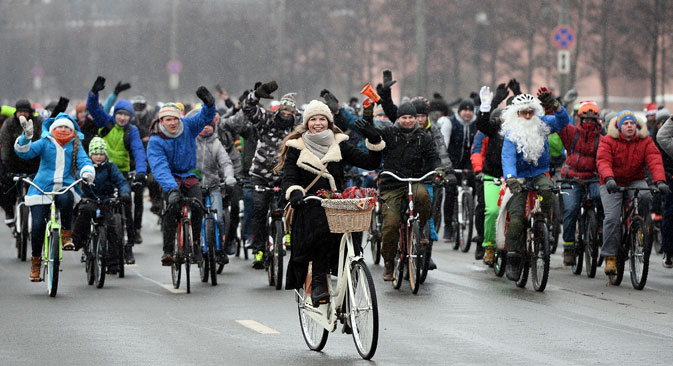 Participants in Moscow's first winter bicycle parade.
Maxim Blinov / RIA Novosti
Over 1,000 people took their bikes to the frozen embankments of the Moscow River in temperatures of -13 C (8 F).
On January 9 Moscow hosted its first ever winter bike parade. Despite freezing temperatures (-13 Celsius or 8 degrees Fahrenheit), about 1,000 people took their bikes out for a ride, the Russian News Service reports .
Participants covered a distance of 14 kilometers on their bikes along the embankments of the Moscow River. The event was open to all types of bicycles: racing bikes, mountain bikes, as well as tandem bikes and even monocycles.
The bike parade was held during the long New Year and Christmas holiday break that lasts in Russia from Jan. 1 to Jan. 10, which is why many of its participants came dressed as Ded Moroz (Father Frost, the Russian equivalent of Santa Claus). Others wore carnival masks, not least to protect their faces against the bitter wind.
This is the first winter bike parade to be held in Moscow. In 2015 the Russian capital hosted several mass bike events. The biggest of them was held in May and gathered over 25,000 participants. A night bike ride took place in July, attracting some 9,000 people.
On January 10 fans of extreme sports in St. Petersburg also held a bike parade featuring those in Ded Moroz and Snegurochka (Snow Maiden) costumes. About 200 festively-dressed people drove through the center of Russia's northern capital from Mikhailovsky Castle to Palace Square. Unlike Moscow, the winter bike parade in St. Petersburg was held for the fourth time.
All rights reserved by Rossiyskaya Gazeta.