5 Russian sportswomen to follow on Instagram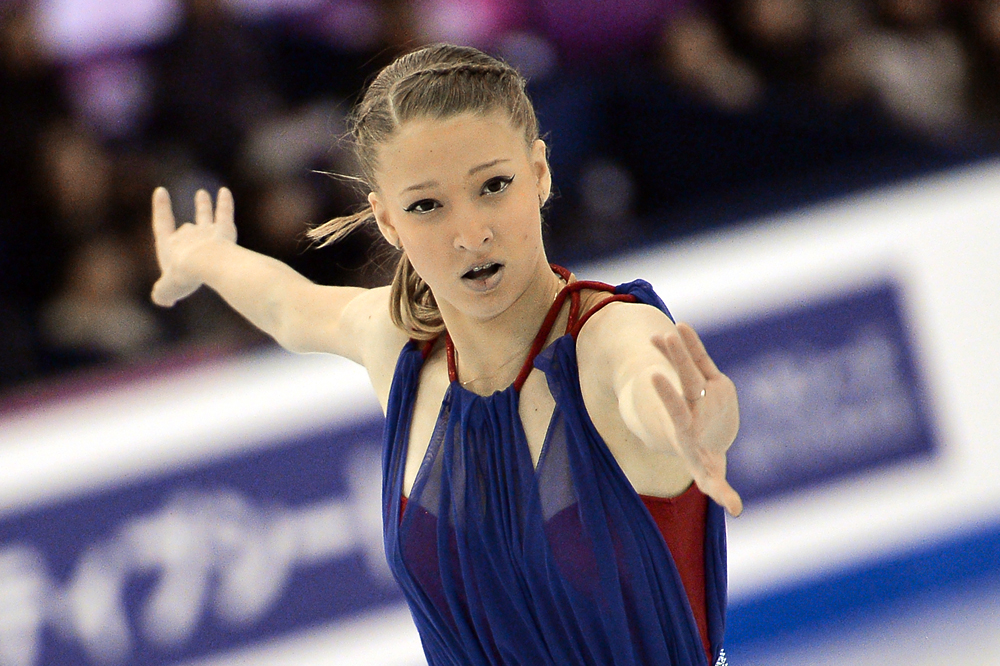 Maria Sotskova of Russia performs her free skating program at the ISU Junior Grand Prix of Figure Skating in Bacelona.
Vladimir Pesnya/RIA Novosti
Want to see some new faces in your Instagram feed? Track the progress of these five young Russian sportswomen as they follow the road to future sporting stardom.
1. Yulia Kanakina: How ballet lost out to skeleton
Skeleton racer Yulia Kanakina has not won any international competitions yet but she already has more than 5,000 followers on Instagram. Kanakina gets "likes" because of her glamorous appearance and photos of the Alpine beauties of the Königssee, Altenberg or Ramsau, where the bobsleigh, luge, and skeleton tracks are located. However, Kanakina admits that such close attention embarrasses her a little bit – she would prefer people to talk about her, first and foremost, in the context of sports.
Kanakina came into skeleton quite late, at the age of 14 …from ballet. At first the young athlete's ballet experience more hindered than helped her in skeleton – it was hard to get used to a new running technique. On Kanakina's Instagram page you can check whether a skeleton racer's salopettes suit the former ballerina.
2. Daria Kasatkina: The next generation of tennis stars
At the age of 18 Daria Kasatkina is already one of the world's top 100 female tennis players, and has been called the rising star of Russian tennis.
Last year Sports Illustrated named the young woman WTA rookie of the year, while in 2016 Kasatkina managed to play with both Williams sisters, defeating Venus at the Auckland tournament and losing to Serena in the third round of the Australian Open.
While tennis experts talk about the potential of this future star, on her Instagram account Kasatkina makes a declaration of love to Lionel Messi and FC Barcelona, posts a selfie with her idol Rafael Nadal and never forgets about cats and picture-postcard views.
3. Maria Sotskova: Follow her before everyone else does
If you want to know everything about the next big star of figure skating, follow 15-year-old Maria Sotskova. At the last Russian Figure Skating Championship she performed better than Olympic champions Adelina Sotnikova and Yulia Lipnitskaya, coming fifth.
On the ice Sotskova is always accurate and concentrated. To find out what she is like in everyday life, have a look at her Instagram page.
4. Darya Klishina: All the glamor of Russian sports
Beaches, yachts, parties – if you want more beautiful life on your feed, just take a look at Darya Klishina's account. Although the blonde long jumper came only 10th at the world championships in Beijing, this does not affect her commercial success. The sportswoman has no lack of private contracts with various brands – Klishina has already showed up in advertising campaigns for large companies such as Red Bull and Seiko.
The sportswoman's affairs are run by the global agency IMG, which last fall helped Klishina join Maria Sharapova in becoming a face of the NikeLab x Sacai winter collection.
In Russia the young woman also works as a TV presenter for a sports channel. According to her Instagram photos, in her free time she just enjoys life.
5. Alyona Lutkovskaya: In pursuit of Isinbayeva
Pole vaulter Alyona Lutkovskaya has every chance of equaling the fame of her illustrious colleague Yelena Isinbayeva.
Hailing from Siberia, 19-year-old Lutkovskaya has already beaten the junior records set by Isinbayeva. In one of her interviews, Lutkovskaya said that she aims to jump 5.20 meters – the current world record held by Isinbayeva is 5.06.
Visit her Instagram page and find out firsthand how this irreverent junior is preparing to become the pole vaulter of the century.
All rights reserved by Rossiyskaya Gazeta.