This time last year, Russia fans were pessimistic. Under the guidance of Fabio Capello, the team was limping through its qualifying group with some uninspiring football and shocking results.
Aside from a 4-0 win over lowly Liechtenstein (aided by two own goals and a penalty) and a technical victory in Montenegro awarded after crowd trouble stopped play in Podgorica, Russia had not won a competitive fixture in 10 attempts dating back to before the 2014 World Cup.
But when the Italian (whose low-key approach was no more popular in Russia than it had been in England) was replaced by Leonid Slutsky, everything changed.
Slutsky, a young coach who had piled up the trophies after taking charge at CSKA Moscow, made no profound changes to the playing staff: Russia's talent pool is not so large that the coach has a wealth of options to choose from. But he immediately galvanized his team into action and shook the fans from their lethargy.
A 1-0 win over Sweden in a vital showdown before a sell-out crowd in Moscow in early September set the tone. Russia weren't always pretty to watch, but they were showing spirit and fight once again. Slutsky wrapped up the qualifying phase with four consecutive wins, beating the Swedes to the second qualification spot and restoring some pride in the team.
Russian talent
A combination of experienced defense and a fresh creativity up front could be clicking into gear at the right time, with CSKA playmaker Alan Dzagoyev providing the ammunition for Zenit St. Petersburg forwards Artem Dzyuba and Alexander Kokorin. These players, along with Zenit pair Igor Smolnikov and Oleg Shatov, could be the next to attract covetous eyes from Europe's top leagues with a strong performance on the international stage.
There are shades of Euro 2008. Then, Russia crept into the finals under the radar when a famous win over England was combined with some stuttering performances in places such as Israel. Guus Hiddink's squad was the dark horse, unheralded until it galloped into the semi-finals in thrilling fashion. Along the way, the likes of Andrey Arshavin, Roman Pavlyuchenko and Yuri Zhirkov earned high-profile moves to the Premier League.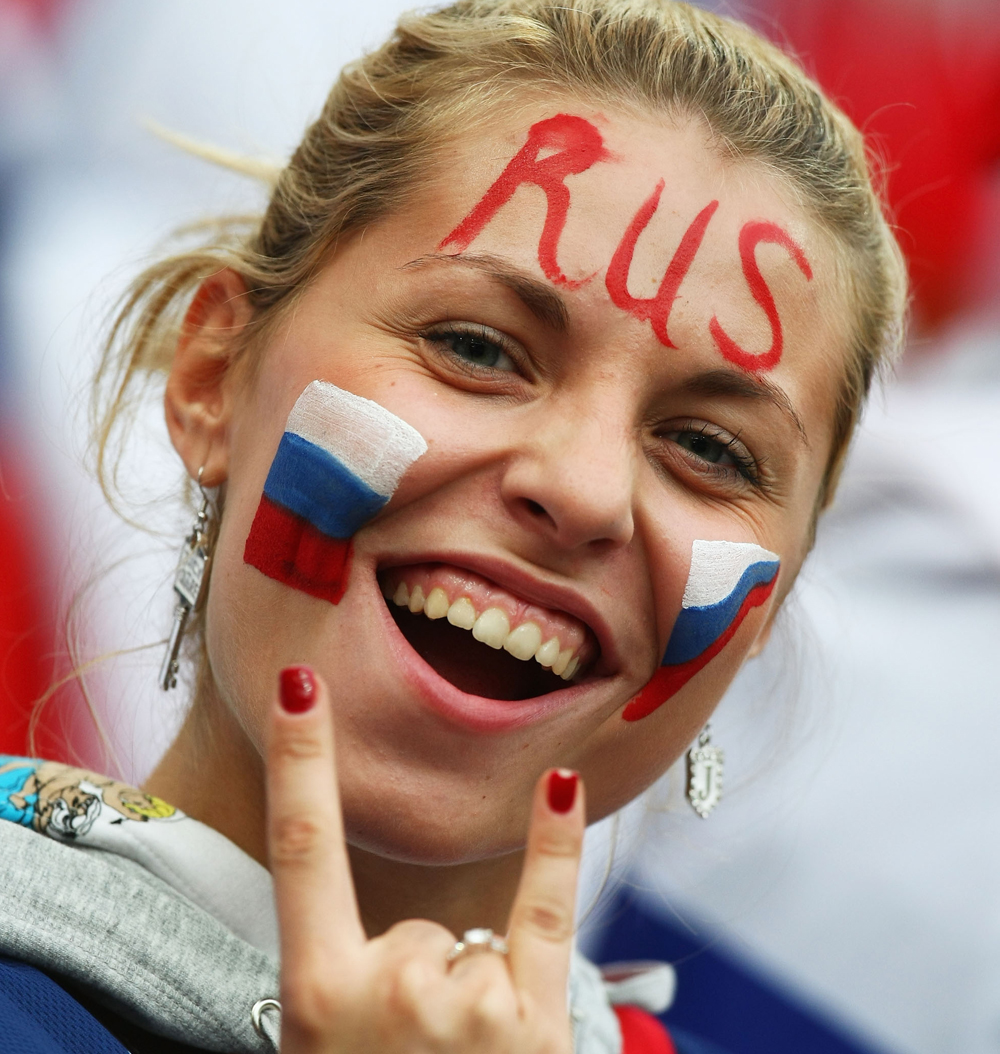 A Russia fan signals her approval. Source: Getty Images
Now Dzyuba, who was Russia's leading scorer in qualifying, believes that the same could happen again. After the team's recent 4-2 defeat in a friendly match in Paris, he told Nash Futbol TV that the Russian layers had "learned a lot" from the game.
"Maybe they were a bit faster, a bit more skilful, but we gave them a game," he said. "After we hammered Italy on the way to Euro 2012, everyone was shouting about how we could beat anyone. Now we understand that we're not going there as favorites, but we could be a strong outsider."
Sometimes it feels like there is greater excitement about English football in Russia than there is about the domestic game. When the free-to-air TV channel Rossiya-2 had the rights to Premier League football in 2010-11, it was advertised as "The Motherland of Football" and the channel called its version of Match of the Day "Her Majesty's Football."
Viewing figures for top English teams often outstrip their Russian counterparts and there's a special frisson around games between English and Russian sides, whether at club or international level.
"Lots of fans from Russia are planning to go and, so far as I know, we have sold all the tickets in the Russian end for the group games," he told RBTH. "I hope that English and Welsh fans will do the same and we can all look forward to a great occasion."
There is some similarity between England's prospects and Russia's. England are introducing a new generation of players, just as Russia's Euro 2008 generation hands over to the players who will lead the challenge at the home World Cup in 2018.
And England's mixed results in recent friendlies – victory in Germany, a defeat at home to the Netherlands – swiftly raised and dampened expectations.
Starov anticipates a draw: "England are picking up again. A lot of players have retired but are being replaced by talented young Lions. Russia vs. England should be a fast-paced game, good to watch and with both teams scoring."
Welsh riddle
At this level, the Welsh are an unknown quantity. The last time the team reached a major championship was back in 1958. But under Chris Coleman, the team has harnessed the unique talent of Gareth Bale – a truly world-class player – to end more than 60 years of waiting for a return to the top.
While the Real Madrid winger is the stand-out player for his country – and should be one of the best players in France this summer – the rest of the Welsh team holds little fear for Russia, according to Starov. But he is not expecting a great game of football in Toulouse as the group stage comes to an end.
"Bale has proved himself as a great player, but I don't think we'll see an exciting game," he said. "It's going to be a tough battle and probably one goal will settle it."
For Wales, though, the game is a revenge mission. In 2003, victory over Russia in a play-off would have sent the team, spearheaded by Ryan Giggs, to Euro 2004. An aggressive first leg in Moscow finished goalless, with a running battle between Giggs and Vadim Evseev enraging Welsh fans. Evseev had the last laugh: The full-back headed a rare goal to win the second leg in Cardiff. Russia progressed, with Wales once again left contemplating a shattered dream.
All rights reserved by Rossiyskaya Gazeta.