Keeping the stress out of chess: How Russia's youngest grandmaster trains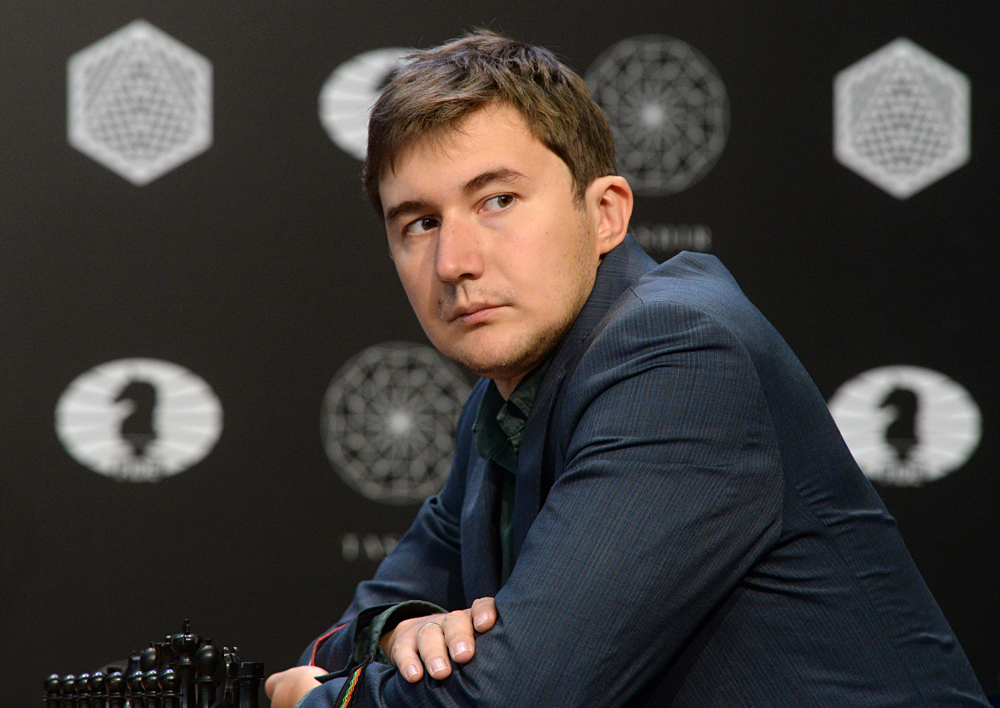 Grandmaster Sergei Karyakin (Russia) competes in the fifth round of the World Chess Candidates Tournament in Moscow.
Vladimir Fedorenko/RIA Novosti
Fitness, supercomputers, relaxation and the daily routine: Russia's young chess star and challenger for the world chess crown Sergey Karjakin shares his winning secrets with RBTH.
Top chess players are getting younger and younger. Two 26-year-old contenders, Sergey Karjakin and the defending world champion, Norwegian Grandmaster Magnus Carlsen, will meet in a battle of wits for the world chess crown in New York in November 2016.
Ukrainian-born Karjakin is the new hope for Russian chess. In 2002, he became a grandmaster at the age of just 12 (this put him in the Guinness Book of Records), having won a resounding victory over other contenders at a Moscow tournament.

Leading chess players have a tight schedule, with one tournament following another in quick succession. Moreover, rapid chess (which is increasing in popularity) requires the utmost concentration from players. So how do players deal with this stress and turn up for the most important matches in the best shape?
Teamwork
A player aiming for serious titles must have their own team – a personal manager for dealing with potential sponsors and the press, chess coaches and physical training specialists.
Karjakin works with three grandmasters: Yury Dokhoian, Alexander Motylev and Vladimir Potkin. The 2013 World Rapid Chess Champion Shakhriyar Mamedyarov from Azerbaijan trained Karjakin for the Candidates Tournament.

Fitness

"Before major tournaments we, as any other athletes, go on a training camp. It's 2-3 weeks of hard training," said Karjakin. "I prefer going to the beach in Egypt or in the UAE. Before the Candidates Tournament, we spent three weeks together with the team in Dubai."

Every day he spends 6-7 hours practicing chess and 2-3 hours doing exercises. Karjakin prefers going swimming or playing beach volleyball.

"Sometimes during the tournaments one match-game can last for 6-7 hours, you need to keep concentration, but if you're physically weak, then it will definitely have an impact. Fatigue will lead to mistakes and blunders. Therefore, we must be strong lads in all ways – not only with our heads, but also with our muscles," said Karjakin.
Digital sparring partner
During practice, the grandmaster analyzes different strategies with his coaches, but they try them out only on a computer. According to Karjakin, a player at his level requires quite expensive hardware and software. The total cost exceeds $50,000.
Karjakin tries out every element of the game using the computer: attack, defense, holding position, strategy while playing black and white. The computer also helps to prepare for a particular enemy: It simulates the game of the next opponent based on all the match games stored in the database.


Regimen

Karjakin admits that sticking to a regime was previously one of the biggest challenges for him during the tournaments. He stayed up and got up late, sometimes not being able to eat substantially before a match
"Training camps are useful because they help you to get accustomed to the daily routine," said the grandmaster.
"You wake up at 7 or 8 a.m., afterward you do exercises, and then breakfast. If you come hungry to the beginning of the game after a few hours you start thinking much worse, you're more likely to make a mistake. Graduated exercise training helps me to go to bed on time."

It's no secret that some chess players, particularly the old-school ones, need alcohol in order to relax. For Karjakin, however, this is unpermissible: All he allows himself is a glass of wine, but only after a tournament.
All rights reserved by Rossiyskaya Gazeta.