Promoter Ryabinsky denies that boxer Povetkin failed doping test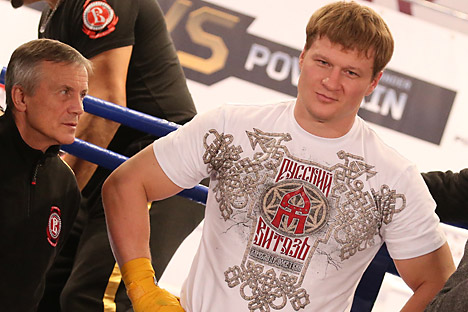 Russian boxer Alexander Povetkin.
Photoshot / Vostock Photo
Meldonium content in his blood is 15 times lower than the prohibited level
Russian boxer Alexander Povetkin did not fail a doping test and meldonium content in his blood is 15 times lower than the prohibited level, Andrei Ryabinsky, the head of the promotion company Mir Boksa, said.
"We are very interested in clean sports. We are against doping. Extra tests will be performed. Several test samples were taken from Sasha [Povetkin]. One of them showed a meldonium blood content of seventy nanograms. And the sanctions begin at 1,000. After the tests, we will schedule a new date of the fight and will hope to conduct it. It's a pity it has to be delayed," Ryabinsky told a briefing on May 16.
He also said the promotion center Mir Boksa intends to prove that the presence of meldonium in Povetkin's blood is a residual effect from the drugs taken last year.
"WADA cannot make any official complaints about Povetkin. He had three clean doping tests before April 11 and he had a 'dirty' test on April 27. Even if Sasha had taken doping in that period, meldonium content in his blood would have been at least 1.5 micrograms, not the microscopic amount of seventy nanograms. It's a residual effect from last year, and we will prove it," Ryabinsky said.
Povetkin, for his part, told a press conference he is worried about the doping test result because he has not taken mildronat since last year.
The World Anti-Doping Agency (WADA) put meldonium on the list of prohibited substances on January 1, 2016. Many Russian athletes tested positive for meldonium this year.
Povetkin was to have a champion fight with American Deontay Wilder in Moscow at the WBC on May 21.
All rights reserved by Rossiyskaya Gazeta.