The Lancashire lad who became a soccer star for the Tsar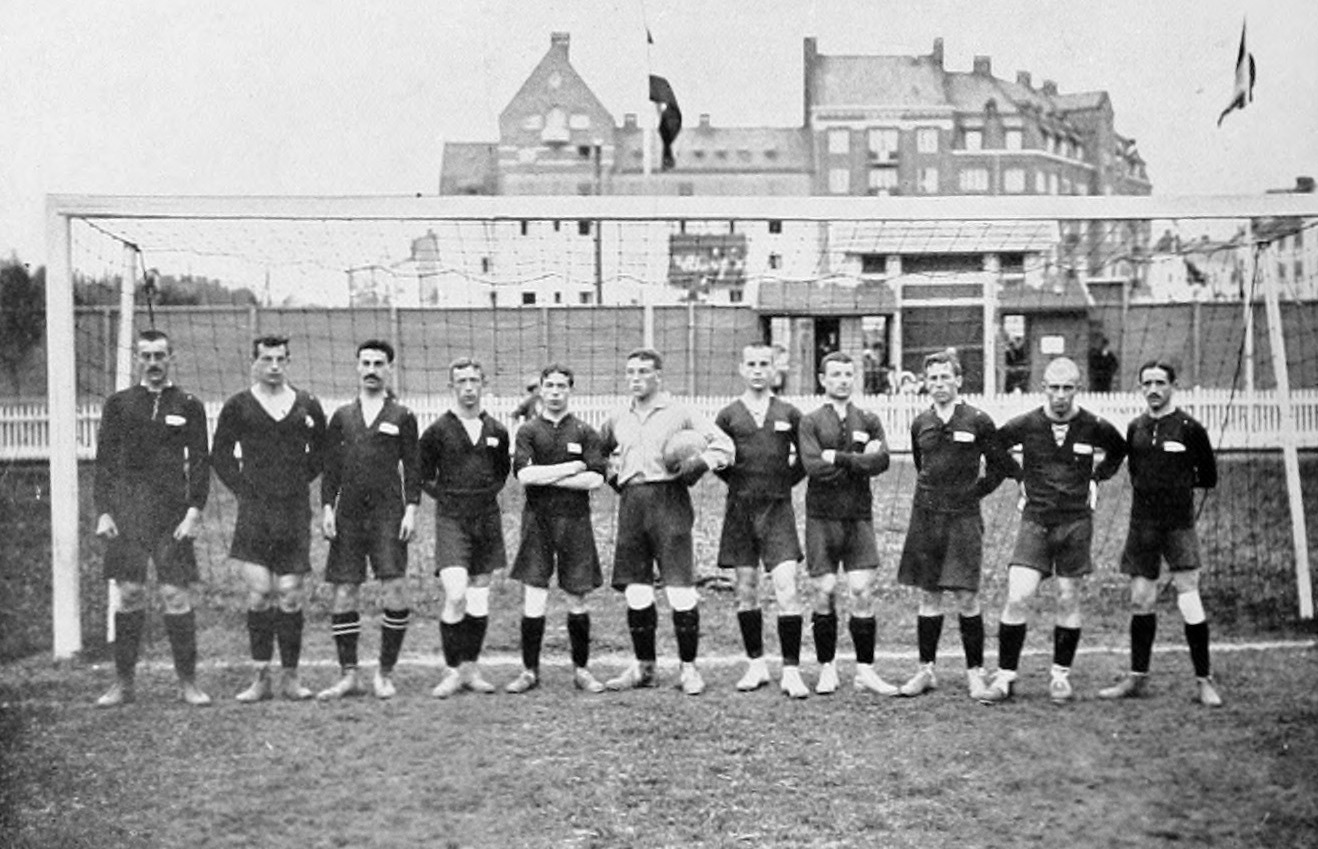 The Russia national football team at the 1912 Summer Olympics.
Wikipedia
How English engineer and amateur footballer Billy Charnock went to work at a mill near Moscow and ended up leading the fledgling Russian national side to its first victory.
Long before Andrei Kanchelskis played for Manchester United, or Andrey Arshavin for Arsenal, a star of the British amateur game had brought his footballing skills to Russia.
Few now remember the story of Billy Charnock, engineer and amateur sportsman, but his remarkable journey took him from Durham University to wearing the captain's armband as Russia's representative football team claimed its first international victory.
Charnock was a keen sportsman in his university days, gaining his palatinate, Durham's equivalent of an Oxbridge blue, for football in the 1904-05 season. He also played for Bishop Auckland, fledgling legends of the amateur game, helping the Co. Durham team to become the Northern League's amateur champions in 1906.
Billy Charnock (front row, second right). Source: Open sources
Indeed, Charnock scored the equalizer against Sunderland A in a play-off at St. James's Park, Newcastle, forcing the 1-1 draw that persuaded the league management to hail the Red and Whites as professional champions and the Two Blues as the amateur kings. He was also part of that year's FA Amateur Cup final line-up.
Destiny calls
But his destiny lay far from those northern pitches. Armed with a diploma in electrical and mechanical engineering from Armstrong College, then part of Durham University, he headed to Russia where several other members of the extended Charnock family worked in the fabric mills of Orekhovo-Zuyevo, 50 miles east of Moscow.
The works team, known as OKS, played in the blue-and-white colors of Blackburn Rovers, the Charnocks' local team in England, and eventually became one of the heavyweights of the Moscow football championship.
The original old-fashioned center-half
By the time Billy Charnock followed in his uncle's footsteps, the game was attracting Russian players as well as British expatriates. Before long there was international competition: in 1910, Billy Charnock represented a Moscow League XI (with just two Russians in the team) against Corinthians, a touring team from Bohemia. By 1913 the balance had shifted, and Charnock, now captain, was one of just two expat players involved in a historic 3-0 victory over Norway in Moscow on Sept. 7.
Also known by the Russified name of Vasily, Charnock played at center-half, the pivotal role in the heart of midfield in the old 2-3-5 formation of that era. His contribution got a rave review from Futbolist magazine, which wrote: "He only adopted this position very recently but commends himself as a good player, possessed of an amazing facility to move the ball forwards. He has a strong shot and passes the ball perfectly to the forwards, especially the wingers. Moscow has never seen a better central midfielder."
When, in 1917, the revolution forced the Charnocks to flee Moscow, Billy settled in Leek, Staffordshire. OKS became a sports club for the Soviet secret police, gaining global fame as Dynamo Moscow, and still plays in those Blackburn-inspired blue-and-white kits to this day.
All rights reserved by Rossiyskaya Gazeta.