Will Russia's Rio Olympic hopes drown in Rodchenkov cocktail?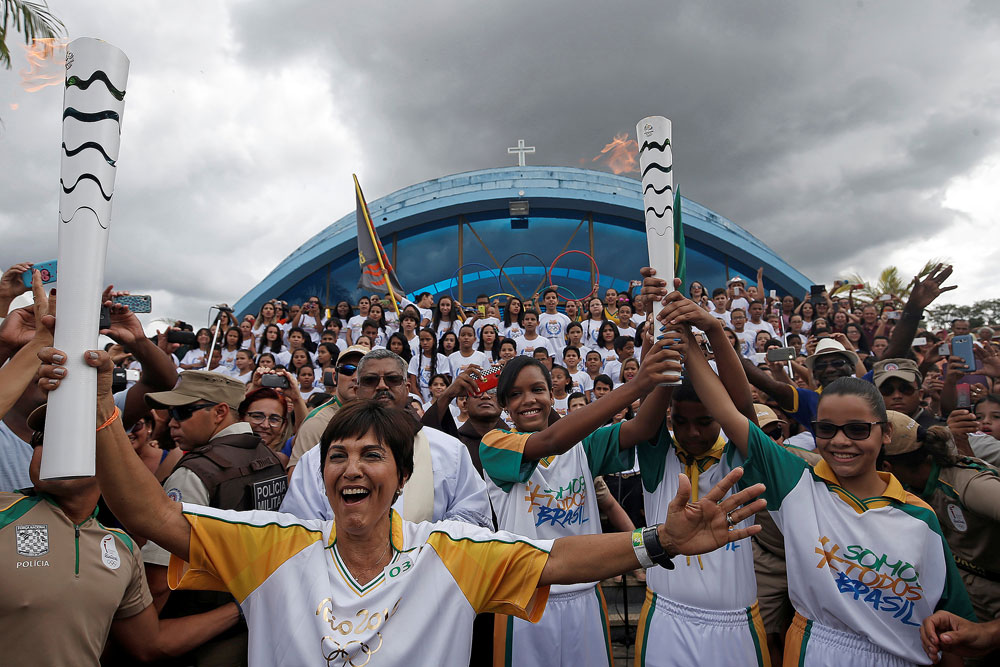 The 2016 Summer Olympics will be held in Rio de Janeiro on August 5-21.
Reuters
Russian observers have been quick to downplay the significance of the latest revelations of systematic doping in Russian athletics, seeing an advantage for the U.S. in Russia's possible disqualification from the Olympics and mentioning the inconsistencies in the statements of former head of Moscow's anti-doping laboratory Grigory Rodchenkov.
The sensational recent revelations by the former head of Moscow's anti-doping laboratory Grigory Rodchenkov in The New York Times could have grave consequences for Russia, including the entire Russian team being banned from the upcoming Olympics in Rio.
In an article on May 12 the U.S. newspaper ran comments by Rodchenkov revealing that numerous Russian athletes at the 2014 Sochi Winter Olympics had been part of a state-sponsored doping program, as part of which he developed a special "cocktail" of banned substances for athletes to use prior to competition.
The situation around Russia's doping problem was further intensified by the publication of the preliminary results of the re-examination of doping tests taken at the 2008 Beijing Olympics. According to IOC, 31 out of 454 tests proved to be positive, 14 of which were Russian.
Head of the International Olympic Committee (IOC) Thomas Bach has not ruled out that Russian athletes may be completely banned from competition in Rio, linking it to the results of an official investigation into the allegations by the World Anti-Doping Agency (WADA).
The agency is already investigating a series of allegations relating to systematic doping by Russian athletes following revelations by a German TV documentary broadcast in 2015. Russian field and track athletes are currently banned from international competition pending a decision
The U.S. Justice Ministry has also showed interest in Rodchenkov's revelations. The New York Times writes that the U.S. attorney's office for the Eastern District of New York has opened its own investigation, in which it will try to understand whether the now infamous Russian doping program indeed existed, a program whose horrific scale Rodchenkov has now apparently exposed.
It was the attorney's office for the Eastern District of New York that recently launched the high-profile investigation into corruption in the world's soccer governing body FIFA.
Pressure on the IOC
Should Thomas Bach's words about the possible ban on the Russian national team in the Rio Olympics be taken as a threat? Honorary IOC member Vitaly Smirnov believes that the IOC head is being pressured by certain American circles, for which Russia's disqualification would be advantageous. In many sports (shooting, athletics, backstroke swimming) Russian athletes are America's greatest rivals.
"The IOC's revenues are about $5-6 billion every four years. Almost 80 percent of this money comes from the U.S., from the sales of TV rights and from general sponsors," Smirnov told RBTH.
Russian lawyer and Vice President of the International Foundation for Supporting Legal Initiatives Alisher Aminov dismisses the idea that the essence of the problem is related to political pressure.
"There is no doubt that the doping scandal is being used by Western countries for political aims. But this does not justify the Russian Sports Minister [Vitaly Mutko – RBTH], who is trying to interpret all the problems in this light," he explained to RBTH, adding that Russia needed to admit that it had problems with doping.
"Russia has serious problems with athletic pharmacology and sports doctors. Three female athletes have already spoken about the systematic use of doping and the federation's ultimatum in the event they refuse," he said.
"We have already recognized the destruction of more than a thousand samples, which is a gross violation and it is not by chance that Mutko immediately liquidated RUSADA (the Russian Anti-Doping Agency). While this situation is not corrected, we will continue having doping scandals," said Aminov.
Can Rodchenkov be trusted?
President of the Russian Skiing Federation and three-time Olympic Champion Yelena Välbe sees personal reasons behind Rodchenkov's revelations.
"I don't believe Rodchenkov's words. It is difficult to believe that samples can be changed during the Olympics in the presence of WADA. I don't think WADA's investigation will prove Rodchenkov's words. His reasons are clear: He found a job in the U.S. [he now works as scientific collaborator at the private Redwood Toxicology Laboratory in Santa Rosa, California – RBTH] and wants to 'prove himself'," Välbe told RBTH.
Vitaly Smirnov also sees inconsistencies in Rodchenkov's statements, saying that the "drug cocktail" containing steroids and alcohol that Russian national team athletes allegedly took "seems strange."
"The specialists I spoke with say that such doping would only damage the athlete's performance, not improve it. Where's the logic?" said Smirnov, pointing out that before working with the Sochi athletes Rodchenkov had been charged under article 234 of Russia's penal code – "The illegal circulation of potent or noxious substances with the aim of selling the organized group in a large quantity." (Rodchenkov was accused in 2011 and a year later he became a witness, while his sister was given a one and a half-year prison term, which was suspended upon appeal – RBTH).
Subscribe to get the hand picked best stories every week
All rights reserved by Rossiyskaya Gazeta.