Russian players win NBA title for first time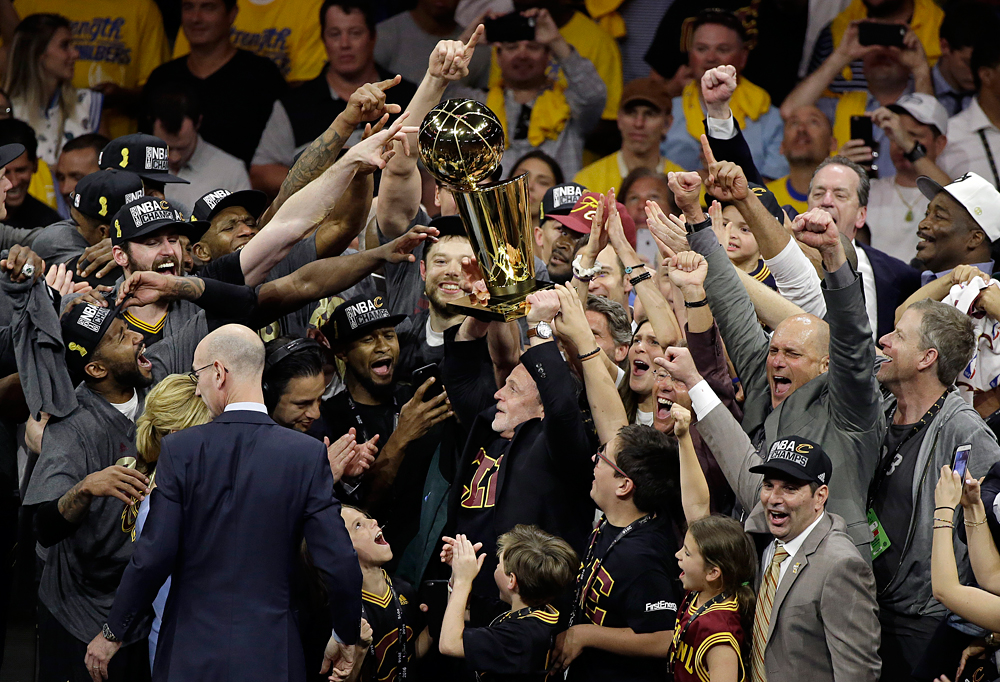 Cleveland Cavaliers players and staff celebrate after Game 7 of basketball's NBA Finals between the Golden State Warriors and the Cavaliers in Oakland, Calif., Sunday, June 19, 2016. The Cavaliers won 93-89.
AP
Timofey Mozgov and Alexander Kaun, together with LeBron James, celebrated their championship victory in the NBA finals, as the Cleveland Cavaliers saved a seemingly hopeless series against the Golden State Warriors.
The Cleveland Cavaliers' centers, Timofey Mozgov and Alexander Kaun, are the first Russian NBA champions. On June 19, Cleveland beat the Golden State Warriors 93-89, winning the last and decisive seventh game of the final championship series, and grabbing the team's first title.
Mozgov was playing in his second NBA final in a row. Last year the Cavaliers were also in the finals against the team from Oakland, but Golden State carried the day, winning the series 4-2. This year, Mozgov spent an average of five minutes on the floor, scoring 1.4 points per game.
Cleveland's other Russian player, Alexander Kaun, made his NBA debut this year and played in 25 regular season games, but never in the playoffs.
"This is a super success for Cleveland, which managed to turn the series around in the seventh game and did something that no one had done before - winning the NBA championship despite being down in the series, 1-3,'' said the president of the Russian Basketball Federation, Andrei Kirilenko, who used to play for the Utah Jazz and Brooklyn Nets, reported the TASS news agency. ``I am particularly proud that we now have our own NBA champions, Tim Mozgov and Sasha Kaun. I am incredibly happy for them.''
Subscribe to get the hand picked best stories every week
All rights reserved by Rossiyskaya Gazeta.