Volleyball star Tetyukhin officially confirmed as Russia's flag bearer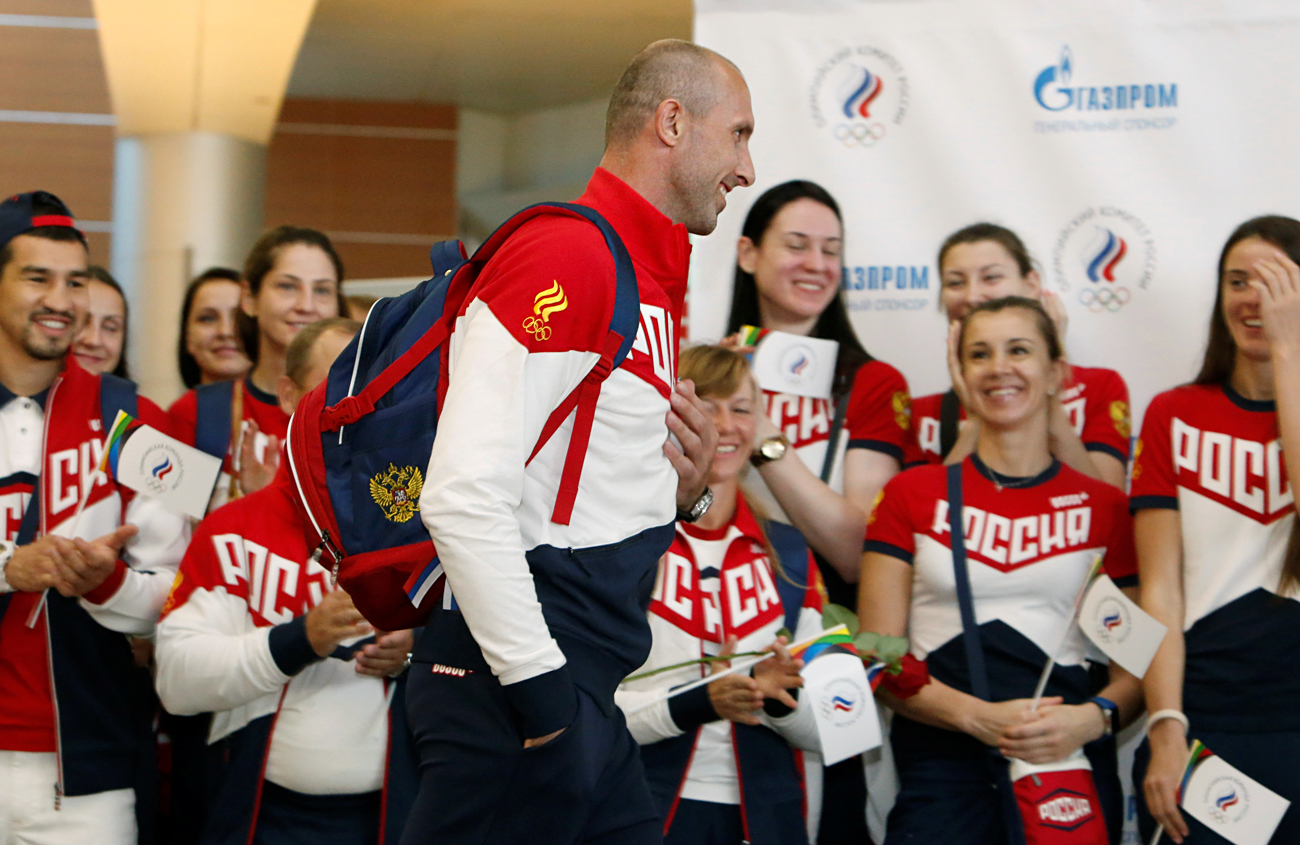 Russia men's volleyball Olympic team member Sergey Tetyukhin walks during a farewell ceremony before the national team's departure to 2016 Rio Olympics at Sheremetyevo International Airport outside Moscow, Russia, July 28, 2016.
Reuters
The Rio Olympic Games will be Sergey Tetyukhin's sixth
Russia's titled volleyball champ Sergey Tetyukhin has been officially named the national Olympic team's flag bearer at the opening ceremony of the 2016 Summer Olympic Games in Brazil's Rio de Janeiro this Friday, a source in the country's delegation told TASS on August 3.
"Tetyukhin has been officially elected to carry the flag of the Russian national team at the opening ceremony of the Olympics," the source said in an interview with TASS.
The Rio Olympic Games will be Tetyukhin's sixth. The 40-year-old athlete was the winner of the Olympic gold in 2012, also winning the Olympic silver in 2000 and two bronze medals at the Olympic Games in 2004 and 2008.
Konstantin Vybornov, a spokesman for the Russian Olympic delegation at the 2016 Rio Games, told TASS earlier that the name of the flag bearer would be announced on Wednesday when the Russian national flag would be raised in the Olympic Village during a ceremony scheduled for 7:30 p.m. local time (22:30 GMT).
News about Tetyukhin possibly carrying Russia's national flag during the opening ceremony of the upcoming Olympics was first unsealed by Russian pole vault queen, Yelena Isinbayeva in her Instagram account late last week.
Two-time Olympic Champion Isinbayeva was viewed as the leading candidate to be the Russian team's flag bearer, but she was suspended with the rest of the national track and field athletes by a decision from the International Association of Athletics Federations (IAAF) made earlier in the summer.
The 31st Summer Olympic Games, the very first for South America, is scheduled to be held in Rio from August 5 to 21. The Paralympic Games will take place between September 7 and 18.
Source: Tass.com
All rights reserved by Rossiyskaya Gazeta.