Russian swimmer Yefimova says will come back to U.S. only to get stuff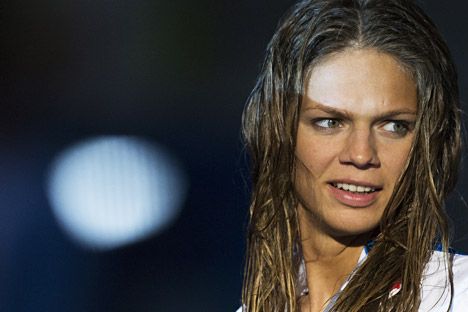 Yulia Yefimova.
Alexander Vilf / RIA Novosti
Yefimova wins 2 silver medals at the Rio Olympics
Russian swimmer Yulia Yefimova who won two silver medals at the Rio Olympics said on Aug. 17 mass media have misinterpreted her words on the plans of coming back to the United States.
In the interview with CNN on Aug. 16, Yefimova said "Life is so much easier than in Russia" and America has changed her. The TV channel's website said that the 24-year-old athlete, who has lived in the U.S. for the past five years, plans to return to her Los Angeles home.
"Russia's mass media mangled my words in the CNN interview," Yefimova told reporters.
"I said that I will come back to the U.S. only to pick my stuff. I have an apartment there paid for another six months and I will return there to get my things. Then there will be the World Cup and later I will take a decision where to train - in Russia, in Europe, in the US or I will open my own club," she said.
Sergey Kolmogorov, the head coach of Russia's national swimming team, said earlier that Yefimova could return to Russia where she will train under an individual program. Over the past years, Yefimova has trained in the US under the guidance of American coach David Salo.
Yefimova won silver in women's 100m and 200m breaststroke at the 2016 Summer Olympic Games in Rio de Janeiro. The athlete is also the bronze medalist of the 2012 Olympic Games, the four-time world champion and the three-time European champion.
Source: TASS
All rights reserved by Rossiyskaya Gazeta.