What do we know about Karen Khachanov, the new hope of Russian tennis?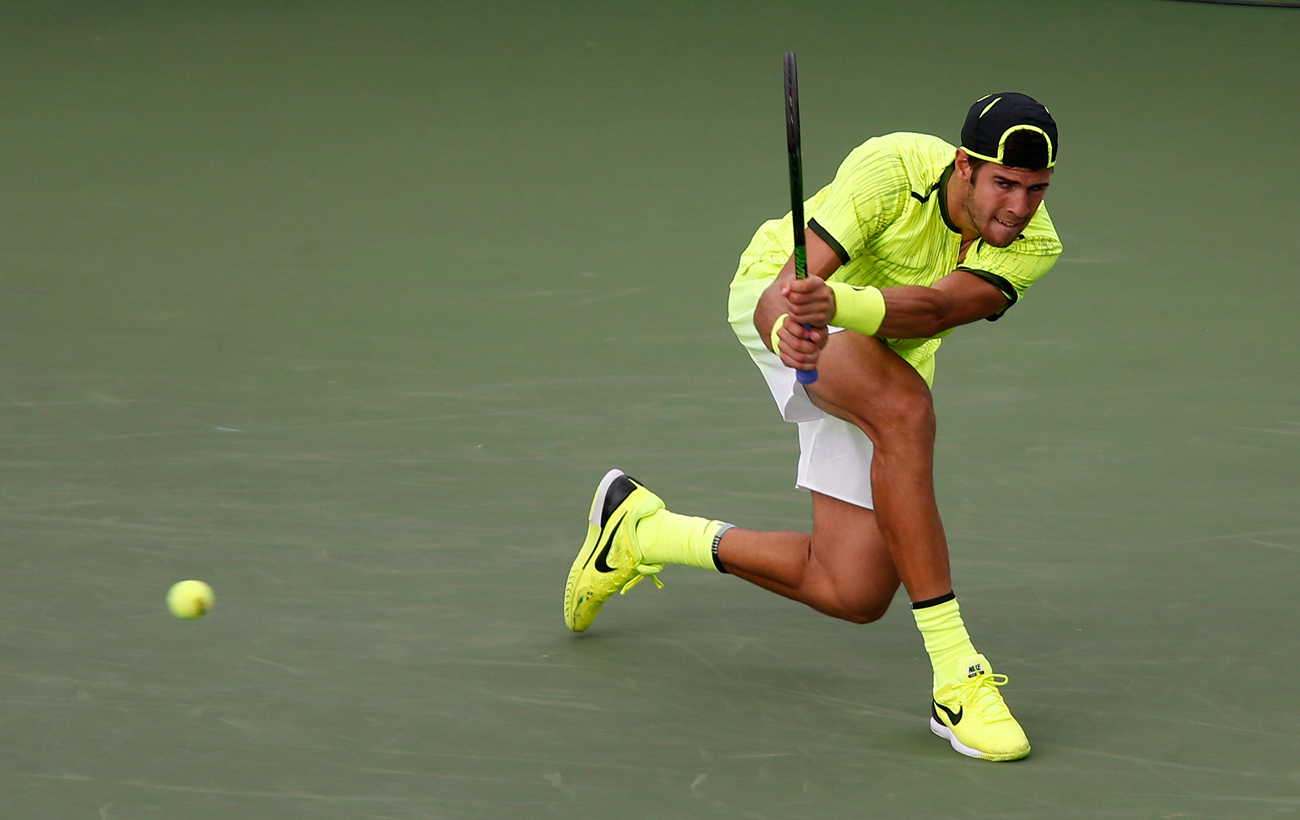 Karen Khachanov, of Russia, returns a shot to Kei Nishikori, of Japan, during the second round of the U.S. Open tennis tournament, Sept. 1, 2016, in New York.
AP
Twenty-year-old Karen Khachanov has become the first Russian tennis player to win an ATP World Tour title since 2013. The 6.8-foot giant has already been compared with Marat Safin and Juan Martin del Potro.
Russian tennis fans had already grown unaccustomed to victories by their players, but everything changed this fall. In early October, Karen Khachanov, a 20-year-old from Moscow, won the Chengdu Open, beating Spaniard Albert Ramos-Vinolas (ranked 31st in the world) in three sets.
For Khachanov, this victory on the ATP World Tour is the first in his career. It is also a landmark for the whole of Russian tennis: The last such success was achieved by Mikhail Yuzhny at the Valencia Open three years ago, when the Russian defeated Spaniard David Ferrer, then world No. 3.
Herald of a golden generation?
While Khachanov's victory in China was a surprise, the world's new No. 55 cannot be described as an absolute nobody. Over the last year, he managed to win two ATP Challenger events [a secondary professional tennis circuit for players whose rank is not high enough to qualify for the elite ATP World Tour – RBTH] in Istanbul and Samarkand.
Russia, which has seen no bright new names since the era of Marat Safin and Nikolai Davydenko, holds high hopes for Khachanov. Especially since the leadership of the Russian tennis has staked much on the young men who were born in the second half of the 1990s: Shamil Tarpishchev, head of the Russian Tennis Federation, has even called them a golden generation.
For these young players, who are beginning to move from junior to senior tennis, a special experimental group was created at one time. It was Andrei Rublev, who in 2014 won the junior Roland Garros, who originally stood out in the group. However, he is not yet as adept in duels with older rivals as Khachanov.
These young players are being actively honed in Davis Cup matches. In the next match, against Serbia (Feb. 3-5, 2017), Khachanov will be entrusted with the honor of playing against none other than Novak Djokovic.
The new Safin?
The 6.8-foot (1.98-meter) giant Khachanov resembles Marat Safin both in appearance and playing style. Despite his height, his trump cards include not only a killer serve, but also a decent backhand.
Tellingly, Khachanov says hard courts are his favorite surface, and Argentine Juan Martin del Potro and Safin his role models.
The young player is capable of repeating the achievements of his famous compatriot, according to 1989 Roland Garros semi-finalist Andrei Chesnokov.
"He has all the capabilities – both serve and baseline play," Chesnokov said in an interview with R-Sport. "He has Safin's power. When he is stable, opponents often simply cannot defeat him." According to Chesnokov, Khachanov will be able to climb into the world's top 20 already this season.
Experts also point out that Khachanov suffers from Safin's typical problems – for example, excessive hot temper.
"In Chengdu, Karen made a lot of childish errors; he lacked composure, confidence, understanding which tactics are needed at a particular point in the game. He's in a rush," said 2007 U.S. Open semi-finalist Anna Chakvetadze in an interview with R-Sport.
Subscribe to get the hand picked best stories every week
All rights reserved by Rossiyskaya Gazeta.