Russian women's futsal team sparks furor after donning hijabs in Iran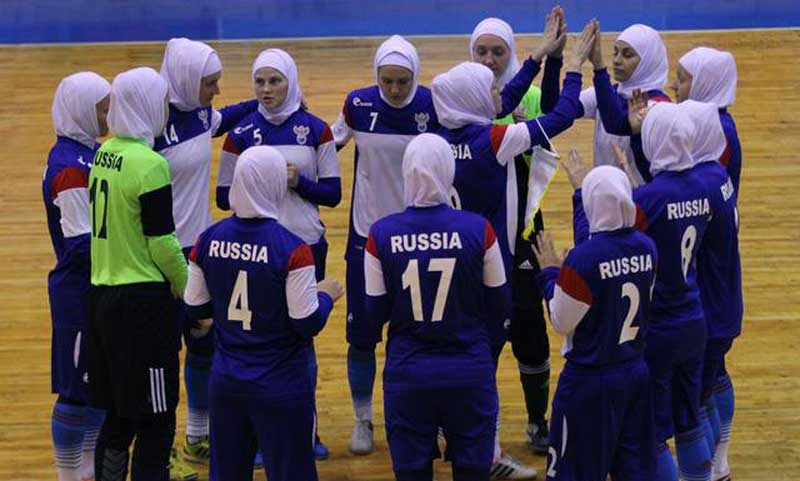 Games in Iran were friendlies, the Russian team decided to honor the local dress code. Photo: Russian women's futsal team during friendlies in Iran.
Facebook
For an away exhibition game with their Iranian counterparts, the Russian women's futsal team came out dressed according to the local tradition, i.e. wearing hijabs. However, not all Russian fans appreciated the gesture.
The Russian national women's futsal team has sparked heated discussion among the Russian online community after playing two exhibition matches in Tehran on Oct. 18-19 wearing hijabs, just like the local national team.
Since both games in Iran were friendlies, the Russian team decided to honor the local dress code. The first match ended in a draw (3:3), while in the second the victory went to Russia (5:3). Pictures from the games have been posted by the Russian Futsal Association on its Facebook page.
However, the images of Russian female athletes wearing hijabs angered many internet users in Russia.
"It looks like political prostitution. When shall we start respecting ourselves at last? Or shall we make Muslim and our own players wear kokoshniki [traditional Russian folk headdresses] next time they play in the Kremlin?" wondered user Alexei Schepin on Facebook.
"It was a friendly, not an official match, therefore the protocol was 'friendly' too. If there were objections to it, they could have easily just canceled the game," said another user, Alexander Ivanov, trying to strike a more conciliatory note.
Subscribe to get the hand picked best stories every week
All rights reserved by Rossiyskaya Gazeta.