Former Olympic fencing champion becomes Russia's new sports minister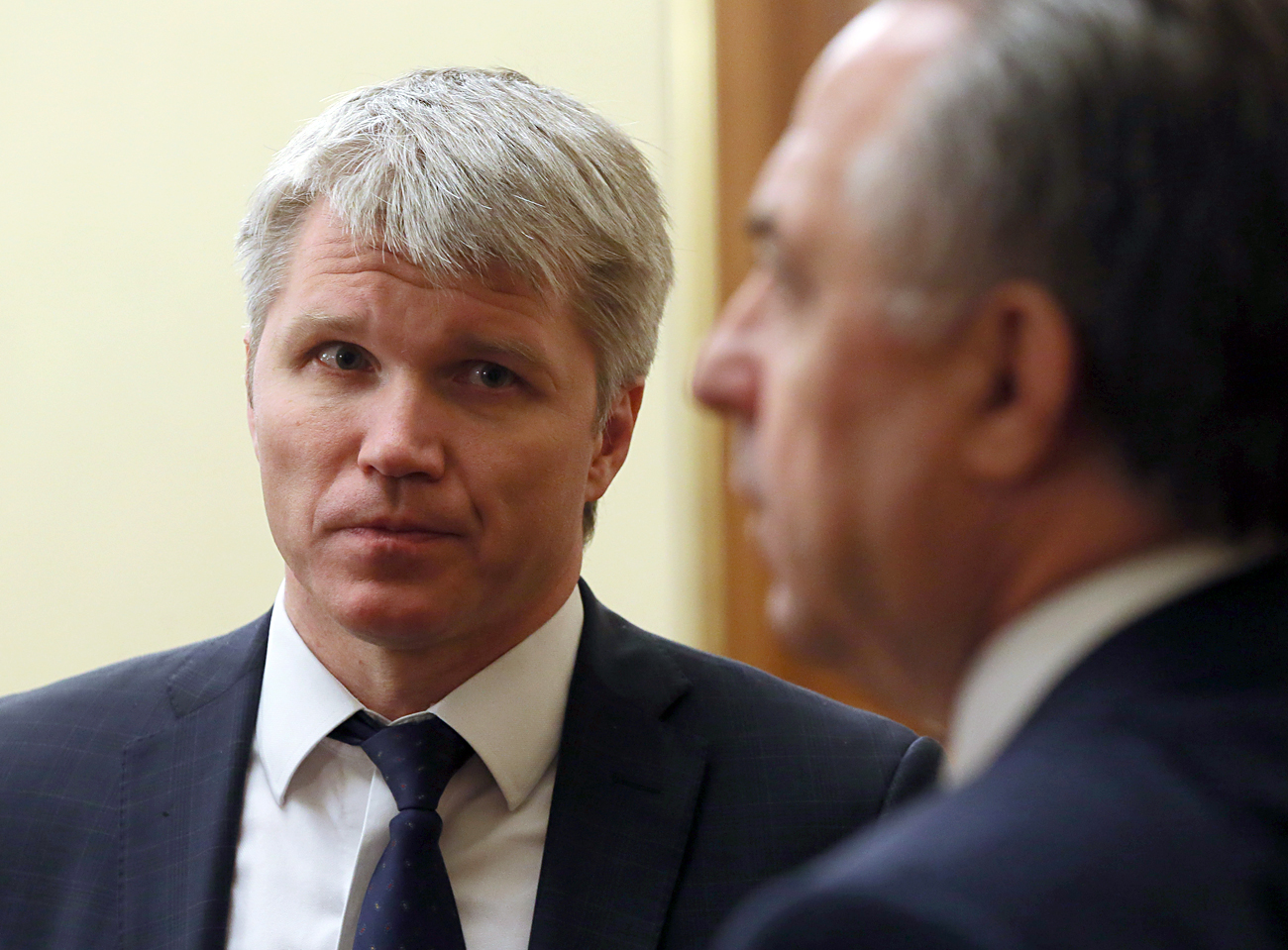 Russian Minister of Sport Pavel Kolobkov, left, and Deputy Prime Minister Vitaly Mutko before a Government meeting at the Government House, Oct. 20, 2016.
Yekaterina Shtukina/RIA Novosti
According to a political analyst interviewed by RBTH, the newly appointed Russian sports minister, Pavel Kolobkov, is not an independent figure and the development of the country's sports sector will continue to be overseen by his predecessor Vitaly Mutko, who has been promoted to the post of a deputy prime minister.
October has become a month of change for Russian sport, which has been shaken by doping scandals for nearly a year now. First, on Oct. 11, President Vladimir Putin announced that Alexander Zhukov will be leaving the post of the head of the Russian Olympic Committee. Then on Oct. 19, it transpired that Sports Minister Vitaly Mutko will be replaced too.
Following the publication of the McLaren report by the World Anti-Doping Agency (WADA) independent commission, which accused Russia of running a state-sponsored doping program; the Rio Olympics, which Russian track and field and weightlifting athletes had to miss because of the doping allegations; and the Paralympics, from which the Russian team was banned altogether, many expected that the country's senior sports officials would resign.
Yet the reshuffle has turned out to be more of a formality. Alexander Zhukov has been appointed deputy speaker of the State Duma, the lower house of the Russian parliament, where – among other things – he will be overseeing sports issues. Mutko, meanwhile, has even been promoted – he is now a deputy prime minister in charge of tourism, youth policy and sport.
Promoting the right image
The new sports minister is Pavel Kolobkov, the 47-year-old épée fencing champion at the 2000 Sydney Olympics. Kolobkov is not new to civil service: He has been Mutko's deputy since 2010.
Among other things, he was responsible for preparations for the 2012 London Olympics and represented Russia at WADA until November 2015, when the Russian Anti-Doping Agency (RUSADA) was suspended after being found in breach of the organization's charter.
Interaction with WADA and other international sports organizations will be one of Kolobkov's top priorities in the new post. November will see the release of part two of the McLaren report, which may well be followed by calls to ban Russia from further high-profile competitions, including the 2018 Winter Olympics in South Korea's PyeongChang. Russia's hosting of the 2018 FIFA World Cup remains on the agenda too.
It is quite possible that Kolobkov's clout as a retired elite athlete could be to Russia's advantage. When introducing the new minister, Putin said that his achievements and titles could help "in the current work and contacts with international sports organizations."
Another consideration to note is that Thomas Bach, the president of the International Olympic Committee, also used to be an Olympic fencing champion and he is certainly familiar with Kolobkov.
Kolovkov's appointment has an obvious "image" component to it, says an anonymous source at the Sports Ministry (as quoted by Russian business daily Kommersant). According to the source, Kolobkov does not provoke "any antipathy from [Russia's] partners," while in his previous post, he was responsible for "developing and implementing state policy in international cooperation."
Unsinkable Mutko
It is worth noting that the current situation is also to the benefit of Kolobkov's predecessor Mutko, whose name is closely associated with the recent wave of doping scandals.
Yet in his new role as a deputy prime minister, the former sports minister has only expanded his powers, having at the same time retained the posts of the president of the Russian Football Union and head of the organizing committee for the 2018 World Cup in Russia.
At the same time, Kolobkov is a 100-percent Mutko man, says Pavel Salin, head of the Financial University's Center for Political Studies.
"This reshuffle will not bring any serious changes. In Mutko's new post, sport will continue to be the most attractive slice of the pie. And he has managed to get a protégé of his to be appointed as his successor, who is not an independent figure," Salin told RBTH.
By keeping Mutko among the country's top sports officials, the Russian leadership is also sending a message to the West, Salin added.
"It shows that Russia could not care less about what is being thought about Russian sport. You wanted Mutko's blood, and here we are, promoting him," he said.
Subscribe to get the hand picked best stories every week
All rights reserved by Rossiyskaya Gazeta.