Early winter brings extreme conditions to Russia's soccer fields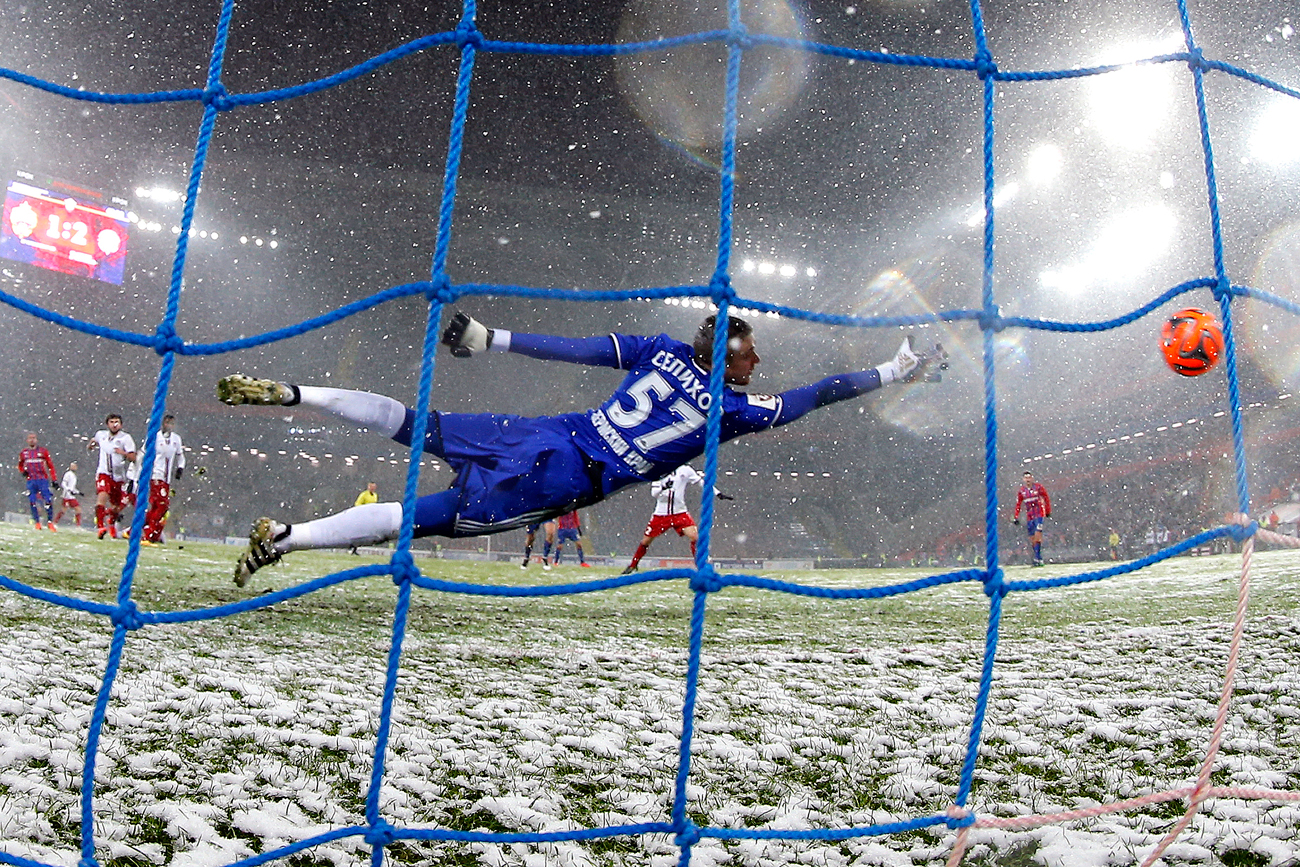 Amkar Perm's goalkeeper Alexander Selikhov concedes a goal in their 2016/17 Season Russian Premier League Round 13 football match against FC CSKA Moscow at CSKA Arena Stadium.
Mikhail Japaridze / TASS
The Russian football championship has been affected by unusually cold conditions this fall, with snow and sub-zero temperatures taking both players and fans by surprise.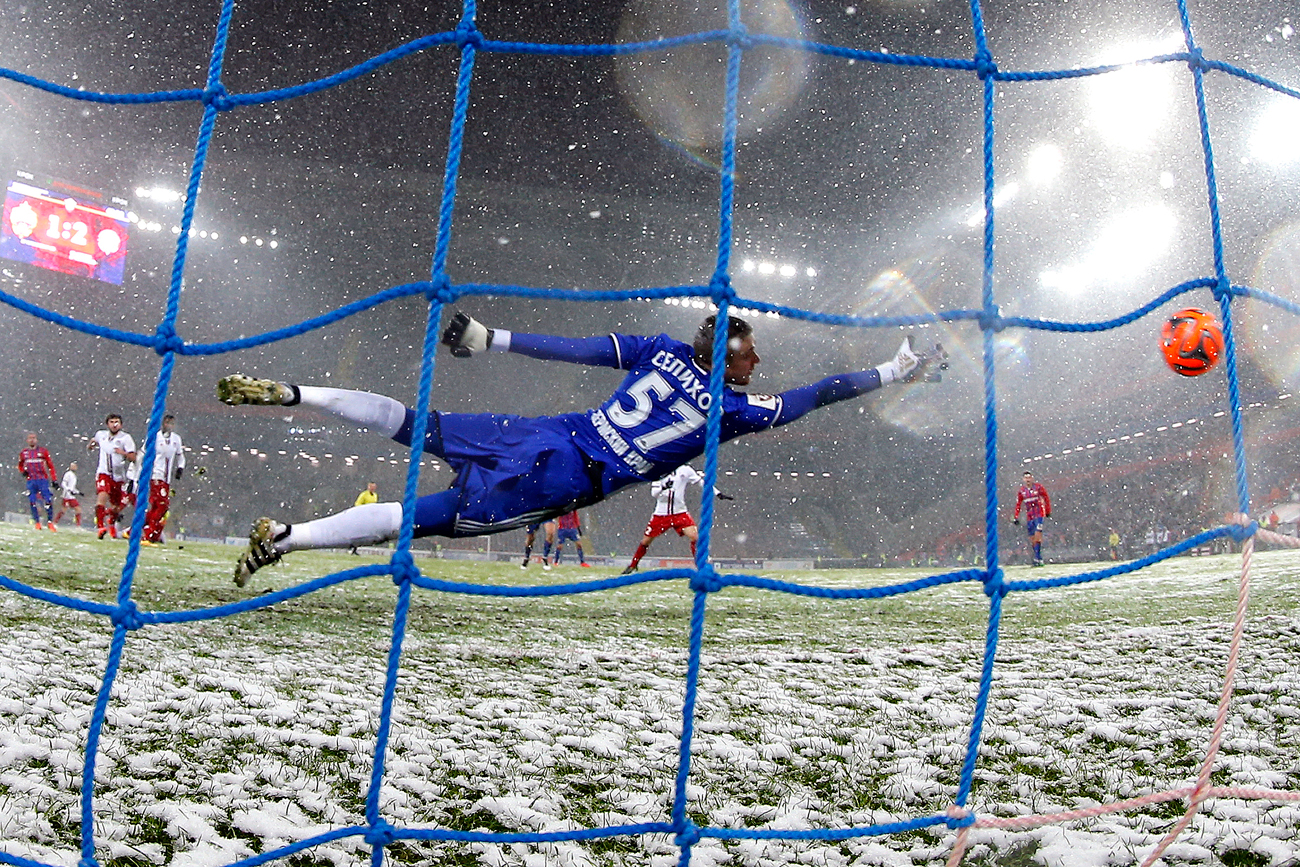 Amkar Perm's goalkeeper Alexander Selikhov during 2016/17 Season Russian Premier League's Round 13 football match against FC CSKA Moscow at CSKA Arena Stadium. Source: Mikhail Japaridze/TASS
Russians are hardly surprised by cold weather, but even people who are prepared for the cold can get confused by how football changes from a summer to a winter sport. This year blizzards swept through most of Russia in early November, making the final month of the Russian soccer league program before the winter break a struggle for survival.
Moscow's Spartak, the most popular team in Russia, were probably the unluckiest team in the league when they had to play an away match in Tomsk, Siberia, in conditions of minus 15 degrees Celsius (5 degrees Fahrenheit). The old athletics stadium in which the match took place is not equipped with underground heating to tackle the frost and, unfortunately, local weather forecasters failed to predict the snowfall – so the teams went out to play on a snowy pitch, where it was difficult to see the markings on the field.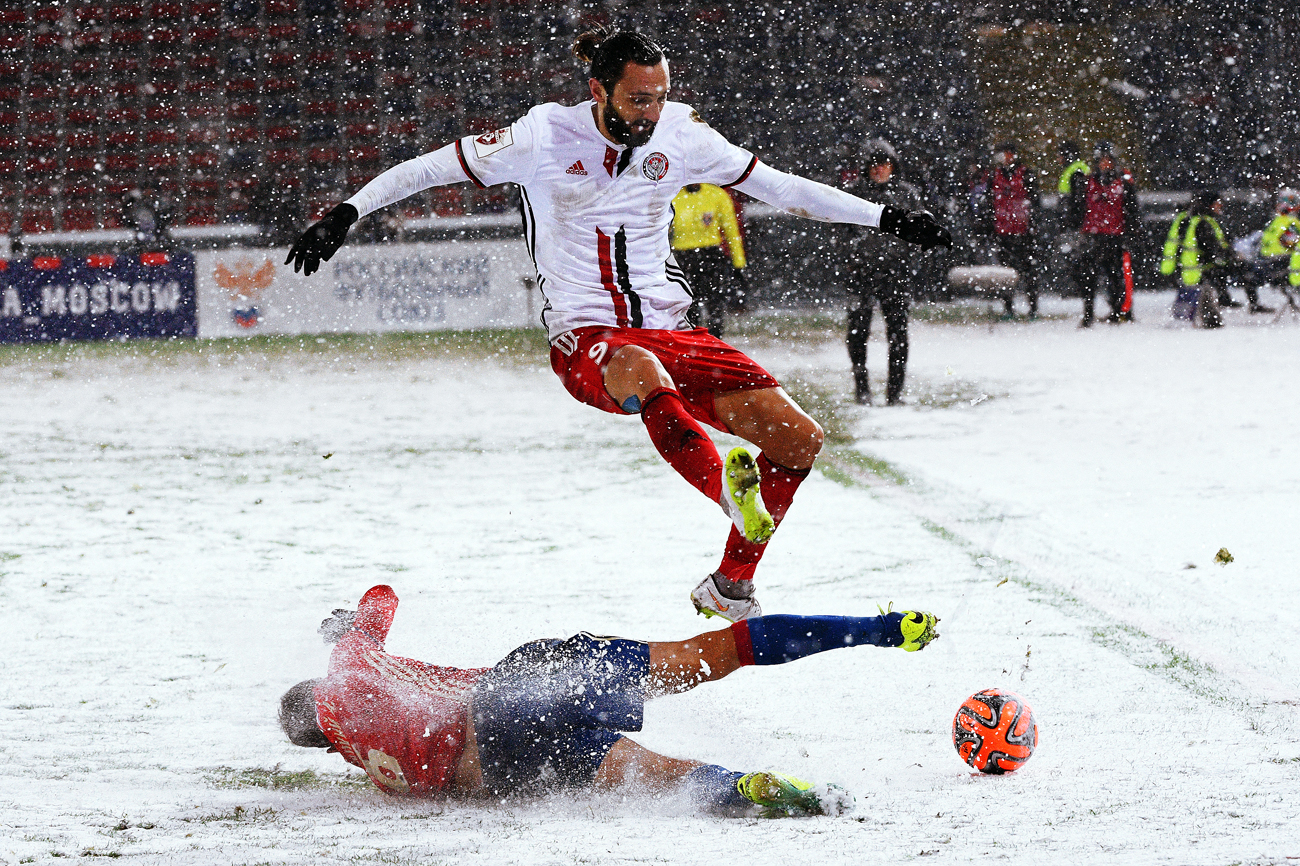 CSKA's Alexei Berezutsky, left, and Amkar's Darko Bodul during the Russian Football Premier League's Round 13 match between CSKA Moscow and Amkar Perm. Source: Vladimir Fedorenko/RIA Novosti
And though Spartak and the local club Tom were able to warm up with a bit of running around, the few thousand brave souls who came out to support them had to find a way to entertain themselves in the cold.
At first the footballers started playing with a white ball, which was replaced after only a couple of minutes with a colored ball, since the original one proved quite difficult to see in the snowy conditions at the Trud stadium.
"The Tomsk climate is harsh. Frost-resistant varieties of the soccer ball only ripen to a reddish color in September, and even then not for long and not every year," tweeted (in Russian) the Russian commentator Vasily Utkin.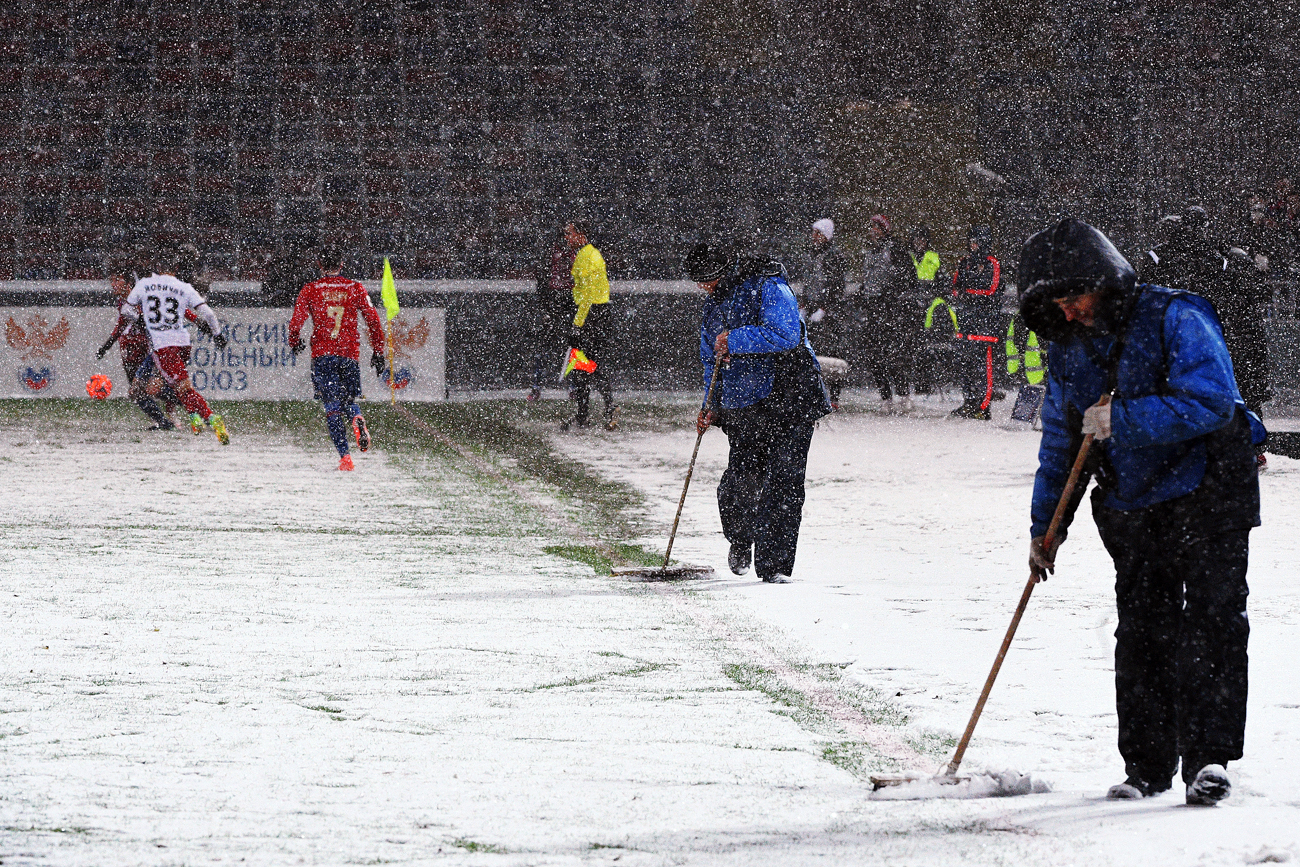 Assistants remove snow during the Russian Football Premier League's Round 13 match between CSKA Moscow and Amkar Perm. Source: Vladimir Fedorenko/RIA Novosti
The foreigners who do not fear the cold
However, the Siberian winter did not prevent Spartak from winning that day. Spartak's head coach is the Italian Massimo Carrera who, it seemed, did not notice the cold. He was seen walking around the technical area in a light coat without a hat. This was hardly news however: A week earlier in Moscow, when Spartak played their enemies CSKA, the teams had to play under similarly extreme conditions.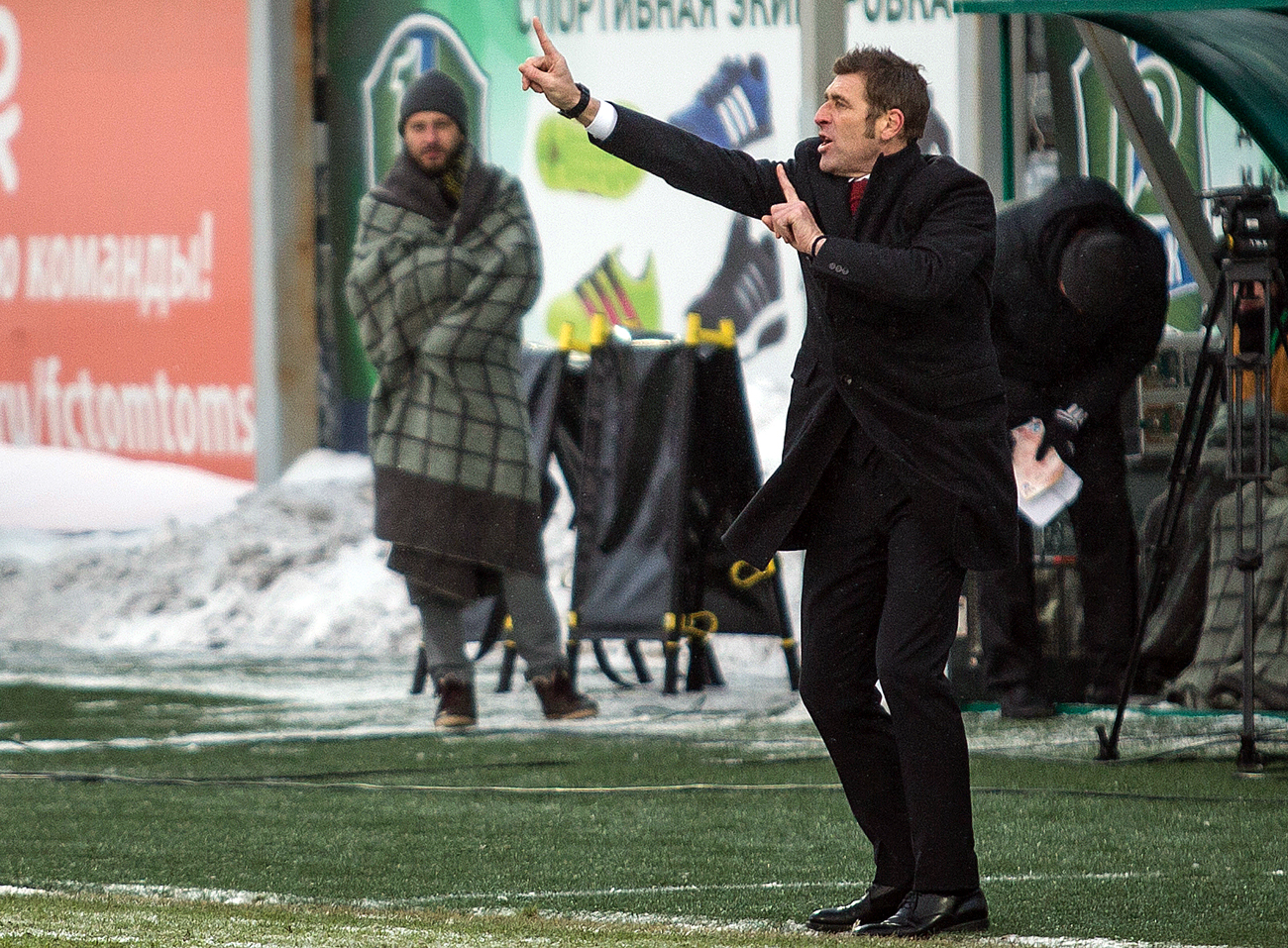 FC Spartak's coach Massimo Carrera at the Russian Premier League championship's 13th round match between FC Tom Tomsk and Spartak Moscow. Source: Alyona Kardash/RIA Novosti
In order to raise the team's morale, Spartak's press team sent out a video message titled "The snow cannot scare us!" At the same time, the team includes footballers from warmer climes such as Italy, Brazil and Cape Verde, who have to run through the snow right up until the beginning of December.
Source: FC Spartak Moscow/YouTube
Fans answer the call to shovel duty
In the Pacific port city of Vladivostok, where a match was being held between local team Luch-Energiya and the Krasnodar team Kuban, so much snow had fallen overnight that the match was postponed for a few hours.
The home team, in these critical conditions, asked fans to help prepare the stadium for a match. "If anyone here is able to come with their personal arsenal [to battle the snow], such as shovels and brooms, please bring them with you," read a request to loyal fans on Luch-Energiya's official website. In the end about 50 fans, some of who had come almost 4,500 miles to support their local team Kuban, came to help clear the field from snow.
Subscribe to get the hand picked best stories every week
All rights reserved by Rossiyskaya Gazeta.