Russian boxer Povetkin fights after positive doping test – legal or not?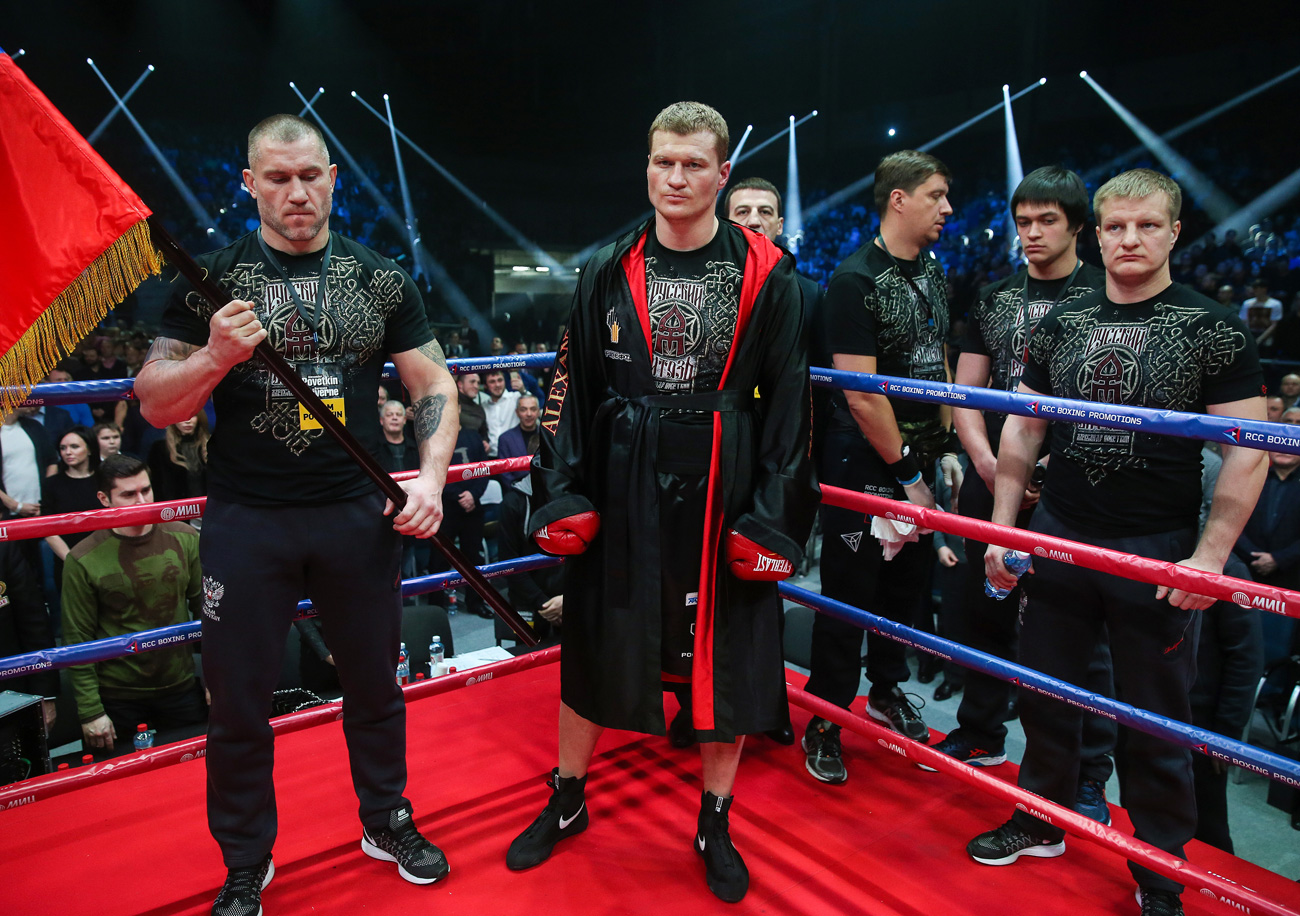 Russian boxer Alexander Povetkin seen after defeating French Johann Duhaupas in a non-title heavyweight bout, Dec. 17. Initially, Alexander Povetkin was to fight Haitian-born Canadian Bermane Stiverne for the WBC interim heavyweight title, but Povetkin's recent positive doping test result has caused the bout to be cancelled.
Valery Sharifulin/TASS
For a second time in a year, the Russian heavyweight boxer has been suspected of using doping. And yet on Dec. 17, he took part in a boxing show in Yekaterinburg. RBTH explains how this was possible and what sanctions Povetkin may now face.
On Dec. 17, Russia's most famous heavyweight boxer Alexander Povetkin returned to the ring after a year-long hiatus. However, his comeback did not go quite according to plan.
What fight was supposed to take place?
Yekaterinburg, a large city in the Russian Urals, was anticipating a match between Povetkin and Canada's Bermane Stiverne for the World Boxing Council (WBC) interim world title.
Povetkin, who in 2011-2013 held the WBA (World Boxing Association) champion title, began to compete in WBC events after the only defeat in his career: to Wladimir Klitschko in a WBA super title match that took place in Moscow on Nov. 5, 2013. In WBC, he was a success, confidently winning four fights.
Povetkin has had doping problems before. Was he disqualified?
In May 2016, Povetkin was due to challenge WBC champion Deontay Wilder (U.S.) in a title fight. However, the match was canceled after Povetkin tested positive for meldonium, which was entered on the list of banned substances on Jan. 1.
At the time, the Russian boxer managed to avoid disqualification and retained his challenger status as he was able to prove that he had taken meldonium before the substance was banned.
Yet the fight with Wilder was shelved after the American boxer was seriously injured in the summer. Instead, the WBC sanctioned a title fight between Povetkin and Stiverne, ranked No. 2 and No. 3: The boxers were to contest the interim champion title, until Wilder's recovery.
What went wrong on Dec. 17?
It was a case of déjà vu: Povetkin once again tested positive for doping, and once again right before the match. This time round, he tested positive for ostarine, a substance similar to anabolic steroids. The WBC immediately canceled the title fight and Stiverne quickly left Yekaterinburg.
However, Povetkin's promoters decided not to lose good money and organized a fight with France's Johann Duhaupas, who had signed a contract with the organizers of the boxing show as a potential replacement. Povetkin knocked out his rival in the sixth round of the match.
Did Povetkin have the right to fight?
Yes, because he was not taking part in a WBC event. Besides, until his test B has been checked, Povetkin is only suspected of having used doping. Nevertheless, in situations like these title matches are usually canceled. If test B is positive too, Povetkin faces a lengthy disqualification. The boxer's promoter Andrei Ryabinsky said that in this case 37-year-old Povetkin was likely to end his sporting career.
Is Povetkin's case related to the McLaren report?
No. Professional boxing is not governed by World Anti-Doping Agency (WADA) rules. Doping tests ahead of the Povetkin-Stiverne fight were carried out by the Voluntary Anti-Doping Association (VADA).
All rights reserved by Rossiyskaya Gazeta.