Japanese-inspired Sleepbox Hotel opens in Moscow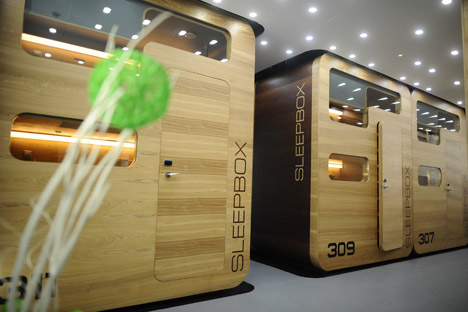 Sleepboxes look like tiny futuristic homes, or the cabins of a spaceship. Source: ITAR-TASS
The only Sleepbox Hotel in Russia recently opened on one of Moscow's liveliest streets, just minutes away from the Belorussky train station. These compact and affordable accommodations offer guests superior comfort, as well as a unique, futuristic lodging experience. The hotel plans to open more locations in Moscow in the future.
Ever seeking the most efficient use of residential floor space, the Japanese have come up with a simple and inexpensive place to spend the night — "Sleepboxes." Guests are allocated capsules that are similar in size to those used by astronauts for hibernation during space flight. The first of these hotels in Russia opened in Moscow on January 28, 2013. The Moscow capsules are substantially larger than those in Japan, but the price of staying in them is higher too.
The Moscow Sleepbox Hotel is just at three-minute walk from Belorussky Rail Station. The choice of location was no accident — the station houses the Aeroexpress terminal, which takes passengers to and from Sheremetyevo International Airport. The owners are clearly putting their main focus on travelers arriving by plane. This all means that guests can easily be at their hotel within an hour of landing and be back at the airport just as quickly.
The hotel décor looks like something out of a sci-fi movie. There is a dazzling white lobby with an iPad attached to the wall, where guests can check their email or the train timetable. The Sleepboxes themselves are arranged over three floors, with around 10 or 15 "boxes" per floor. They look like tiny futuristic homes, or the cabins of a spaceship: the out-of-this-world feeling remains with guests for the duration of their stay at the hotel.
Video: New capsule-concept hotel offers cheap sleep in Moscow
The inside of the Sleepbox is like a train sleeper compartment, equipped with the same bunks and sleeping spaces. However, the big window on one of the walls reminds guests of just where they are. They are specially installed, so that guests do not feel like they have been stuffed into a trunk. Anyone who has stayed in these Sleepboxes insists that the spaces do not feel claustrophobic. If guests want their privacy, then they can close the curtains using an electric switch. The mattress and bed linen are of the same high standard that guests would expect to find in top hotels – no cuts on comfort have been made here.
The benefit of staying in this type of hotel is that guests do not have to worry about packages of unwanted extra services. Above all, people only require a comfortable bed to spend the night in a hotel. Sleepboxes come with plenty of amenities, though. Every capsule has a power socket, free Wi-Fi, proper lighting and shelves for guest belongings. Heavy baggage can be stored in a special separate area. The Sleepbox design was developed by Aleksei Goryainov and Mikhail Krymov from the Arch Group Architectural Bureau. They tried to create a functional, if compact, space for both work and leisure.
There are bathrooms and toilet facilities on each floor. The only food in the Sleepbox Hotel is provided by vending machines that dispense chips and sweets. If guests want a square meal, they have only to pop outside. Bear in mind that the hotel is on Tverskaya-Yamskaya — one of Moscow's liveliest streets — with cafes and restaurants located at every couple of steps. When the weather gets warmer, Sleepbox Hotel has bikes for rent, so guests can head off on their own to explore the Russian capital.
"It took a year from the moment we found the right premises to the day we first opened our doors to guests," says Sleepbox Hotel manager Natalya Chernikova. "There used to be a beauty salon here, so we had to make some radical alterations to the layout of the space. We stripped out all the plasterboard and hauled out a vast amount of building rubble to clear the floors. I'd say that getting a hotel ready in just a year is pretty good going. If everything goes well, we hope to recoup our investment over a year-and-a-half, but we're figuring it could be three."
Prices at the hotel are lower than usual for Moscow. A double Sleepbox will cost just €65 ($88) for a night, although a single will go for just over €70 ($94). If futuristic Sleepboxes are not your thing, a conventional kind of three-bed room goes for €115 ($155) a night.
"We've got big plans," Natalya says. "As soon as we reach the stage where the hotel is paying for itself, we want to open one — or perhaps two more — just like it in Moscow. There's a yawning gap in the hotel market that we are getting ready to fill. We're already on the look-out for premises near the rail stations served by airport express trains, and perhaps even within the airports themselves."
Sleepbox Hotel Tverskaya is located at 1-ya Tversksya-Yamskaya ul., 27.
All rights reserved by Rossiyskaya Gazeta.