House swappers in Russia invite foreigners to stay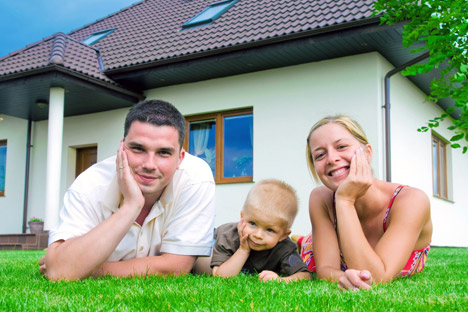 Russia is just opening up to house swapping, which is particularly popular in St. Petersburg. Source: PhotoXPress
House swapping has been a form of tourism for more than 50 years: foreigners stay in your home and you go stay in theirs. Russia is just opening up to house swapping, which is particularly popular in St. Petersburg. People who try this type of vacation will never want to travel in any other way.
The websites with the most house-swap offers in Russia are the Home Exchange and Homelink. The latter even has an official office in St. Petersburg, which influences the number of swap offers in that city. The only thing that might put off potential users of the site is the membership fee — up to €100 ($133) a year.
Moscow vacations
This is to make sure the pool of potential swappers is of the highest possible quality. Of course, there are sites on the Internet with free access, but they are less reliable.
The organizers of clubs with a membership fee suppose that someone who has paid money and filled in a questionnaire is less likely to ignore you if you send them a proposal.
Very often, it does not work out that you can plan your trip to coincide with the holidays of the people in the other country.
This is why people often do what is called "hospitality exchange," whereby club members have foreigners stay in their home while they themselves go and stay in their country cottage or with relatives; sometimes hosts will stay at home and give their guests a room.
It is not difficult to agree on this kind of accommodation, and moreover, there is no obligation for the people who have hosted you to pay a return visit later.
"We had a married couple from Italy to stay," says Natalya Slobodova from St. Petersburg. "At first I thought having them to stay would be very expensive for us, but I was completely wrong."
They even declined to eat at home, preferring to eat in cafés and restaurants," Slobodova added. "It was a bit difficult for us to communicate, since I don't speak Italian or English, but they spent most of the time looking round the city on their own."
Then, on their last day before leaving, they invited me and my husband to one of the best restaurants in St. Petersburg. We're planning to go and stay with them this summer," she said.

"In the 60 years that our club has existed, we've never had a single negative evaluation," says Alla Petryakova, official spokesperson for the president of the Russian branch of Homelink.
"If you look at the make-up of our club membership, it's mainly older, well-off people who are straightforward and pleasant to be with. Another important factor is that people pay to be members of the club. Having paid money, they make sure all the information they provide is accurate and they're willing to fulfill all the commitments they make," she added.

"People can not only exchange homes, but also go somewhere without having a return visit," Alla says.
"For example, I went to Berlin not long ago and stayed in a flat belonging to a young German architect, while he was in Kiev on business," she adde. "He sent me the keys through the post, left me his car, and arranged insurance for me. He made only one condition: that I look after his rubber plant while there. Having tried this type of tourism once, I wouldn't travel any other way."
One of the biggest misapprehensions among those who plan to swap homes with Russians is that everything's bad in Russia and that the housing will be very low-quality. In actual fact, the people who join home exchange clubs are mainly mature people who are fairly well-off or who even have higher incomes.
There are even those who own property of their own in other countries. The only problem for people who want to swap with Russians is the relatively small number of reciprocal offers.
Despite the big demand from foreigners, this type of tourism is not yet very widespread in Russia. However, all the indications are that Russia will open up more and more, and there will be exchange and hospitality offers in just about every city.
All rights reserved by Rossiyskaya Gazeta.