Hipsters taste Moscow at an island of innovations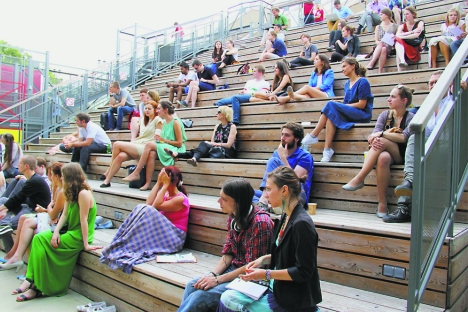 A varied audience of students, young professionals and hipsters attend the Strelka Institute's events. Source: Press Photo
The former chocolate factory on the banks of the Moscow River is home to art, design, media and high-tech projects, plus great restaurants and clubs.
Older Russians still recall the smell of chocolate that wafted from the factory's red-brick buildings, which date from the late-19th century. In the Soviet era, Krasny Oktyabr (Red October) became the country's most popular candy. Inrecent years, old factory floors have transformed into galleries, clubs, lofts and offices for hot media outlets such as liberal online TV station Dozhd.
Despite being associated with the arty media set, Krasny Oktyabr's diverse attractions draw all types. At Strelka Bar, bureaucrats rub elbows with independent filmmakers, while businessmen and backpackers alike can be found at Lumiere Brothers. Krasny Oktyabr offers a good day out in Moscow all by itself. Take in an art exhibition, snack on smoked haddock and dance at a rooftop club – all without having to hail a cab.
Culture
The Lumiere Brothers Center for Photography hosts the city's finest photo exhibitions. Many shows draw from the center's extensive Russian photo archive. Others feature big contemporary names from Russia and abroad, such as a recent show of New York nightlife chronicler Wendy Paton. The gallery also has an excellent shop, with black-and-white prints of 20th-century Moscow that make for elegant souvenirs.
The newest addition to the island's art scene, Red October got off to a strong start last fall with a Soviet-themed installation by conceptualist duo Ilya and Emilia Kabakov. High ceilings and iron columns recall the gallery's past as a factory floor.
Shopping
Bra-shaped pendants and a gold-and-sapphire bracelet that appears to be made of pencils are among the unusual works of jewelry designer Vladimir Markin. Markin's playful (and pricey) designs have been featured in Elle and Vogue Russia; call or e-mail ahead to make an appointment.
If diamonds are too bling, then the designer T-shirts at T-SHKA (located on the central factory's fourth floor) make colorful gifts and sell for a mere 800 rubles ($25). To really feel like one of the in-crowd, hang around to drink an espresso and peruse the electronic music selection.
Business
Business travelers temporarily bereft of a workplace should consider a membership at Digital October, a hot co-working site that offers month-long access to meeting rooms, a hip restaurant and more, at individual and corporate rates (individual memberships begin at 7,000 rubles, or $230). Finish a presentation, meet with an investor or just plow through your e-mails, then head out for more fun after dark.
Food
Strelka, the island's best restaurant, is affiliated with the Strelka Institute of Media, Architecture and Design.
Velvet banquettes and curtains create a funky retro vibe, while in summer the outdoor terrace draws constant crowds. Its new Danish chef, Yves Le Lay, has infused the Russian-European menu with Scandinavian flair, with dishes like smorrebrod topped with smoked haddock and horseradish. During the day, tête-à-têtes take place over eggs or a three-course business lunch at 380 rubles ($12); at night, the cocktails flow freely as the creative intelligentsia assembles.
For a relaxed meal, a cup of coffee or a beer in arty surroundings, Art-Akademiya is a perennial favorite. Opened by artists Yevgeny Mitta and Vladimir Dubosarsky, the restaurant boasts a long bar, comfortable cracked-leather sofas, as well as paintings by Pavel Pepperstein and other contemporary artists. The reasonably priced menu offers pasta and pizza starting at 280 rubles ($9), along with classic Russian favorites such as borscht for 390 rubles ($13).
Nightlife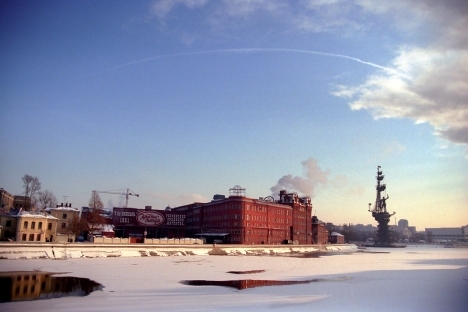 The former chocolate factory on the banks of the Moscow River is home to art, design, media and high-tech projects, plus great restaurants and clubs. Source: PhotoXPress
Krasny Oktyabr's nightlife scene was once ruled by the glittery Rai, known for its long lines, snooty bouncers and flexible dancers. But after Rai closed its doors last year, Krasny Oktyabr's most popular spot for drinking and dancing is the younger, more democratic Gipsy. In warm weather, it boasts the island's most popular open-air terrace.
Year-round, there's a pop-centric main floor and a more house-music and techno-heavy upper level. On the menu are Indian-influenced appetizers.
For a night that's rowdy but pretension-free, head next door to Rolling Stone Bar, where the age range and sartorial influences vary widely. Covers of the Russian version of the eponymous magazine hang on the walls, though they're usually obscured by the crowds and smoke. Rolling StoneDJs favor rock over techno.
All rights reserved by Rossiyskaya Gazeta.