122 Degrees below zero: hiking above the Arctic Circle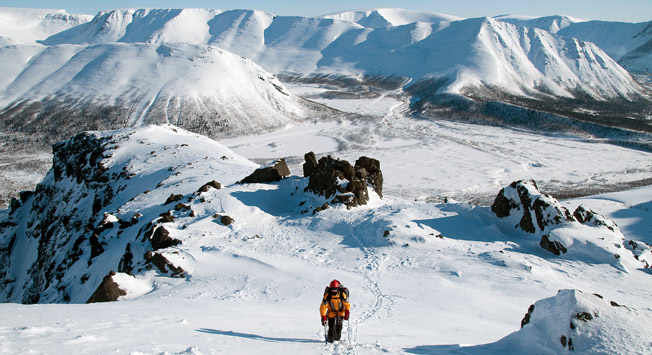 Not surprisingly, such industrial facilities prompted Renny Harlin, the maker of The Dyatlov Pass Incident, to come up with such an unusual denouement.
The "Secret Bunkers" taken directly from the film can be found only on the wild slopes at the ascent. So, right in the middle of the Yukspor mountains, strange beams with rust and dripping with crossbars stick out. God knows why they were set up here. They are interspersed with Orthodox crosses, and lonely and majestic towers on the top. You get goose bumps when you imagine that beneath your feet could be a military base or clandestine laboratory.
Places of interest and Entertainment
In mid-February the "Stone Flower" Fair will be held in Kirov, it is one of the main activities in the Kola Peninsula. For 2 euros you can snatch a small mineral that is found only in this area. Items made by people of the north are available for sale, which have become a national pride. The majority of them are products made of buckskin, horns, and wool, decorated with unique ornaments.
Here, above the Arctic Circle, is the location of the northernmost female Orthodox monastery, named after Our Lady of Kazan.
The northernmost in Russia is the Polar-Alpine Botanical Garden-Institute (unfortunately, the exhibition is only available from June to September), where flowers are cultivated for landscaping northern Russian cities. Closed in winter, the botanical garden area has become a platform for creating amazing structures out of snow and ice. For five years, businessman Vladimir Komyagin has gathered a team of creative professionals to create a polar "Snow Village" with the first frost. Snow domes, arches and the furniture inside are all made each year as a single copy and are not duplicated. They recently thought of building the Ice Palace for Weddings, where people could officially register their marriage!
Kirovsk is an ideal place for those who like to wander around abandoned factories. Near the remains of the railway station, where 20 years ago electric trains came from Apatity, is an industrial area of the apatite-nepheline factory, once known worldwide. These are the last few days of its operation: a couple of locomotives run on rails, and single workers are huddled together in modest trailers.
The Kuelporr resort is located within twenty kilometers from Kirovsk. Getting there is an adventure in itself. You will need to travel half an hour on the road using the only available form of transport – a snowmobile, which picks up travellers just like a taxi does. On this site, you can ride on a snowmobile as much as you like. For 1500 rubles (less than $50) per hour, you can drive at extreme speeds, doing incredible somersaults. It is still interesting to go on a tour along the river Petrelius on a snowmobile, driving through the Kukisvumskaya valley that connects the northern and southern part of the Khibiny.
Places to eat
As for the national northern cuisine, it consists, of course, of venison, fresh fish, fried whitefish, moose pies, cloudberries or red berry, similar to raspberries, cranberry juice...
The most popular entertainment venues in Kirovsk are the "Big Vudyavr" restaurant, a bowling alley and really good disco with DJs from St. Petersburg and Moscow. At the Kukisvumchorr ski resort there is a "Snowdrift" café. In the evenings, guests watch extreme videos and share their impressions about their trips. Close by is the northernmost hostel in Russia – the Bed & Snow Hostel of Hibiny.
All rights reserved by Rossiyskaya Gazeta.