Double life: Kazan seen through an American lens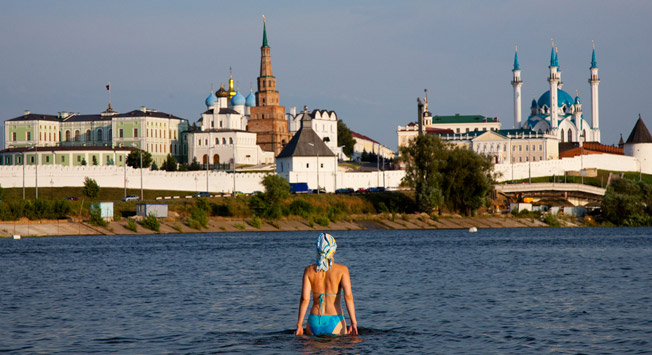 On her website, photographer Alison Shuman gives a brief introduction to her 76-page book "Minarets and Onion Domes", self-published in 2012, which uncovers the hidden details of the day-to-day life of the inhabitants of Kazan: "The city's population is divided almost equally between the Tatars, who are historically Muslim, and the Russians, who are historically Orthodox Christian. After the dismantling of the Soviet Union, churches and mosques were rebuilt, the Tatar language became an officially recognized language of Tatarstan alongside Russian, and ancient traditions kept alive in small villages fully integrated back into city life. What makes Kazan so extraordinary is that this process has unfolded not only with a marked lack of tension, but often with a spirit of mutual respect." In a conversation with RBTH, Alison told us about her impressions of the city and what the traveler who decides to visit it can expect.
RBTH: Hello Alison. Please, introduce yourself to our readers.
Alison : I'm a freelance photojournalist mostly from NYC - I've lived in a lot of places. I had visited Russia a number of years ago, and knew that I always wanted to go back. I started to think of a project to do in Russia. I remembered from my earlier travels, I remembered being in Kazan very briefly. It just kind of left an impression on me, then I started to read about the city and learned about the population being half-Muslim, half-Christian and about the relations they have with one another, and I thought that it was a very interesting and important story to tell.
RBTH: Why Russia?
Alison: In university I studied Russian as my minor and I've always been interested in Russian culture, but also my ancestors are from Russia. I'm third-generation American but it was still a part of my upbringing, this heritage, and I studied Russian and wanted to travel there. So, after my graduation I did a 9-month round-the-world trip, and that included 3 months in Russia going from Moscow to Lake Baikal.
RBTH: OK, but why Kazan?
Alison: The reason I went to Kazan was particularly for the story of relations between religions. In the States I had done a number of projects about Muslims living in America. After September 11 th and all the negative media surrounding Islam I wanted to tell a different story about the Muslims in the U.S., about their everyday lives. This was sort of an interesting extension of that work and brought me back to Russia.
RBTH: How much time did you spend there?
Alison: I was there for two and a half years, almost three years. When I was in Kazan for the first year I was only working on the project. And when I came back to the States I decided that I wanted to be in Russia for a longer period of time, I wanted to improve my Russian and have the experience of living there. So I went back and lived there for a year. I sort of worked on a project, I published a book and last year I did a solo exhibition in the Gallery of Modern Art in Kazan.
RBTH: What was your first impression of the city?
Alison: Before going you always create this idea in your mind of what your trip is going to be like. In my mind I had ideas of what photographs I would be taking and my thinking was 'Oh, I'll find priests and imams and everybody will be getting together…" But it happens on occasion, not that often, and what happens more - and what I found more interesting - is just day-to-day life, and the attitudes [I hear] when I speak to people. They just live with one another, it's not even a question - are they Muslim or not Muslim - they just respect one another.
RBTH: Tell us about your favorite places in Kazan.
Alison: Of course, there is the kremlin, the center of Kazan. It's a must to see the UNESCO Kremlin, the Qolşärif Mosque and the Annunciation Cathedral. I spend so much of my time visiting religious places! But beyond that there is a great level of really wonderful restaurants and places to go. There is a fantastic Indian restaurant – Malabar – it's so good! There is a really great Cuban restaurant (Cuba Libre) on Bauman Street – the main pedestrian walkaway. The food is unbelievable.
RBTH: Did you meet many foreigners who live there?
Alison: My interest was not so much with foreigners. I now have a big group of Russian friends – that was really more interesting to me. One semester I took some classes of Russian for foreigners. There were people from England and Taiwan and I got to meet them. The main purpose for them was the interest - they learned about two cultures - Russian and Tatar - and thought it would be an interesting place to be.
RBTH: What traditional food would you recommend tasting?
Alison: I grew very close with one Tatar family – they're now like my family. Through them I got to know some really delicious homemade Tatar food. The signature dish that you find is kystybyi (lenten cakes filled with mashed potatoes) and manty (chopped meat rolled in pastry and steamed).
RBTH: What would be your tips for a traveler?
Alison: Kazan has changed so much since the [2013 Summer] Universiade – the city looks entirely different from the one that I first arrived in back in 2011. Still, I love walking around the old Tatar settlement [Staraya Tatarskaya Sloboda] – that was my favorite place in the city to walk around. You see some wooden houses… But it's not like a shiny downtown. It has a lot of old mosques that are really beautiful, and small churches.
Also, Kazan is on the Volga, so you can take day trips on the Volga, to the city of Sviyazhsk. I would definitely recommend taking a parokhod (steamship) down the Volga - that is a real experience in itself.
If you visit a mosque, women need to cover up. I would really take a scarf with me though a lot of mosques have scarves so you can cover your head. In churches women also cover their heads. On the street, beyond regular traveler safety there is nothing that I could say "don't do this".
RBTH: What is your favorite photo from Kazan?
Alison : One of the images I really like and I get a lot of comments on is one of the last images in the series - you can see all of the Kazan Kremlin in the background but in the foreground there is a woman walking into the Kazanka river. I like the position of this woman in the bikini and in the background you see Qolşärif Mosque and the whole kremlin. There is a large part of the population that isn't religious also – that's daily life in Kazan, you have these mosques and churches, but then you also have this people in swimwear on the beach – I think that image shows a lot of different sides of the city.
You can see a preview of the book "Minarets and Onion Domes" here.
All rights reserved by Rossiyskaya Gazeta.