Top 9 Moscow museums that are interesting for kids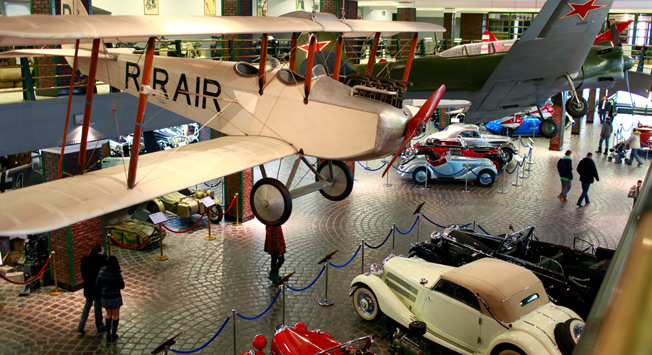 Coming to Moscow with your child can be quite an undertaking! Unfortunately, Moscow is not a resort, nor can you entertain your child with ice cream and a ride on a water slide, like in the "all inclusive" resorts. No problem – here you can take the kids for a ride on an armored personnel carrier or drop into the "Mir" orbiting space station.
You can see cars, airplanes, motorcycles, tanks and a horseless carriage from the early twentieth century at the Museum of Technology (ages 3 and up). Adults will find it interesting to see the cars of Stalin, Khrushchev, Brezhnev, and even the Princess of Monaco and the actress Grace Kelly. In addition, if you direct your eyes upwards, you will see many Yak planes hanging from the ceiling – the biggest collection of these airplanes in the world . Children will love the model railway layout, which in its degree of detail and beauty is equal to the Dutch miniature town of Madurodam. At weekends, the museum operates a driving school for kids aged 11 and over, where the young ones can put on a helmet and ride in an armored personnel carrier or a 1957 Mini Cooper. You can also pre-register for classes teaching assembly and disassembly of weapons (especially great for the young military enthusiasts).
Curious kids will love the Fersman Mineralogical Museum (ages 3 and up) – which contains natural furry stones that can be touched. Next to them, there is a selection of meteorite fragments (the oldest of these became part of the Academy of Sciences collection in 1749) and parts of a roof from a grain dryer, once broken up by a meteor shower. However, the main exhibits here are the minerals, of all shapes, sizes and colors – quartz in the shape of sea urchins; prehnite, transparent green and round, like a grape; bluestone twigs covered with sapphire dew; fluffy natrolite and purple elbaite. For the older, but no less curious children, the doors of the "Sphere" museum are always open (ages 7 and up). Here you can touch everything, even the rare and vintage items – phones, microscopes, and most importantly – the cameras. Here you can see tiny Soviet-era spy cameras and even a briefcase camera – hold one under your arm and you can take photos unsuspectingly. In the special laboratory, they show you how to make black-and-white images, and demonstrate wet printing, where images appear right before the visitors' eyes. At the entrance to the museum, there is a giant camera obscura – you can climb inside and see the upside-down image of the person looking into the lens.
It is worth coming to the "Moscow Lights" Museum (ages 6 and up), after pre-registering for a tour (which can be held in various foreign languages). Here they will show you how to ignite kindling, a candle lantern and kerosene lamp – and you are allowed to touch all the exhibits. You can even sit at the outdoor lighting control center that operated in Moscow from 1940 to 1984 – with just a simple click of a button on the remote control, colored lights will instantly illuminate your surroundings. Occasionally the museum organizes a Ball – employees light candles, wind up an old gramophone and teach guests to dance the waltz and minuet. Also the Polytechnic Museum tour is not to be missed (ages 4 and up) – here you have the chance to start a generator with your own hands.
One of the major attractions here is a green 19th century steam engine with huge brown wheels, windmills (which gives you the feeling you have coach landed into a scene of the TV series 'Lost'), and radio receivers from all ages. In another hall, there are dozens of gramophones, phonographs, telephones, televisions, and collections of buttons.
A must visit for dinosaur fans is the Museum of Paleontology (ages 4 and up) – here you can see the skeletons of all manner of creatures, now extinct for millions of years. A plesiosaur with sad eyes and giant mammoths are also on display.
Budding young astronauts will be delighted by the Memorial Museum of Cosmonautics (ages 4 and up), with a genuine "Mission Control Center" – a huge screen showing where the international space station is in real time, and how people live inside it. There is a rescue helicopter simulator as well as the main attraction - a space simulator that will make you feel like you are flying to the moon! Here you can enter the body of the "Mir" space station, to wander among dozens of spacesuits, containers for the growing of orchids in space, and ejection seats (just don't push the eject button!).
The young scientist will be fascinated by the "Experimentarium" (ages 7 and up) – a scientific attraction where children are allowed to not only touch the exhibits, but also to participate in the various experiments. In a 2,000-sq. m. area, you will see more than 200 inspirational exhibits from an American truck, to a model of the human eye; your child will become acquainted with the basics of anatomy, mechanics, optics, acoustics and electromagnetism.
The youngest can enjoy the "Doll House" Museum (ages 2–3). Here they can play with antique toys, dolls, doll dishes and toy soldiers; give a teddy bear a ride in a doll stroller, which, along with his owner, lived through the entire Siege of Leningrad, and was even wounded – on his chest there is a trace of an actual bullet wound! You have the opportunity to touch the doll Vera – born in 1903 and kept in the same family for 98 years! See the soldiers, sculpted out of bread during the First World War.
All rights reserved by Rossiyskaya Gazeta.