Handmade paradise for conscientious shoppers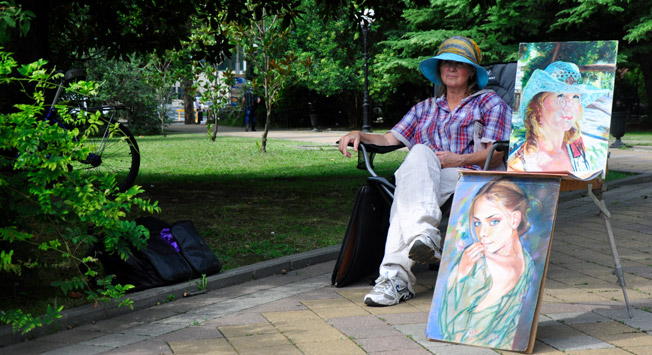 Top 7 places to buy crafts and handmade souvenirs in Sochi
The Sochi Art Salon contains unique handmade works made by the city's most famous authors. Here you can buy traditional Russian nesting dolls, goods made of leather, wood and stone, with paintings and carvings, embroidery and knitting, painting and sculpture, ceramic souvenirs and accessories made of natural silk and felt. Every piece is a 100 percent work of folk art, hand-made masterpieces, real and exclusive items. Whatever you buy here, you will not be able to find anywhere else. In the Art Salon, not only can you buy the finished product, you can also place an order with the craftsman who will make something especially for you. The Art Salon is located at 29 Kurortny Prospect , next to the "Alenka" cafeteria well known since Soviet times.
If you prefer natural products and materials, you need to look in the "Russky Len" shops. There are a few of them in Sochi. All of them have a great selection of women's, men's, home-style and children's clothing, scarves and souvenirs made from natural flax. There are modern samples, and those made in the Russian style with colorful embroidery, fringe and even painted ones. All goods in the "Russky Len" shops are environmentally friendly. Stores are located at: Sochi, 40 Parkovaya street and 47/2 Kurortny Prospect . The "Linum" shop with goods made of flax is also located on the seaside promenade.
Clothes made of environmentally friendly materials and sold in the " Jean and Paraskeva " store (link in russian). The selection comprises designer garments for women made by the Russian fashion house carrying the same name. Clothing is manufactured from natural fabrics – linen, cotton and hemp. You will certainly find some room in your wardrobe for an unusual country-style blouse.
See for yourself how handmade things are born and you can even take part in the process in this ethnographic complex called "Volnitsa." The viewers themselves can plunge into everyday life; they can come close to the rural lifestyle, see the dishes, clothes, boxes, ornaments, icons, carts and other household items of those times with their own eyes. There is also a homestead of artisans working here, where you can learn pottery or try yourself in the role of a blacksmith, a beekeeper, or you can watch the manufacturing of ceramics and basket weaving. Finally, in the evening, you can even be a guest at a real Kuban wedding with singing, dancing and toasts. The Ethnographic Complex " Volnitsa " is located at: Matsesta , Semenivka village. Tel.: 8-989-757-00-44 , 8-928-853-00-44
If you're a lover of noble antiquity, you need to go to the "Collectsioner" shop. Here Sochi residents can sell their antique goods on consignment: porcelain, bronze art, cast iron, icons, boxes, silverware, jewelry, coins, rare books, paintings, graphics, out-of-print books, rare stamps, old postcards, oriental ornaments made from silver. Getting to this store is simple: you need to go across the river from Sochi's central market and you will be able to find it on the other side of the river Address: 3 Tchaikovsky street , 8-8622-54-40-93
In Sochi, you can buy hand and face creams, shampoos, handmade soaps, balms and scrubs made from natural bee products. All this is made from honey and herbs with the addition of royal jelly and essential oils. The apiaries, where the necessary raw materials are collected are located in the village of Krasnaya Polyana. You can buy these goods in some retail stores or order them online http://medovea.ru (link in russian), +7 (915) 932-85-56
The Sochi sculptor's salon shop is called "Plastic art in wood", which belongs to Alexander Sobol, a member of the Union of Artists of Russia is a Mysterious and enigmatic place. The craftsman has been doing woodcarving for about 40 years. More than 500 masterpieces were made with his own hands, many of which can be seen here in the art gallery. Panels, mirrors, paintings, decorative frames, figurines and furniture – you can simply admire these or buy them for your own home. The author uses natural materials: pine, beech, walnut, chestnut, lime, pear, oak, ash and maple. Gallery's address: Sochi; Office 24, 1 Zvezdnaya street , Admission fee – 100 rubles. (About 3.5 U.S. dollar or 2.5 euros) 8 (918) 402-55-95
All rights reserved by Rossiyskaya Gazeta.