Water rural retreats of the Olympic capital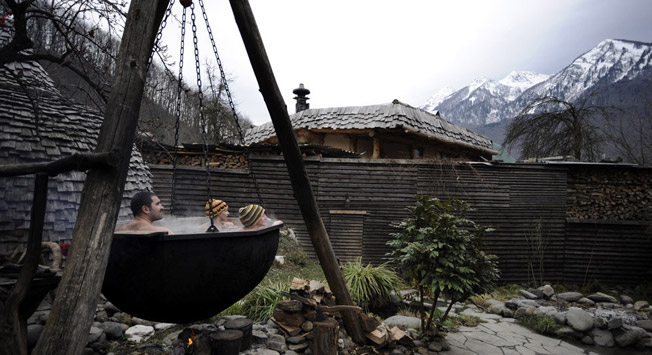 M. Mordasov, Focus Pictures
Do not fear sturdy people with eucalyptus and birch branches, and you are sure to undergo a test of strength.
Joseph Stalin's favourite resort continues to offer an impressive array of health centers, saunas, sanatoriums and swimming pools to suit any taste. However, in case you do not have time to visit the sanatoriums, bypassing the Russian sauna, or banya, would be a crime. The only type of sauna hotter than the Russian one is the Finnish one (50–70 degrees Celsius), but the Russian is one of the most humid (80–100 percent).
Russian Saunas
The Banya Land health complex in Krasnaya Polyana offers several types of steaming based on Russian traditions. The heated steam is a full-body "massage" with four bunches of oak twigs and contrasting dousing with freezing water. There are also specialists who steam children. Of course, for children the process is more like a game, but it is an excellent way to acquaint them with Russian traditions. (74 Zapovednaya St., Krasnaya Polyana, tel. 8-(862) 243-70-44, 8-(918)-408-45-12)
The Parus thermal health complex is a three-level aqua zone with waterfalls, swimming pools and the world's most popular steam rooms. Visitors can choose among seven types of baths: Russian, Finnish, Turkish, Roman, Arab and herbal. There is an infrared health sauna room, where special lamps directly heat the body. After such a procedure, a dunk in the icy fountain or relaxing "shower of impressions" with a different type of water stream will help you cool off. Of course, the complex serves tea made from Krasnaya Polyana's high mountain plants. (86/3 Kurortny Prospekt, Sochi, tel. 8-(862) 246-82-30)
In the sauna of the Chetyre Vershiny guesthouse, along with the traditional steaming under prairie hay with bunches of eucalyptus or oak twigs. Old Russian massages and a bath in a pool of the cleanest mineral water help to produce utter satisfaction and complete relaxation. Services for guests include many additional health procedures, along with massages and a phyto bar with a roaring fire. (10 Esta-sadok, Krasnaya Polyana, tel. 8-(862) 243-92-22, 8-(988)-239-88-83)
The sauna at the Melodiya Gor hotel offers guests the chance to experience first-hand all the charm of the Russian steam traditions—a massage with honey and salt, steaming and a hot wrap with oak leaves, and immersion in wooden barrels filled with freezing water. The unforgettable sensations and feeling of lightness are provided by a distinctive soapy massage using eucalyptus twigs. The wooden cabin where the sauna is located provides all the conditions for both solitary relaxation and socializing with other people. (77/2 Estonskaya St., Krasnaya Polyana, tel. 8-(862) 2439-202, 8-(928)-665-54-11, 8-(862) 295-51-20, 8-(862) 295-51-22)
Seawater Swimming Pools
Sochi has several outdoor swimming pools with heated seawater. The temperature difference between the water, air and one's body offers an unimaginable cornucopia of sensations and feelings. One of the most well known pools is the one at the Grand Hotel Zhemchuzhina; it is the biggest in Sochi. It is 50 meters long, 25 meters wide and more than 4 meters deep. There is a children's pool that is 20 x 20 meters and no more than 1.2 meters deep. Although both pools are outdoors, they are open all year round. The water temperature is always maintained at +27 degrees Celsius. (3 Chernomorskaya St., Sochi, tel. 8-(862) 266-83-93)
Sulfur Springs
Sochi is crossed by the Matsesta River, which boasts healthy waters. The healing properties of the sulfur springs were discovered in the last century, and since then it's water has been helping people cope with ailments. Not coincidentally, a cup filled with Matsesta water is in the center of Sochi's official seal.
The Matsesta spa is open all year round. It has several unique types of procedures: in addition to sulphur baths, there is an iodine-bromine balneotherapy relying on the local mineral springs. Bathing in mineral-rich warm water has virtually no contraindications, and it has a positive effect on the cardiovascular and nervous systems, increasing the human body's overall immunity.
The more traditional health procedures are also complemented by mud treatment. The Matsesta spa offers plenty of ways to sink from head to toe in choice healing mud that is heated to a comfortable temperature and that contains sulphur, iron, potassium, sodium, magnesium, nitrogen and more. Such a procedure relieves aching joints and makes varicose veins retreat.
The cost of a treatment depends on the quantity and types of baths; average prices run between 5,000 ($ 160) and 20,000 ($ 625) rubles. There is a hotline that people can call if they have questions: 8-(800) 200-04-34. The call is free from any Russian phone number. Address: 14 Cheltenkhem Ave., Sochi. The company's administration is in the Novaya Matsesta district: 4 Cheltenkhem Ave., Sochi.
All rights reserved by Rossiyskaya Gazeta.