A guide to staying safe in Sochi in a language you can understand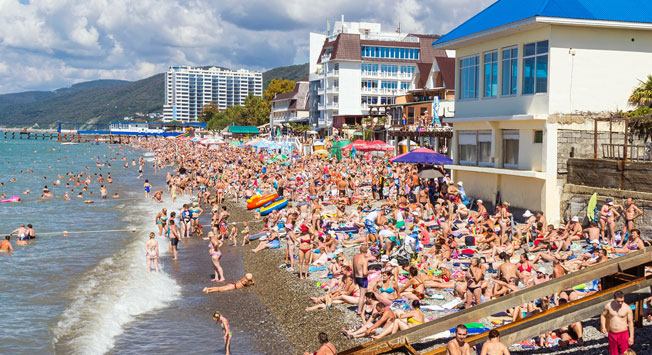 The Olympic Games and the expected influx of foreign visitors pushed Sochi residents to create numerous services and guides especially for foreign tourists
CALL center
If you get lost and passers-by don't know anything in English besides "Hello!", you can call the city's 24-hour information center (8-800-550-86-42), which has Russian, English, French, German, Chinese, Japanese, and Korean speakers. Here you can find out the location of hotels, call a taxi, get a train schedule and find out other useful information about the city. Operators can advise you about the best Chinese restaurants, tell you the telephone number of entertainment centers and clubs, or help you contact emergency services if you need their assistance. Information about the airport, railway stations, hospitals, pharmacies, banks, 24-hour ATMs, museums, and tour operators are all in one database.
City translator
Special telephones with two handsets will be another key to communicating with Russians. If two people who speak different languages want to understand each other, they just have to pick up these phones and dial the number of the Sochi call center. The conversation will be translated for the callers by a third party. These telephones can be found at Sochi Bus Station, Sochi Railway Station, Adler Railway Stations, Krasnaya Polyana Railway Station, and the international airport. These phones are also installed at the police station and at first aid stations to aid foreign visitors in the event of an emergency. In the interest of safety, similar cordless phones have been installed on ambulances, with the hope that this service will not be needed by any fans or athletes.
Internet
Foreigners with access to the internet on smartphones or similar devices can navigate Sochi with the help of the Russian-English portal iSochi-info.ru. Here you can find information on all state and local government agencies in Sochi, as well as the addresses and phone numbers of dental clinics, insurance companies, taxis, beauty salons, flower shops, etc. The official website of the city administration, sochiadm.ru, has also been translated into English. The site contains materials about the city's tourist attractions and other useful information.
A new guidebook in English and French
The Olympic Games and the expected influx of foreign visitors pushed Sochi residents to create the first guidebook to the city in English and French. This translated guide to Sochi's rivers, streets, neighborhoods, towns, and mountain ranges is almost 200 pages long. This bilingual guide has names and addresses of hotels, sports centers, museums, and concert halls. Foreign visitors will be interested in the detailed descriptions of all major tourist routes through Sochi, as well as information on most monuments and the history of the resort. Linguists have been working hard not only on translating books, but also street signs and informational signs. Download the guidebook here.
Audioguides for sightseers
Another step that Sochi has taken to welcome foreign tourists has been to create audio guides for iconic venues in the city. English language holographic guides can be found at the Sochi Museum of Art, the Museum of the History of Soch, the Sports Hall of Fame, and also in Dendrary Park, the boxwood and yew grove and in Krasnaya Polyana Zoo. With their help, you can take a self-guided tour of the exhibits.
City Emergency Services
If you need to call one of the city emergency services from your mobile phone, they can all be reached by dialing 112. Callers can speak in English, Russian, French, German and Spanish.
All rights reserved by Rossiyskaya Gazeta.