Winter in Sochi: what do you wear and what do you bring with you?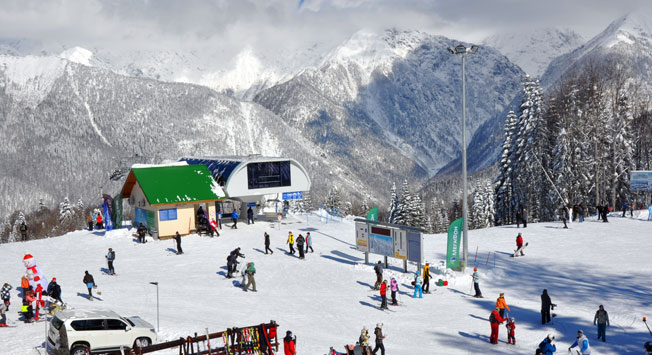 The climate in Sochi is subtropical, the city is on the same latitude as Boston (USA), Toronto (Canada), Sapporo (Japan), Shenyang (China).
Sochi is called the summer capital of Russia, because President Vladimir Putin's summer residence is situated in this city. Only here you can see the amazing "natural cocktail": a combination of alpine zones and a Mediterranean climate, which are only 50 km apart. The weather in Sochi is created by the Caucasus Mountains and the Black Sea. This mountain range is what protects the resort from cold winds from the north and east, and the sea acts like a living organism – in the summer it absorbs heat, slowly warming up and cooling down in winter, giving the people its accumulated warmth.
In fact, every winter in Sochi is a surprise. In one year, the urban fashion conscious young women worry that they will not be able to put on their new fur coat as it is too warm. Next year comes the real winter with lots of snow and strong winds. In addition, there is the above-mentioned humidity. However, winter in Sochi lasts for a brief period, and literally the second or third day of "winter" a thaw begins – streams are babbling in on the streets, the sun is shining at it s brightest and the birds are chirping . During the winter, it can be repeated even several times.
In Sochi, like in any sub-tropics, alas, you can't do without the rain. In cold time of the year, the amount of rainfall increases – the peak is in December. In addition, depending on the season, the level of humidity changes as well – in winter it is 70 percent. This is an amazing sight – as you walk, there is a cloud around you. The average winter temperature in the city is 6-7 degrees and above, and at night it reaches zero. In Krasnaya Polyana the weather is markedly different from the city's and is on the cooler side. Sometimes the difference in temperature can reach 10-15 degrees Celsius. However, there are general rules that also apply to both Sochi, and Krasnaya Polyana. So, here are a few tips.
Tip number 1 : In winter, in Sochi you definitely need a common umbrella, because it rains more often than it snows. Frosts in the city are extremely rare, and in Krasnaya Polyana, their temeparture can be as low as 10 degrees. Therefore, you won't find yourself in the Russian Siberian snow storm, and you won't be able to have a picture taken with the penguins on an ice floe on the coast of the Black Sea, because the "Olympic" sea never freezes.
Tip number 2 : If you are going to Sochi, it is worth taking both a warm fur coat and a light jacket with you. Nobody will tell you what to wear tomorrow. Winter in Sochi is magic, unpredictable and quite often it can "fool" the meteorologists. If you clothes have fur, then it is better that it was warming you from the inside. Because due to high humidity your furry collar or fur coat will quickly become wet and lose their appearance.
Tip number 3 : Footwear selected should be definitely waterproof and comfortable . Just in case, take both rubber insulated boots, and warm leather boots.
Tip number 4 : Despite the fact that you are traveling to the south, take a hat with you, a scarf and a pair of gloves. If you are going to spend most of the time in Krasnaya Polyana, you cannot do without these things. Headgear may not be very warm, but warm enough to protect you against the wind.
Tip number 5 : Most likely, you will need sunglasses. You will find it will be much more convenient on a sunny winter day to admire reflections on the surface of the sea, or the sparkling snowflakes on the slopes with them on.
Tip number 6 . Another tip. Most likely, you will see people sun baking on the beach or even bathing in the winter sea. You shouldn't be as courageous. The weather is deceptive. Even if the air is warm enough, the seawater temperature can be as low as 10 degrees. Most likely, the bathers are Sochi residents, who have had years of training and who swim in the sea in any weather. Remember, in order to bathe in Sochi at this time of year, you need special training. So if you have no experience, it is better to look after your health.
All rights reserved by Rossiyskaya Gazeta.