How to get to Sochi by plane, train, sea and automobile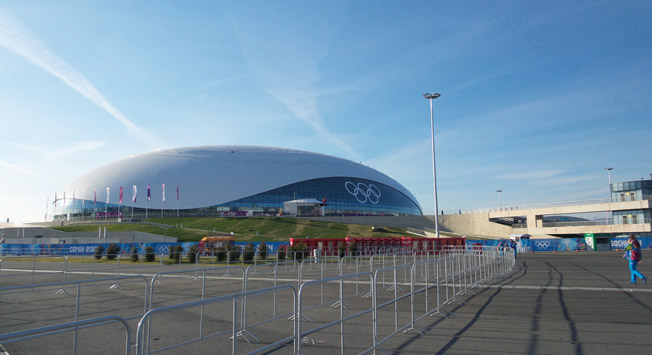 Getting to Sochi by plane, train, sea and automobile.
By plane
Sochi's new international airport now handles dozens of domestic and international flights daily. One may reach city center from the airport terminal (18 miles) by bus, train, or taxi.
The major carriers are the companies Turkish Airlines, Yakutia, and S7. The administration of Sochi airport plans to increase the number of flights on existing routes, as well as add new destinations while the Olympic Games are being held. As of now, there are only a few direct international flights to Sochi; planes fly to Yerevan, Тashkent, Тrabzon, Belgrade, Istanbul, and Prague. The following cities appear on the list of "promised" destinations for during the Olympic Games: Stockholm, Аntalya, Pаris,Dusseldorf, Dubai, Dushanbe, Frankfurt, New York, Washington, Kishinev, Мunich, Chicago, Oslo, Sofia, Vienna, Zurich, Zagreb, Tokyo, Аstana, Kiev, London, Beijing, Milan, Khujand, Аlmа-Аtа, Nuremburg, and Shanghai. Foreign guests from other countries will need to make a transfer to get to the Russian resort.
Мoscow, Кrasnodar, and St.-Petersburg are the main transfer points to Sochi. Moscow-Sochi and Krasnodar-Sochi flights operate daily. A one-way flight from the capital to the resort-town costs US $85 and lasts 2 hours. While the Olympic Games are on, the company Aeroflot will run the promotion "Olympics for a Fiver," whereby it will be possible to obtain Moscow-Sochi round-trip tickets for US $143. A ticket from Krasnodar to Sochi will cost about the same US $85, but flight time is 35 minutes. The St. Petersburg-Sochi flight lasts approximately 3 hours, ticket price – US $158. Flight schedules can be found on the Sochi airport website – basel.aero – or on the company-carriers' websites: Aeroflot, S7, Donavia, Yakutia, Тransaero, Utair, Ural Airlines, and Skyexpress. You can obtain tickets, as well as cash in on good deals, on these sites: aviasales.ru (English analog jetradar.com), http://www.airtickets24.com/, http://tickets.ru/en, http://www.tripsta.com/, http://sindbad.ru/en, and http://www.davs.com
By train
If you have time, you can add variety to your trip; fly to Moscow or St. Petersburg, and then board a train. The train travels from Moscow to Sochi (about 1000 miles) in 24 hours plus.
The price of a ticket starts at US $72 for a one-way third class fare. After 24 hours in the mercilessly diverse Russian third class wagon, you can bravely write the book, "The Amazing Adventures of a Foreigner in Russia."
In summer 2013, the new double-decker train, Moscow-Sochi-Moscow No. 104, entered into service. It is the first in our country. This train is the fastest, spending only 23 hours en route. The price for a coupe ticket is about US $103.
In the summer (from the end of June to the middle of September) one can get to Sochi from Berlin (approximately 1,864 miles) by train in 67 hours. Russian Railways (RZD) is the main rail carrier. Tickets may be purchased on the RZD site.
By automobile
Of course it is possible to reach Sochi by car from Europe. Especially if there are 2-3 experienced drivers in the "crew," it is possible to be in Sochi in just over 24 hours. The road to Sochi from Berlin takes over 30 hours and the distance is about 1,864 miles. It is necessary to pass through Poland and Ukraine.
The distance from Paris to Sochi is over 2,486 kilometers. The road goes through Germany, Poland, and Ukraine. From Rome, the distance is more than 2,174 kilometers, from Helsinki – 1,708.
Important Note: the entry into Sochi of cars with non-Sochi numbers will be prohibited. They will simply be turned back at the entrance to the city. Thus the travel-by-car option should only be considered for the post-Olympics period.
By sea
There is one more very "summer" alternative – marine transport. There is just one thing – the boats and catamarans from Sochi do not go any further than Turkey. The price of a Тrabzon-Sochi ticket is US $85-158. The travel time is approximately 4 hours. Marine transport runs twice a week. Useful information may be found on the site of the Sochi seaport.
All rights reserved by Rossiyskaya Gazeta.