9 incredible must-see places in Crimea for tourists and adventurers alike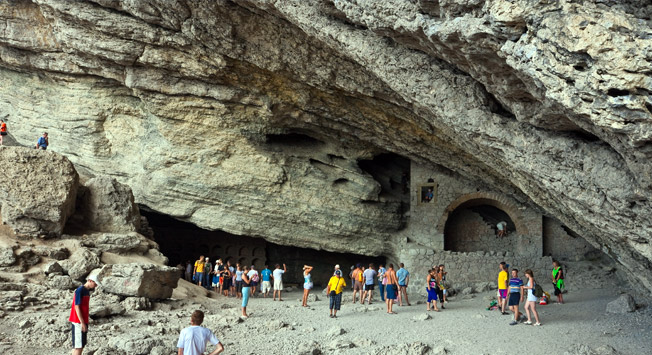 The looming cliffs and the arching coastline of the Black Sea of the Autonomous Republic of Crimea is the paradise of Eastern Europe. It was the playground of Russian tsars. Taste their ruby-colored port and spirits that go by the name of the "Seventh Heaven" straight from the vineyards that served Russia's last tsar, Nicholas II. Most visitors kneel before these spirits. Riviera-grade vistas without riviera prices and sun almost year round, about which Anton Chekhov wrote, "it is never winter here". Soviet-style boulevards and the Bakhchisaray Palace are a few of the sights. Busy in the summer months with European and Russian visitors, the wonders of Crimea are endless.
If you plan a trip to Crimea, you are sure to have a fulfilling time. Here are 9 of the most fascinating sights we have picked out:
Golitsyn Trail
In 1912 Tsar Nicholas II visited the estate of Prince Lev Golitsyn in Crimea. Prior to his trip, the Tsar requested that a trail be carved out of the hillside southwest of the town. During his trip, Golitsyn invited him to try the local Champagne, after which the Tsar exclaimed that he saw the world in a new light, thus naming the village Novy Svet (New World). The Trail he walked explores the most spectacular corners of Novy Svet and is named the Golitsyn Trail. It winds past natural caves, 30 to 50 meters above sea level, near the Blue Bay. It is a special gem of the Crimean imperial life.
Chersonesus National Sanctuary
In the historic city of Sevastopol, this sanctuary is a great attraction. First off, it's location right next to the sea couldn't be more picturesque. This 19th century Byzantine style Orthodox Cathedral mixes Ancient Greek with Byzantine styles and is in impeccable shape. Check out the museum of Byzantine art and artifacts while you are there. Moreover, even for non-history buffs, the sanctuary grounds make for unforgettable summer walks.
Chekhov House & Museum
Visit the well-preserved and almost untouched home of Chekhov. Explore his white dacha with unique hostesses who will give you a personal tour of its rooms, though not every room is open to the public. The garden is slightly overgrown but this gives an air of aliveness. Many things have been left over from Chekhov's family and the stories told by the guides make you feel as if Chekhov is there with you.
Bakhchisaray Palace
16th century Crimean history well preserved as a public museum. The former home of Crimean Khans exemplifies the unique Crimean Tatar's architecture. Within, visitors explore a museum of the legendary Tatar's culture, an exhibition of antique weapons and firearms, a harem, a mosque, cemetery, the living quarters of the Khans and marvellous interior gardens. The palace is a stunning introduction to Crimean architecture and a step into the past.
Nikitsky Botanical Garden
One of the largest and oldest botanical gardens in the world resides in Crimea, founded in the early 19th century by Christian Steven, a world-renowned botanist. Visitors explore 1000 hectares of ground including a scientific research institute, a center for exclusive saplings and seed production and a complex of relict forests and man-made natural exhibitions. Visitors are introduced to 28,000 flora species.
Little Jerusalem
In the heart of Yeupatoria, is a small district of a variety of cultural, ethnographic and sacral sights. Explore Crimean-Tatar mosques, an Armenian church, Karaim temple, Orthodox church, synagogues and the sanctuaries of Muslim pilgrims. Traditional fairs and festivals light up the days and nights in the summer inviting Crimeans to dive into a mix of cultural events ranging from food and wine, folk dancing, master-classes in crafts and hand-made souvenirs.
Paradise Park
In the natural setting of a mountain amphitheater before the small bay of the town of Partenit, this man made park contains waterfalls, exotic plants from around the world and impeccable sculptures. Visitors are advised to not miss the 200 year old olive grove. This park is open all year round.
Chufut-Kale
A byzantine Fortress turned residence for Crimean Khans later to become a place for high-ranking prisoners of war, this cave town is now open to visitors and can be accessed by a slow hike up a 200 meter hill. The settlement is bordered by 50-meter high sheer cliffs and contains defence towers, walls, gates, narrow streets and a residential estate, shrines, Mausoleum, cells and storage rooms all carved into the rocks. It's age and degree to which it has been preserved is outstanding. It is the most visited of all cave towns on the peninsula.
Mishor to Ai-Petri Cable Car
Float the span of a 1670-meter wide valley in a cable car over 1000 meters above sea level. The journey begins on a supported cable route across a 1310 meter span before turning upwards at a 46 degree angle on an unsupported stretch of cable. An ascent to 1153 meters above sea level gives way to unmatched views of Mount Ayu-Dag, Yalta, Cape Ai-Todor, the Swallow's Nest, resort towns of Mishor, Alupka and Simeiz and the whole expanse of Black Sea laid out on the earth below.
About the author: Natalia Pakhomova is a Russian native and a chief destination expert at Travel All Russia, a destination management company specializing in Russia.
All rights reserved by Rossiyskaya Gazeta.