Farms and Festivals, Campfires and Churches: Russia's best Open-Air Parks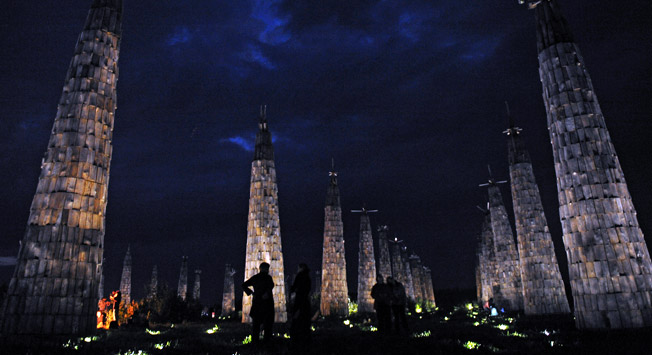 For those that want to breathe a little fresh air and be active this summer, we have compiled a list of five destinations where participation is often encouraged and the smokestacks of metropolises are out of sight. From volunteering at an artsy organic farm to milking cows at a Buddhist temple to visiting a prophet in a far-flung Orthodox village, these destinations will liven up any summer itinerary.
Nikola Lenivets is an art park and functioning organic farm, like a rural version of Krasny Oktyabr on a sprawling and rustic territory. Located about 80 km from Kaluga, it regularly features architectural festivals, new media conferences, science events, electronic music parties, and ecological workshops. Cosmopolitan but not exclusive, it's open to the public and features cottages and a hostel on site. Guests can also camp and volunteer at the farm without having to leave showers and wi-fi behind. There is a bar at the hostel, a restaurant, and a salad bar at the farm on weekends.
Located 90 km from Moscow, this open-air ethnographic theme park is a functioning work in progress that hopes by 2020 to be the largest such park in the world. The park is similar to Disney's Epcot Center. Dozens of countries are participating in the construction of its pavilions, and most weeks there seems to be a different festival celebrating different regions, countries, or musical genres. Each hotel is in the form of a different national structure such as a Nepalese home, a Khakassian yurt or Ukrainian hut. There are multiple spa complexes, with the newest being inspired by Sri Lanka. Etnomir also is also host to several large festivals, including the annual folk and world music fair, Dikaya Myata, is that takes place in June and Put k sebe, an ethnic music festival with more of a family bent that also features a handmade arts fair. The next incarnation is August 2-3.
Atsagat Datsan is a Buddhist temple founded in the 1820s that was visited by future Tsar Nicholas II in 1891. Once a major center of Tibetan medicine, a state farm and orphanage were built nearby in the early 1930s before the temple was liquidated and turned into a boarding school. The Dalai Lama visited in 1991 and the Datsan was fully restored the following year. Today Atsagat is ready for visitors, welcoming them to stay at their own tourist complex, Stepnoi kochevnik. An excellent place to acquaint oneself with Buryat culture, you can milk a cow, learn about Buddhism and try Buryat food (in a café in housed in a yurt) as well as attend a presentation featuring folk dances and a Buryat bow and arrow show. Also on the premises is the museum of Agvan Dorzhiev (1854-1938), a major figure in Russian Buddhism and the founder of the first Buddhist temple in Europe. Located 50 kilometers from Ulan Ude, this could be combined with a visit to the Eastern (and much less touristy) shore of Lake Baikal and the nearby Voice of Nomads Festival a world music celebration held in July. Quiet retreats can also be organized.
http://alfaturuu.narod.ru/index/0-10
http://jassotour.ru/publ/20-1-0-205
The goal of this project is to build and restore the trail, which eventually will circle the entirety of the world's oldest lake. There are many volunteer options to choose from in both winter and summer for children and adults, and plenty of opportunities for volunteers to get their hands dirty. In addition to building the trail, other projects include creating park space on lands recently set aside for preservation, and the restoration of an old watermill. But for those that have a more reserved attitude towards nature, there is work to be done as translators and at their office in Irkutsk. Summer projects last two weeks and volunteers sleep in tents and eat and cook around a campfire. There is time for hikes and visits to nearby sites and a two-week camp costs approximately $500, which covers most expenses including a visa invitation (although not travel to Siberia).
http://www.greatbaikaltrail.org/ru/node/109
Of all of the options on this list, this destination is for the most intrepid traveler. This is the largest village founded by Vissarion (the former Sergei Torop), the leader of the religious movement the Church of the Last Testament. Vissarion claims that it was revealed to him in 1990 that he is a reincarnation of Jesus Christ. His church preaches vegetarianism and reincarnation, believes in the presence of aliens, and predicts that the end of the world is imminent. Nearly 2000 m above sea level, Solntsa was built from scratch in the early 1990s as a place where man could live in harmony with nature. Only adherents of the Church are allowed to settle here, although guests are welcomed. Visitors sleep in wooden houses, with men housed on the first floor and women on the second, never mind your marital status. There is a cafeteria on site. Powered exclusively by solar panels and generators, this is as welcoming an invitation as you're likely to get from a religious sect. Called Solntsa locally, its official name on maps is Tiberkul. Located east of the village of Bolshaya Irba in Kuraginsky District in southern Krasnoyarsk Region, one must to travel to the village of Petropavlovka and then travel about two hours down unpaved roads.
http://fishki.net/1274121-puteshestvie-v-gorod-solnca.html
http://www.slavorum.com/forum/index.php?topic=6658.0
http://album.vissarion.eu/en/index.html
All rights reserved by Rossiyskaya Gazeta.