Moscow city beaches for a bargain holiday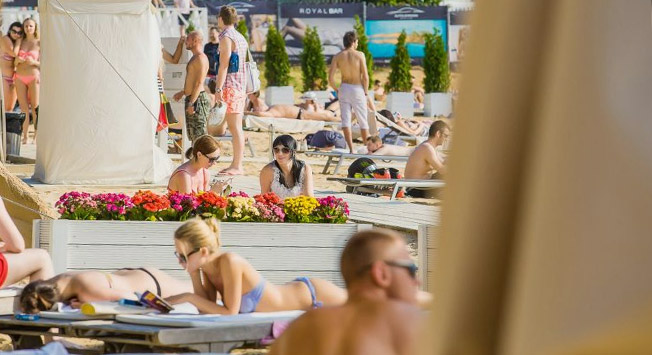 RBTH presents the best beaches in the capital.
Swimming
Alas, Moscow is not on the ocean, and the lack of a nearby body of water is felt acutely in the summer. However, things are not as bad as they might seem at first glance. This year, 10 places where you can work on your tan and go swimming officially opened.
Arguably, the only place where someone would really want to spend time is the respectable Beach Club. There, you can truly forget about life's troubles and relax. The club has everything you would expect to find at an upscale sea resort: a closed water area, white sand, lounge chairs, a yacht club, a restaurant with tasty Italian food, a bar with music and DJs and, of course, nearly every type of water sport imaginable: quadricycles, boats and catamarans, waterskiing, windsurfing and many more. There is a dedicated area for children, which includes a swimming area. However, the gratification comes at a high price. The average cost for this leisure is around 7,000 to 10,000 rubles. ($200 -294)
Address: Vodny Stadion metro station, 39 Leningradskoye Highway. Hours: 10 a.m.–11 p.m. daily. http://www.beach-club.ru/
There are other places in Moscow where you can swim, but in those places you will not be able to escape the realities that come with relaxing on any public urban beach: a lack of deck chairs, neighbors who are not always pleasant, and masses of people.
Swimming is permitted in the following locations in the city: Beloye Ozero, Serebryanny Bor-2 and Serebryanny Bor-3, Bolshoi Gorodskoi Prud, Chernoye Ozero in Zelenogradsky Okrug, the Levoberezhny and Beach Club beaches and the Meshcherskoye leisure area.
The addresses of all the beaches can be found here: http://pro-stranstva.ru/ gde-kupatsya-v-moskve/ (map of the locations, in Russian).
Wakesurfing
This activity is quickly gaining popularity. The principle is simple: the rider starts on a board in the water, holding on to a tow. After the motorboat builds up speed, the wakesurfer effortlessly continues to ride the waves. This is when things get interesting! You get to experience a feeling of completely independent riding, yet you do not need titanic strength to stay upright—the wake from the motorboat is not as high as surfing waves in the ocean. This type of activity is especially fun for people who want to spend time with their friends. You really will need your friends—the more people there are on the boat, the "better" and steeper the wave you ride will be. Schools and locations
Malibu: http://wakesurf.ru/
Rental: 90 rubles ($2.6)/min.; 4 boats operate daily from 8 a.m. to the last customer. How to find it: Strogino Beach, Alye Parusa Wharf.
WakeBrothers
Rental: 90 rubles/min. You can ride the powerful SupraLaunch 24SSV boat, which has the biggest wake in Moscow. How to find it: approximately 6 km from the MKAD on the Dmitrovskoye Highway–MRP Yacht Club, or 300 m from the Vodniki platform in the direction of Savelovo.
Monoskiing and hydrocycling
There is another water sport that is perfect for people who miss winter and Alpine skiing. You can reach a speed of 60 km/h, and in order to stay standing you need to be in excellent physical shape.
Feniks waterskiing and wakeboarding school: http://www.wakeschool.ru/ Klyazma Hotel and Resort, Klyazminskoye Reservoir, Povedniki village
Rental: 80 rubles/min., including equipment ($2.2)
Windsurf Club: http://www.clubwindsurf.ru/
Stroginskoye Highway, northern bank of the Stroginaya Floodplain
Rental and lesson: 65 rubles/min. ($1.8)
If you want to enjoy riding with the breeze, you can do some hydrocycling, which has become an essential part of any summer trip to the coast. You can rent a hydrocycle on nearly every body of water in Moscow. For people who yearn not only for speed, but also for extreme sports, the hydrobike is perfect—this is a more powerful variety that can reach speeds of 100 km/h.
Just Crazy: http://uvodi.ru/ 65–66 km MKAD, ТVK, 2, Crocus City Yacht Club
Strogino Yacht Club: http://river-lounge.ru/
All rights reserved by Rossiyskaya Gazeta.