In Chemalsky, a region of Altai, is a village resembling a lost paradise. Here Buddhists live in harmony with yogis, indigenous peoples, as well as members of a traditional Russian cultural center and four art galleries.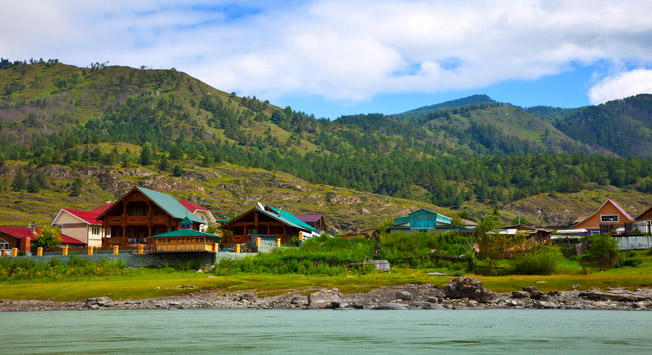 Photo credit: Lori/Legion-Media
Almost every courtyard here houses someone engaged in the arts. The village of Askat has 120 residents, with one-third of them working as artists and painters. Local residents say that it is impossible to visit Askat just once. Everyone returns and some even move here permanently. It is easily reachable by car or public transportation.

History
Four kilometers from Askat is the village of Anos, where at the beginning of the 20th century the famous Altai artist and social activist Choros-Gurkin (born Grigori Gurkin) worked (his paintings can found here). A native of Altai, he audited courses at the St. Petersburg Academy of Arts and was the favorite apprentice of the famous Russian painter, Ivan Shishkin. After traveling to the capital of the Russian Empire, he settled in Anos. He was baptized in the Orthodox faith, had a comprehensive secular education and was devoted to his people's culture. Such a combination spawned a personality of a grand scale. After the Revolution he led the Mountain Duma, attempting to establish an independent government in Altai. He paid for such activities with his life: in 1937 he was shot under a court order by the People's Commissariat for Internal Affairs of the USSR. In Anos his museum estate was recently recreated. Many reproductions of his paintings can be found there.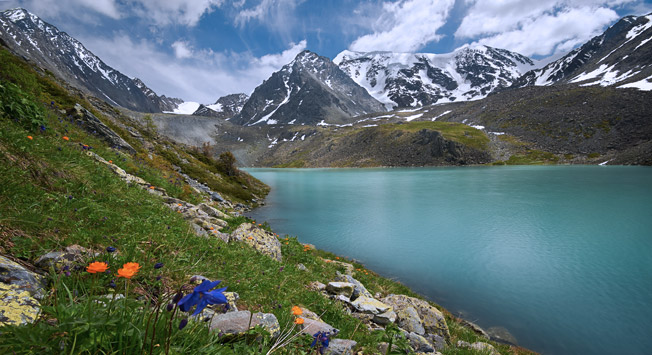 Photo credit: Shutterstock/Legion-Media
Several kilometers from Askat downstream along the Katun River are stone bowls filled with turquoise water, fed by the springs of the "Golubye" (Blue) Lakes. In spring, the lake and springs are covered by the spillover from the Katun River. In fall, when the river becomes shallower the lake appears unfrozen and remains this way until spring. During the Feast of Epiphany in January, many locals and travelers come here to plunge into the lake for an annual cleansing.
Hosts
Boris Surazakov lives full time in Askat. A tireless landscape painter, he frequently joins mountain climbing expeditions with his easel in tow. He finds his artistic inspiration on mountaintops. Surazakov's local exhibit is organized in an octogonal "ail," a form of housing typically found in Altai consisting of a huge tent with a wooden frame and a felt cover. Surazakov treats nature and Earth's original inhabitants with respect. Before expeditions he frequently cleanses himself with a multi-day fast.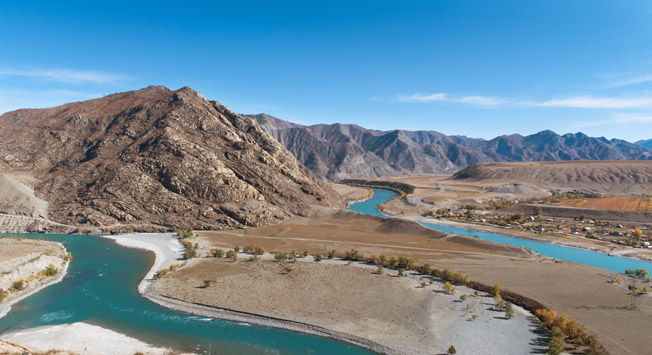 Photo credit: Shutterstock/Legion-Media
Nikolai Chepokov is a self-taught graphic artist and frequently spends his winters in Askat. As an orphan he adopted a nickname, which in Altai often refers to vagrants that survive by seasonal work and value their freedom.
Once an English tourist bought a painting for a large sum of money. It was then that Chepokov understood that his drawings were valuable. He continued to wander and paint. Today Chepokov has published calendars and albums and thousands of his drawings are in private collections and exhibitions in China, Austria, Switzerland and Russia. Yet, Chepokov remains largely unknown.

Newcomers
Askat is located on the left bank of the Katun River and the road that connects it with other towns is on the right bank. The creaky wooden bridge across the river saved Askat from mass tourism for a long time, as it was only possible to go across the bridge by bike. When a more sturdy bridge appeared tourism development quickened its pace significantly.
Some people that come to Askat change not only their way of life, but their professions completely to become artists.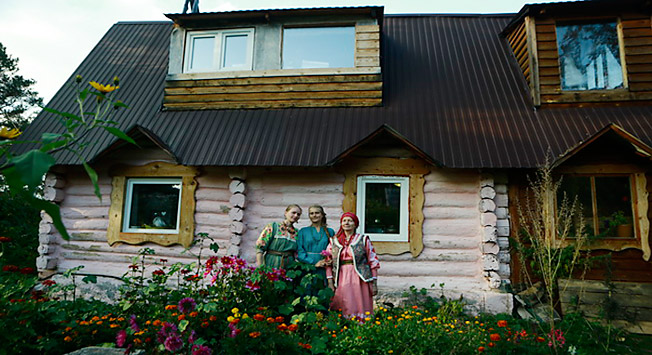 Photo credit: Valery Klamm for RBTH
The hostess of art gallery Strela Sartakpaya, Ruslana Chesnokova, a ceramicist, moved to Askat with her husband Andrei after the default of 1998. In Ruslana's gallery there is a large collection of ocarinas or ceramic flutes, a local specialty created by only a select few in Askat. The ocarinas of the Askat masters are ordered by musicians from all over the world.
Vasily Golovan moved here with his family from Zaporozhye 18 years ago. He wanted to move his children from Zaporozhye to a place with a healthier environment. One journey to Altai was enough for Golovan to know where his place on earth was.
Vasily Golovan was an amateur painter at the time. His daughter, Dasha, nine when she arrived in Aksat, began to paint and today her works are displayed in private collections in Russia, Germany, the U.S., Norway and Poland and exhibitions domestically from Siberia to Moscow. One of her works, the "Blue Lake," is in Dmitrii Medvedev's private collection.
Dasha remains a self-taught artist, as her parents did not want to learn formal painting and thus she found her own unique style using watercolor on silk. Her most subtle and delicately drawn Altai landscapes today can be seen and purchased in Askat at the Art Gallery of the Golovan Family.

In the straw cottage of Lukomorye
At Lukomorye, a traditional center of Russian culture, it is possible to see a large collection of hand-embroidered linen clothes with ancient Russia protective symbols, belts, bags, tablecloths and towels. All items are available for sale and can be customized according to your tastes.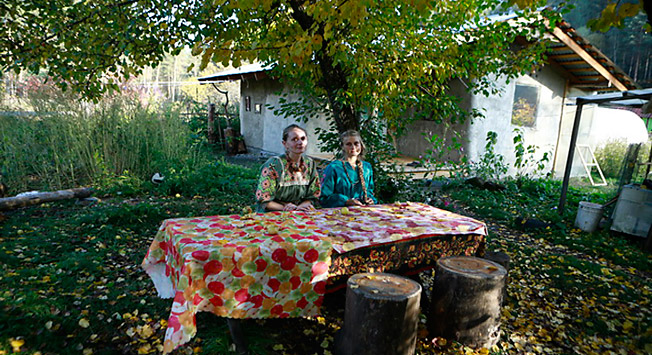 Photo credit: Valery Klamm for RBTH
Protective embroidery is an ancient and powerful symbol of traditional Russian culture. Every sign on the embroidery means a key to one of the "energy channels" on the human body. For example, a diamond symbolizes land and fertility. A diamond with a circle in the middle is a "sown field" representing a happy woman in motherhood.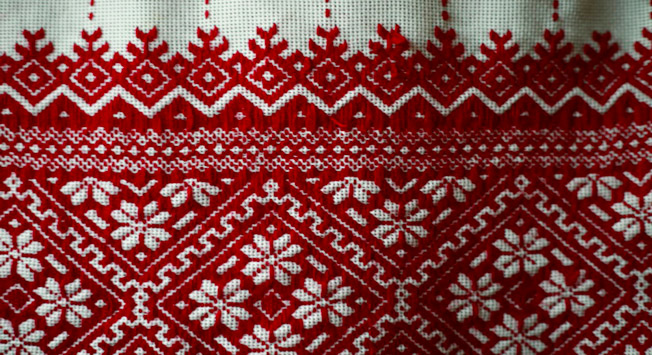 Photo credit: Valery Klamm for RBTH
In Lukomorye it is possible to live in a straw cottage built according to tradition. Using straw is an old technology, which is praised today for its light environmental imprint. Additionally, while it takes the forest 100 years to grow back, straw is an easily renewable material. Living in a straw hut can improve breathing and general health.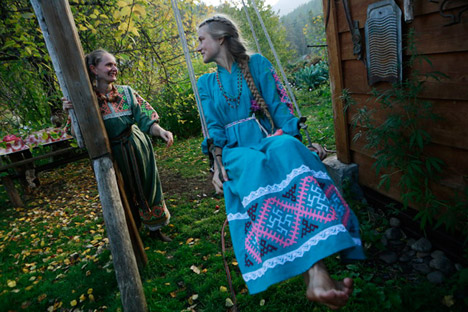 Photo credit: Valery Klamm for RBTH
Must-see places nearby
Near Askat there are two springs filled with healing waters. One is right next door, while the other is seven kilometers away along a forest road or the shores of the Katun River. Choros-Gurkin's museum in the village of Anos is near there.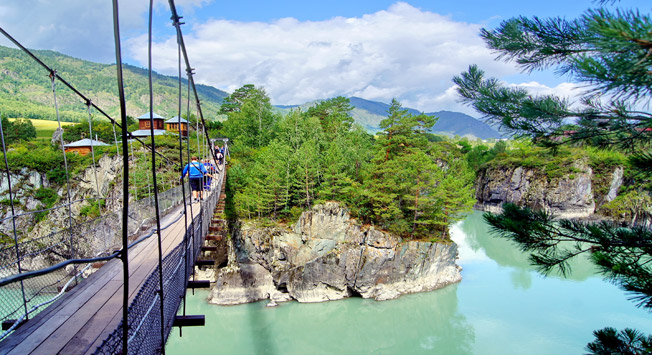 Photo credit: Valery Klamm for RBTH
In autumn and winter visit the Blue Lakes. They can be reached by foot or car, or by sled during the winter; you can arrange horses with the locals. In summer climb to the top of Lukovka Mountain to enjoy its great views of Altai nature.
Local residents and surrounding bases offer one day and multi-day trips to most places in Altai. It is worth visiting Chemal, the district capital. Its air is clean and there is an island in the middle of the Katun that houses a monastery. The island can be reached by crossing a high-altitude bridge over the river.
How to get there
From Moscow fly or take a train to Barnaul or Novosibirsk. From there take a bus to the Chemal village or hire a taxi to Askat. You can also take a train from Barnaul to Biisk and from there take a bus (from the stop at Askat to Chemal) or a taxi (to your destination). It is also possible (although flights are less frequent) to fly from Moscow to Gorno-Altaisk and then continue to Askat by bus or taxi.
Where to stay
If a stay in a straw cottage is what you're after, contact Lyubov Kalinina of Lukomorye in advance: askatmilena@mail.ru, skype: askatmilena. Not far from the village is a standard tourist base called TourSib. They can be reached at Tursib-Admin@alt.wsr.ru. Local residents of Askat rent out rooms in their houses to tourists.
All rights reserved by Rossiyskaya Gazeta.