Moscow for two: 5 romantic spots in the capital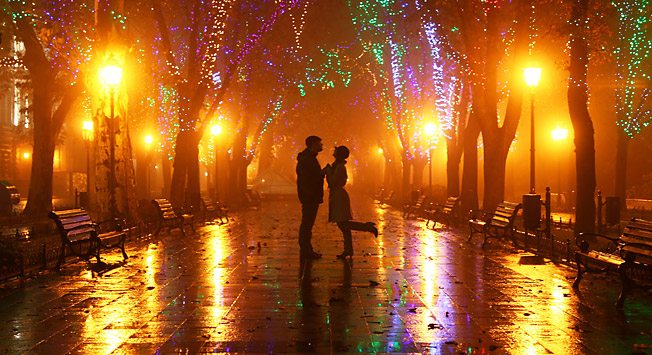 RBTH has unmasked five secluded corners in Moscow for travelling couples and those in the mood for love.
1. Apterkarsky Ogorod (Apothecary Garden)

Photo credit: TASS/Alexey Zotov

The Apothecary Garden is so close to the heart of the city's bustle, yet hidden from the eyes of passersby. Therefore it is wholly unexpected to find such a quiet corner next to the bustling boulevard, Prospekt Mira. It's no wonder it's so well hidden from the public eye as finding the entrance is not that simple: It is necessary to walk through the building at Prospekt Mira, Number 26/1 and buy a ticket there before entering the park.
The garden is open year round. In winter the ice sculpture exhibition and orchid festival are the main attractions, while in spring magnolias and other exotic flowers bloom. In summer it is possible to interact with the fish in the pond and in fall it is a wonderful place to sit on a bench and admire the colorful seasonal leaves. The greenhouse is a particular delight in winter: After freezing in the subzero temperatures of the streets, you can find yourself in a tropical jungle with monster pine trees and pineapples, an experience that can only be had here during Moscow's long winter days.
2. The Observation Deck of the Academy of Science

Photo credit: TASS/Ramil Galeev

The observation deck of the Academy of Science (also known to Muscovites as the "Golden Brains"), is not the city's most hidden secret. But less known is the panoramic view of the deserted square near the building. Finding it is a quest in and of itself that can add adrenaline and bring a couple closer together.
From here it is possible to see the multi-colored roofs of elite residences and St. Andrew's monastery, the Moscow river, bridges, the sports arena Luzhniki, Moscow State University's main tower, the skyscrapers of Moscow City, Christ the Savior Cathedral and the Bell of Ivan the Great. The security guards are quite relaxed as the square is so little known. Take along a blanket, a thermos full of tea, a couple of sandwiches and arrange a romantic picnic and take in a Moscow sunset.
3. Hermitage Garden

Photo credit: TASS/Alexey Stoyanov

The Hermitage Garden is a top romantic spot in the center of Moscow. Life bubbles in the garden regardless of the time of the year. In winter it is possible to have a mulled wine after a skate around the rink. When it is warmer the garden hosts jazz music evenings and other festivals and you can roll out your blanket and host a picnic on the lawn.
The most important symbol of the Hermitage garden is a huge silver heart, with a height of about 3.5 meters. This monument of love is shrouded in legends and rituals, which are known only by couples: After making a wish, if you go through the silver heart, your wish will come true. This place even has its own tradition: Every year on February 14 a flash mob of lovers gathers near the heart for one of Moscow's largest groups of kissing people.
This park has been a favorite place for Russian writers to wander and gather their thoughts for more than a century. Anton Chekhov and Leo Tolstoy both loved to walk here and came frequently to admire the old fountain and seek literary inspiration in the quiet garden. An ancient Moscow dovecote has been preserved here with pedigreed pigeons, and squirrels and majestic pheasants stroll the grounds. The garden benches and gazebo provide an opportunity to shoot romantic staged scenes suitable for a wedding album.
4. Chaika Pool

Photo credit: RIA Novosti/Ilya Pitalev

A good suggestion for a memorable date is the open-air swimming pool Chaika. Take a dip together in warm waters in the middle of winter, with clouds of steam soaring around you, all in the center of Moscow. For a fun add on, try miniature golf, with the putting greens located not far from the pool.
Do not forget to pack a swimming cap, flip-flops and a towel, shower products and a doctor's note. Of course, the cap and everything else can be bought on the spot and a doctor can perform a medical inspection and issue a certificate for a small fee (about 10$). Bring your passport along as it is needed for entry.
5. Mosfilm movie studio

Photo credit: Lori/Legion-Media

Take a journey back in time to the 19th century and back at the Mosfilm movie studio. Walk through the ancient streets of Moscow, which have been preserved in Moscow's version of Hollywood after the filming of several famous Russian films including, "Doctor Zhivago."
In addition to the atmosphere offered by the film sets in Moscow's Hollywood, one can see vintage automobiles, modern film sets, collections of famous film costumes and accessories from numerous Soviet classics, replicas of monsters used in the filming of Russian fairy tales and screenwriters, cameramen, directors and actors scurrying about from one film set to another. It is only possible to tour the Mosfilm studio grounds as part of a tour. Reservations are required for group tours.
It is possible to arrange group tours from Monday to Friday 10:00-18:30 or attend a scheduled excursion on Tuesdays at 15:00 or on Thursdays at 15:00 or 18:30.



Photo credit: RIA Novosti/Vladimir Astapkovich
All rights reserved by Rossiyskaya Gazeta.