Walking in the footsteps of the ancient karelians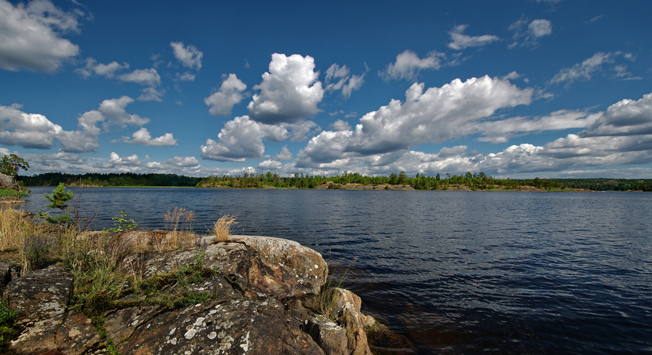 Lori/Legion-Media
Since the earliest memory of time, the Karelians, a small group of Finno-Urgic people, occupied the territory spanning the north-western coast of Lake Ladoga to south-eastern Finland. Of all the ancient Karelian settlements preserved in Russian territory, the most interesting for travelers are the Lakhdenpokhya district, a fortress near the present settlement of Kurkijoki, the Pudozhsky region with its mysterious rock messages, the village of Kalevala, which is famous for its runes, and, the festival region of Olonetsky.
From the 12th to the 13th century the territory of Karelia was part of the Novgorod Republic, the Karelians adopted Christianity in 1227, and later the region became part of Russia. Today the majority of the population of Karelia lives in the territory of the Republic of Karelia (75% of the population). The formation of Karelian people occurred in the Lakhdenpokhya region—an ideal location for fishing and living, where the long scenic fjords of Lake Ladoga, jutting far inland, are also dotted with large and small islands. This region is located on the northwestern coast of Lake Ladoga, and borders with Finland. Frequent raids of neighboring states were common, so the homes of the Karelians had to be built on hills with steep slopes, which was often difficult, so that attacking enemy troops could be spotted from a distance. Such settlements, in which in certain cases village's inhabitants took refuge, were called Linnavori and Linnamyaki — castles on a hill. Remarkably, the names of many ancient Karelian rivers, lakes, towns and villages in this area have been preserved.

Lakhdenpokhya

Photo credit: Lori/Legion-Media
The Olonets region is the only city in Karelia, in which Karelians comprise the majority of the population. The most common route passes through the small villages of southern Karelia, which have preserved the old daily life of the Olonets. Here there are also the villages of jewelers Yurgelitsy and Kuytezha, the village of hunters and fishermen, and Bolshaya Selga with its ancient Karelian huts. It is interesting that every village has its own patron, who residents honored annually.
Olonets is considered the most rich in terms of city festivals. In the autumn the festival of Karelian poetry and national costume is organized, in the winter the person to play Pakkaine - the Karelian Santa Claus, not actually an old man but a young boy - is chosen. In the spring the festival 'Oloniya - Goose Capital' is held, while in the summer the milk 'Cow Parade' occurs.
All rights reserved by Rossiyskaya Gazeta.