At the beginning of the 20th century the village of Sheregesh appeared in a snowy corner of Siberia where the Shor Turkic people lived. Ore miners settled under the direction of the Sheregeshev brothers who opened a mine here. The first ski slopes near the village on Green mountain appeared only in 1981 as a training location for professional athletes. Only in the last decade has Sheregesh become popular among lovers of active winter holidays throughout Russia.



Photo credit: Artem Muntyan for RBTH
The place came alive with the increasing popularity of skiing holidays in the 2000s in Russia. Incidentally, the Russian two-time world champion in snowboarding Ekaterina Tudegesheva hails from this area and she is a native Shor. The majority of visitors come to Sheregesh from the surrounding cities of Novokuznetsk, Novosibirsk, Kemerovo, Tomsk, Krasnoyarsk and Barnaul, but guests from the European Russia are not uncommon. International travelers have started coming as well with groups of Germans, Americans and Australians already having come this year. One company that could be of assistance in organizing a holiday is 56th parallel, an Australian tour firm specializing in tours to Siberia.

Early snow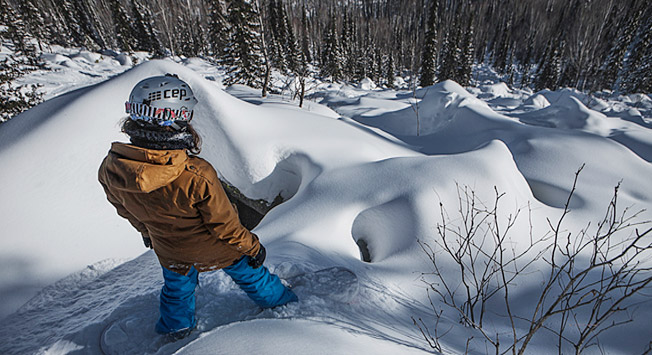 Photo credit: Artem Muntyan for RBTH
Ivan Malakhov, provider of Columbia, Head, Giro, Actioncams.ru, participant in Freeride World Tour 2015, fifth in the world rankings of the Freeride World Qualifier:
"Every year from November to December I travel to start my season in Sheregesh, since there is more snow there than in Europe. I checked. The flight is cheaper than a flight to Europe, and the prices are also cheaper than those of European resorts. A full-day ski pass starts at $11 (500 rubles) and hotel accommodations start at $11 (500 rubles).
Many wonder why skiers from western Russia fly up to five hours to the Siberian forest, when Europe, the Caucasus and Sochi are nearby. The answer is because the snow in Sheregesh is already falling in September and this resort starts operations in November, earlier than anywhere else in the country. The full skiing season here lasts six months.
Russia and Siberia in particular, are known for heavy snowfalls and long, cold winters. In the winter months temperatures here are frequently lower than -30 C. Therefore, November and the spring months are particularly busy here. With its unique microclimate, Sheregesh is credited with having some of the best snow conditions in the world — crisp, light and dry. Artificial snow is unnecessary here.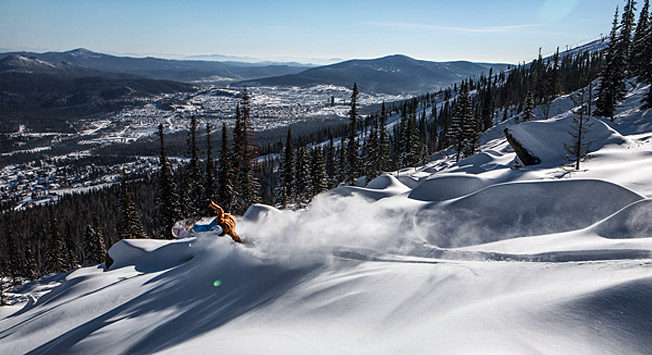 Photo credit: Artem Muntyan for RBTH
Spring temperatures usually range from +10 to +15 degrees and the snow does not melt. It is in spring that Sheregesh organizes the biggest bathing suit ski race in the world with a Guinness World record as proof. It was first held in 2013 and this year participants wore costumes with the race turning into a vibrant carnival. The resort is also host to several festivals such as opening of the season with shamanic dances, a Russian pancake celebration on the slopes and, of course, the welcoming of the New Year.
The skiing zone of the resort comprises four hills ranging from 120-680 meters. The tallest peak, Green mountain, is 1270 meters. There are 42 kilometers of trails, but Sheregesh is better known for its off-trail skiing areas. Because of the low altitude of these mountains, there is no fear of avalanches and skiers can go in any direction that they wish. It is for this reason that riders come here.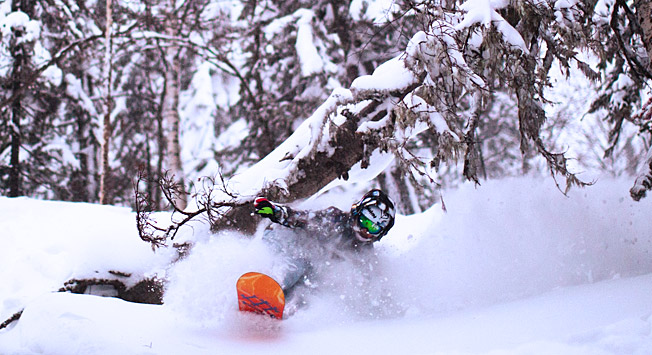 Photo credit: Andrei Britanishskiy for RBTH
In some places the snow falls up to four meters deep. If individuals are not permitted to freestyle ski on some big mountains because of the fear of avalanches, then in Sheregesh it is because the snow can be too deep. Since the altitude is low, lost skiers can call the resort rescue service themselves (+7-903-985-9948). Seven local rescuers serve as a search-and-rescue team on snowmobiles.

In search of the Yeti
Three years ago the region attracted attention because just 35 kilometers from the resort traces of Bigfoot were discovered in a cave. Expeditions were undertaken, theories were hashed out, scientists and hunters came and fake video evidence attributed to the Siberian yeti was produced.
In addition to an international expedition of hominologists, the cave was also visited by a team of bloggers led by former Russian boxer and current deputy Nikolai Valuev. The Russian media went wild comparing Valuev, who is distinguished by his large size and prominent eyebrows, to the Bigfoot. The yeti's footprint was about eight times larger than the giant boxer's.
The local population has cashed in on the legend of the yeti and many souvenirs and advertising are connected with the area's most famous resident. Snowmobile excursions can be organized to the cave where the traces were discovered. The region's governor has even promised a million-ruble award ($22,700) to the person that can bring the yeti down to civilization.

Prices and logistics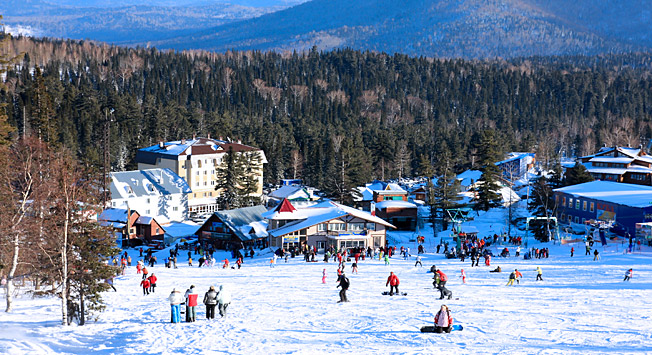 Photo credit: Lori/Legion-Media
Vyacheslav Anisimov, head of the Sheregesh tourist information center:
"The influx of visitors to the resort grows every year. The 2013-2014 season saw 700,000 visitors, while only 30,000 people per season came to ski here during the Soviet period. The resort has been operating for over a month already, which no other resort in the country can boast. People travel here from all over Russia.
Canadian consultants are now helping us plan for the further development of the resort. The government has allocated federal lands for new trails. Everything necessary for a classic resort ski resort experience is appearing: a theatre, bowling alley, indoor skating rink, swimming pool, night club, a shopping and entertainment center, cross-country skiing, snow tubing, festivals and competitions. Our plan is to grow to 1,500,000 visitors per year.
In addition to lifts, skiers can ascend the mountain on snowmobiles, snowcats (crawling snow groomers) or the old fashioned way: by climbing. Locals take guests to the top on snowmobiles starting at about $13 (600 rubles). Other descendants of the original miners that came here sell souvenirs and have opened tea huts. Approximately 50 hotels operate in the area ranging in price from $11 to $230 (from 500 to 10,000 rubles). Tourists can also rent apartments in the village ranging from $34 (from 1500 rubles).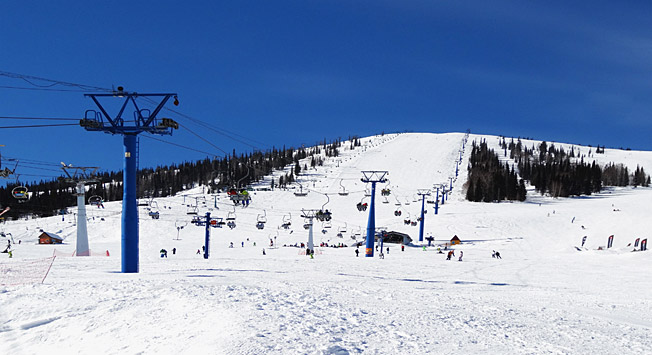 Photo credit: Shutterstock/Legion-Media
The resort is a four-hour flight from Moscow to Novosibirsk and then an eight-hour bus ride (the bus costs $39 or 1700 rubles round trip). It is also possible to take a 4.5-hour flight to Novokuznetsk followed by a three-hour journey by bus (costs $4.50 or 200 rubles in each direction). Flights to these cities generally cost about $180-$230 round trip (8,000 to 10,000 rubles).
Nineteen lifts have been built on the mountains, but all of them belong to different owners. Therefore, a separate ticket is needed for each. In Sheregesh guests still dream of one convenient ticket. In the meantime, prices for one day of skiing costs from $11 to $25 (from 500 to 1100 rubles). Children up to 12 years are generally free, although different lifts have different conditions. The lifts operate from 09:00 to 17:00.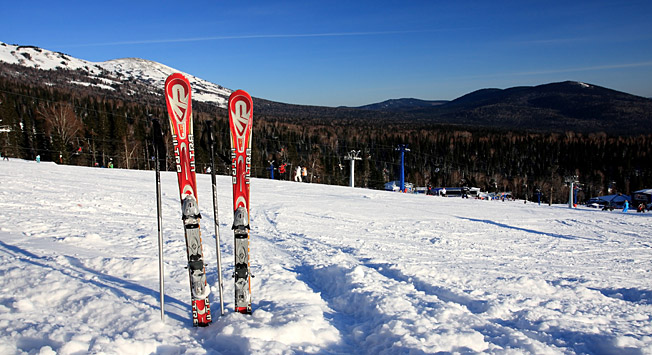 Photo credit: Lori/Legion-Media
All rights reserved by Rossiyskaya Gazeta.