New Year in the Far North: Salekhard, Labytnangi and Khanty-Mansiysk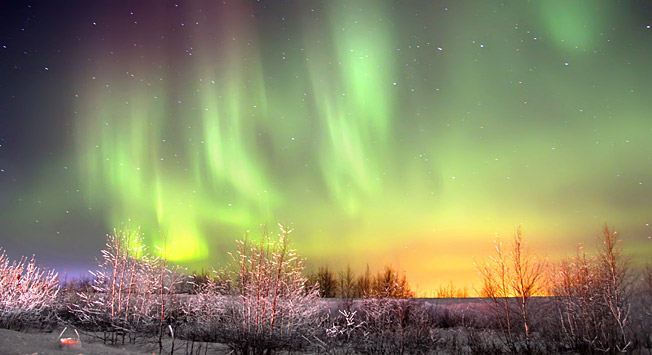 Shutterstock/Legion-Media
Have you ever dreamed of celebrating New Year's Day in the Arctic Circle, isolated from mankind and surrounded by the nomadic peoples of the North? If so, you're in luck.

Photo credit: RIA Novosti/Yekaterina Chesnokova
Khanty-Mansiysk, the capital of the Yugra region, is situated on seven hills where the Ob and the Irtysh rivers flow meet. The legacy of oil, along with the culture of the Khanty and the Mansi peoples, combine to form something uniquely Siberian.
In the New Year period locals love organizing competitions such as snow paintball or races in "valenki" (felt boots) with prizes awarded by "Ded Moroz" (Santa Claus). Other activities include archery, crossbow shooting, snow-painting and shopping for unique gifts at holiday fairs. Khanty-Mansiysk is becoming known for winter sports and has hosted biathlon championships more than once. All manner of winter sports equipment is available for rental.
Go to the Torum Maa ethnographic park, which features more than 6,000 items related to the life of the native peoples of the region. The park hosts various exhibits including hunting warehouses, smokehouses, a bread oven, a shrine, a sacred shed and seven holy idols. Holidays and ritual ceremonies, such as the "bear's games" or the "crow's celebrations" are often celebrated here.


Photo credit: RIA Novosti/Yekaterina Chesnokova
At the city's Archaeological Park it is possible to experience a day in the life of the Stone Age. Understand our ancestors through the park's naturalistic sculptures that depict fossilized animals and life-size Paleolithic people, a prehistoric man display and ancient geological monuments.
While in Khanty-Mansiysk make sure to try thinly sliced "muksun" fish and reindeer meat.
Gifts: Ugric tambourines, national shawls, "unty" (reindeer-skin boots), "kamusy" (ski skins) and cedar nuts.
All rights reserved by Rossiyskaya Gazeta.