Irkutsk for foodies: 5 local dishes worth trying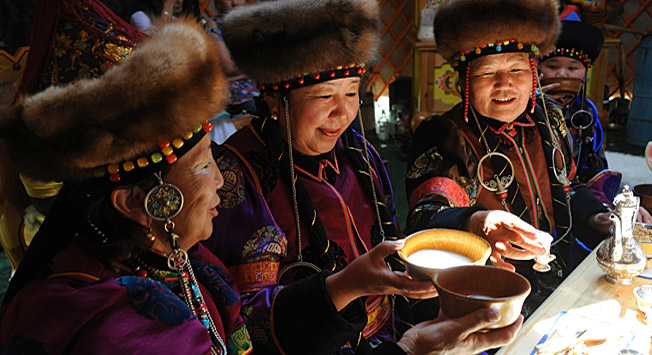 Irkutsk (4203 kilometers from Moscow) is equally European and Asian: this is where Russian and Buryat (a nation that populates the neighboring Buryat Republic) customs form an interesting mix. It is especially visible in the locally prepared food, which offers visitors to the city an entire flavor palette of both national cuisines.
1. Tarasun
In Irkutsk, hospitality is not represented by bread and salt, but a shot glass of milk vodka called tarasun. This drink is made by locals following an old recipe based on milk that undergoes a special fermentation process. No family celebration in Irkutsk is held without tarasun, not to mention weddings where locals can drink gallons of this beverage. Tarasun production is still not produced commercially and it is not possible to buy this drink in stores. To get it you will need to visit a local market. Look for the best tarasun at Rusinovsky market in Irkutsk and in private cafeterias that offer national Buryat cuisine. Many families make their own milk vodka using homemade moonshine stills, so if you visit a hospitable local family you may be treated to this drink if you're lucky. The taste of tarasun leaves no one indifferent – you will either love it, or perhaps it will take you some time to appreciate. Some say that milk vodka reminds them of fortified milk whey, while others taste a hint of cow dung in it. Tarasun is best served cold with Buryat buuz (large dumplings) or tsuivan (see below), a Mongolian noodle dish popular in Irkutsk.

2. Shan'gi
Shan'gi is a national Buryat scone made of dough mixed with mutton fat and is a constitutive part of many meals in Irkutsk. Shan'ga serves a similar function to bread and looks like a round open "pirozhok" (pie). There are many recipes for this dish nowadays. Women in Irkutsk (in Buryat families women traditionally do the cooking) often add different sauces and meat or vegetable fillings to these scones, which in many respects, makes shan'gi something like an equivalent of pizza for nomads. Shan'gi is often served with tea, which is drunk here with milk and salt.

3. Ulaazhargyn sai (epilobium)
Ulaazhargyn sai, which is also known in English as epilobium (a kind of flower, also often known as willowherb or fireweed), with milk is an amazing drink, a mix of the scents of boiled cream and forest. It is made from the sun-dried leaves of epilobium, which is scalded in milk or cream in a pre-heated oven. Epilobium with milk is served both hot and cold, depending on the time of the year and your preferences. Some women in Irkutsk say that this tea is a reservoir of vitamins, and if you drink it every day for a month, you will not get sick during the following year. Ulaazhargyn sai is usually served with shan'gi and sweet blini (pancakes).

4. Salamata
Milk dishes are especially popular in Irkutsk, but salamata stands out even among them. This dairy delight is made from rich sour cream, salt and black rye flour. The cooking method has not changed for many centuries: sour cream is placed in cast iron boiler and after it is heated very well, flour and salt are gradually added. You need to intensively stir what is in the boiler so that there will not be any lumps. Salamata is considered a national treasure of Irkutsk and it is served during many celebrations as an appetizer prior to hot entrées.

5. Tsuivan
Perhaps the most beloved food among Irkutsk natives is tsuivan, a noodle dish native to Mongolia. Firstly, it is easy to prepare and secondly, it is tasty and filling. Tsuivan is a traditional plate of fried noodles with meat. However, locals have their own secret recipe, which makes it especially pungent and nutritious. The dish acquires a distinctive flavor and smell due to the fact that boiled noodles are fried together with meat and onions. Tsuivan is usually served with tarasun or its milder counterpart khuremge, a cloudy-green milk drink that is popular among Buryats.

You can reach Irkutsk from Moscow and St. Petersburg either by plane (there are daily flights) or by train along the Trans-Siberian railway. Tours can be booked at the Irkutsk Baikal Travel agency. English-language excursions should be reserved in advance.
All rights reserved by Rossiyskaya Gazeta.