Getting lost and found in one of Moscow's oldest art clusters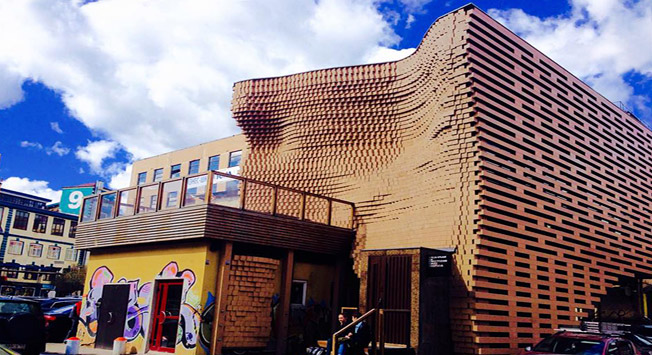 Several years ago Artplay moved into the ex-industrial space and has since managed to carefully reconstruct the factory buildings and breathe new life into them, providing shelter for young Moscow galleries, artists' studios, cafes, bars, bookshops, a music club, a design school, a cinema, children's art studio and much much more. This abundance and variety can be confusing at first, so here's a little guide to help you get orientated.
Note: we won't be mentioning any of the +200 furniture/décor shops or any other businesses related to interior design because there are simply too many. It's safe to say that if you do find yourself in need of a beautiful modern chandelier or a fireplace to cozy up your living room you will definitely find it at Artplay.

Work & learn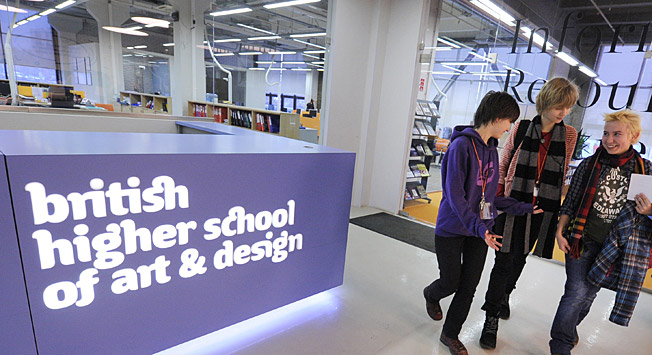 Photo credit: TASS/Valery Sharifulin
There are many educational establishments around the Artplay complex but the most famous one is The British Higher School of Design, founded back in 2003. It's one of the best arts and design universities in the country thanks to its "Britishness": the curriculum and the degrees students receive are fully British, many of the professors are British and students have the chance to spend a year at a partner university in the UK. Apart from full-time programs, the school offers a wide range of part-time educational opportunities. The "Britanka", as it is affectionately known, is joined by the Moscow Film School, the School of Computer Graphics "Scream" and the School of Architecture "MARCH" to form a consortium of independent educational establishments in the creative industry.
Need a place where you can concentrate and get all your work done in a semi-formal environment? Co-working Station is open 24/7 and for reasonable rates (from $195 to $280 per month) you get a place to work and have conferences. Master-classes and seminars take place on a weekly basis.

Food & fun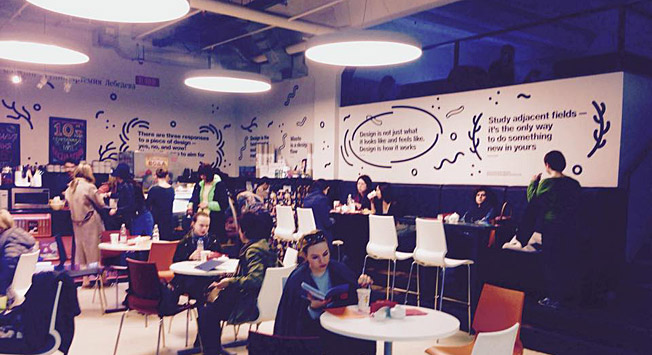 Photo courtesy: Maria Stambler, RBTH
One will not go hungry or thirsty at Artplay, that's for sure. There's something for all tastes and budgets. For a taste of Britain at very reasonable prices, head down to Edward's Pub. Art Clumba is where you go for a city café feel and a signature menu. In the summers there's a very pleasant terrace and an open kitchen for BBQ purposes.
To grab a quick Italian-inspired bite head to Il Giorno for a wide selection of paninis, soups, ciabattas and so on. Bufetrina is a very homey, family-owned cafeteria where there are no menus – every day brings something different depending on what's available so you can be assured that you're getting fresh, imaginative food at "democratic" prices. A cozy café has also recently opened up on the 4th floor of the RMA Business School and you can find quick bites like sandwiches, soups, desserts and so on, along with a good range of non-alcoholic beverages.
For a bit of grooving and fun, Rodnya Studio is always the best option at Artplay. During the day this rooftop loft is used as a space for architecture and design, gallery and a lecture hall as well as a café serving healthy, fresh food. When the sun goes down the bar opens up and weekends see their fair share of partying take place inside (during the colder months) and outside on the terrace when it's warm and dry, bringing local and international underground dance music acts to the decks.

Culture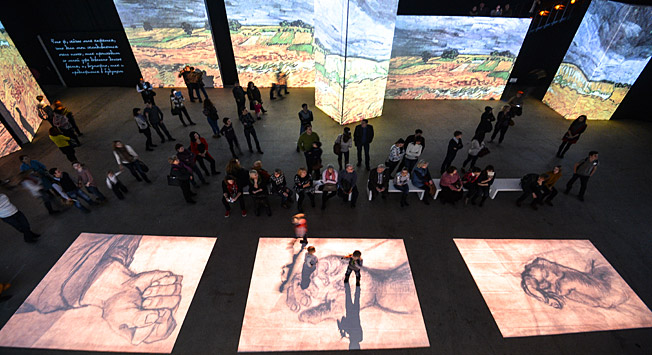 Photo credit: RIA Novosti/Vladimir Astapkovich
Artplay itself has ample amounts of space at its disposal, which it uses to regularly organize imaginative exhibitions in various halls around the complex. It really made headlines when it brought the famous Dutch post-impressionist painter Van Gogh to life with the use of computer animation. Using special 360-degree audio-visual technology, the exhibition allowed visitors inside the mind of the creative genius by hopping on a train with him as he travels to the southern French city of Arles, where he created his world-famous Sunflower series. This kind of fun, interactive and futuristic approach to bringing art to the people is what one can expect on a trip to Artplay.
All rights reserved by Rossiyskaya Gazeta.