Krasnodar Territory: An energy-boosting trip to the south of Russia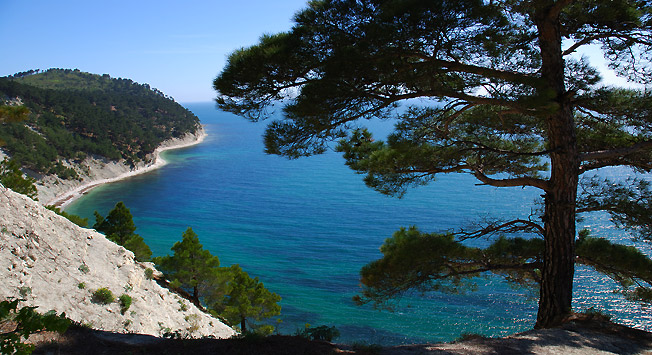 Krasnodar Territory is known for its clean environment: a combination of mountain and sea air, a warm subtropical climate, mineral springs, sanatoriums, and farm-fresh food. Deadlines, urgent emails and telephone calls left almost no energy in my burned-out body and mind; I was hovering around five percent of my usual vitality. If I were an iPhone, I would indicate a low battery life and would be in danger of switching off due to lack of power. The Russian south would have to be very resourceful to bring me back to life. I set off on a route popular among Russian bohemians to see if a tired city dweller could benefit from the healing effects of the Black Sea and the Caucasian Mountains.
My first destination point was the balneotherapeutic health resort Goryachy Klyuch, which turned 150 last year. Mineral water containing hydrogen sulfide is available free of charge in unlimited volumes in the Drinking Gallery. There is one rule to remember about this water – the more it stinks of rotten eggs, the healthier you will feel.



Photo credit: Lori/Legion-Media

Visitors are cordially welcomed to the sanatoriums of Goryachy Klyuch where they can spend several quiet and relaxing days, eat a healthy diet prescribed by a doctor and take thermal baths that are good for your skeleton, joints, blood vessels, skin, female health and the stomach.
I walked along the recreational path breathing the fresh air of the mountain forest. The path leads to the cliff of Salvation, which resembles a rooster's comb. Inside the cliff there is a small cave, which you can enter by crossing the steep Stairs of Life. According to legend long ago there was an Adyghe village located in the area of the present day location of Goryachy Klyuch. A criminal was convicted by the villagers. This person was given one chance to escape punishment by being fast enough to reach the cave by climbing up the cliff.
The beautiful nature around me was a positive influence: I felt my once exhausted body coming back to life and increasing its energy supply to about 15 percent. I decided to visit the ostrich farm on my way from Goryachy Klyuch to Krasnodar. These birds, so exotic for Russia are raised here, so one can buy ostrich meat, articles made from their leather and their gigantic eggs. Just imagine, one ostrich egg is big enough to cook breakfast for an entire family. But still I felt sorry for the fate of these unsuspecting animals, and was a little upset, despite the fact that it was possible to spend a little time and interact with the ostriches, their chicks and other wondrous birds.
Krasnodar


Photo credit: RIA Novosti
Photo credit: Lori/Legion-Media
While traveling around the world I have a tradition of drinking a latte with different flavored syrups – almond, coconut, chocolate, even violet, melon and cucumber. In the Krasnodar cafe #vaflivafli, which is frequented by hipsters, I ordered the tastiest latte I have ever had. The secret was simple – the café's owners use fresh organic milk purchased from local farmers. From what I saw the food and drinks offered in other eating establishments around the city are of the same high quality. Additionally, locals prefer to use environmentally friendly public transportation options such as streetcars, just like the citizens of Bordeaux.
Krasnodar Territory is a place where you can see that Russia also grows its own tea. In 2014 Krasnodar tea was awarded an international certificate attesting that it meets the global standards of organic food production. The tea grown in Krasnodar is the most northern tea harvested in the world, with only a recently launched line of British tea drinks being farther north. Krasnodar tea is available in every food store in the south for only about $1.50 per package. Tea connoisseurs are advised to go to the tea factory in Dagomys to buy exclusive yellow and red tea sorts.
Krasnodar is also famous for its rice. The sort that is grown here tastes similar to Japanese "nishiki." It easily releases starch and can stick together in clumps, making it ideal for sushi. This rice is used in therapeutic diets as well.
The city of Krasnodar made my skin appear much healthier and my energy level jumped to 50 percent of its full capacity.
Eco-villages


Photo credit: Lori/Legion-Media
Photo credit: TASS/Vitaly Timkiv
Another agritourism center on the way to the town of Taman is Shapsuga. Natalia Musienko, the owner of the farm, bakes bread, grows strawberries, fruit and vegetables, and offers guests Russian style entertainment programs. Natalia strives to develop local agriculture, environmental, gastronomy and alternative forms of tourism.
One of the most memorable impressions of my journey to Krasnodar Territory was a Russian jeep safari organized by Natalia. We drove through a village full of cows, horses and children, across a field of blossoming chamomile flowers to see one of the famous dolmens. The villagers say that these mysterious megalithic tombs can make dreams come true.
Abrau-Dyurso


Photo credit: Lori/Legion-Media
Photo credit: TASS/Ilya Scherbakov
After a guided tour to a wine cellar, you will risk spending a little energy and health tasting some of the wines, however, this is not the only thing guests can do here. You can get around by a four-wheeler off road vehicle, motorboat or helicopter; luxuriate at a health spa; play quest games; go to a yoga camp; or participate in cooking workshops.
Taman


Photo credit: Lori/Legion-Media
Photo credit: Lori/Legion-Media
A visit to the house of sparkling wine did not intervene with my health plan and I managed to recharge my body to 100 percent during my journey. My last stop was the beautiful Cossack settlement of Taman: A huge open-air museum, lovely southern landscapes, the Black Sea and the dunes - this was the perfect way to end a trip around Russia's south.
All rights reserved by Rossiyskaya Gazeta.