My Town: Alyona's Krasnoyarsk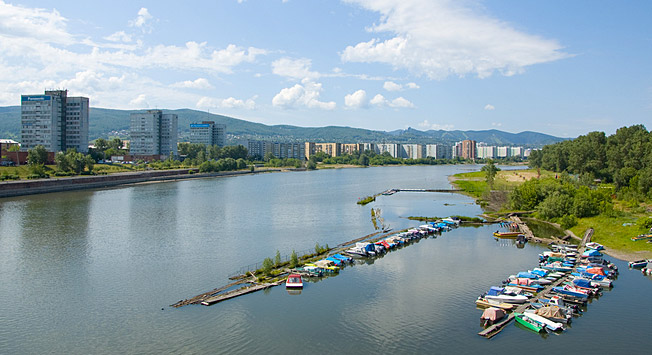 Focusing on history, food and culture, RBTH hopes that you will enjoy regular updates from our "correspondents" and their inside stories about life in towns big and small, rural and urban, provincial and cosmopolitan.
Krasnoyarsk (population: 1,035,528) is located on the Yenisei River, which separates western and eastern Siberia and is 3,354 kilometers away from Moscow and also 3,101 kilometers away from Vladivostok. Therefore, if you want to find it on a map, put your finger right in the center of a map of Russia and then move it a little down and there you go – you will see the biggest city in eastern Siberia and the Far East.

What makes your city unique?
At first sight Krasnoyarsk would seem as common as any other large Russian city: industrial, located on the banks of a river and with one of its main streets named after Lenin. However, having grown up there, I think it is a very unique place. It is known for its beautiful landscapes, captivating mountain scenery, frigid temperatures, mighty Siberian taiga forests and certainly, the lavish Yenisei River.
Initially the fort town founded in 1628 was called "Krasny Yar," meaning a "beautiful cutbank" (using the Old Russian translation). It received city status in 1690; by that time practically all of Siberia was controlled by Russia. The first monument you will see if taking a city tour is a statue of Andrei Dubensky, the city's founder. He stands at the top of Pokrovskaya gora, one of the city's highest hills and overlooks the amazing scenery below.

What is the symbol of your city?
Krasnoyarsk's symbol is the Paraskeva Pyatnitsya Chapel built from 1852-1855. It can be seen on the 10-ruble banknote and is located on a hill near the center and can be seen from several parts of the city. Near the chapel there is a cannon that fires a shot every day precisely at noon and can be heard on the left bank of the city.

What are some of your favorite places in the city?
The most important street is Prospekt Mira. It is a little more than four kilometers long and features beautiful architecture, monuments, squares, fountains and stores. There are two other main streets (ul. Lenina and ul. Karla Marksa) parallel to Mira where you can find good restaurants and interesting places.
Other remarkable sights are the bridges that cross the Yenisei, connecting the left and the right banks of Krasnoyarsk. The railroad bridge from the 19th century is one of five bridges of the Trans-Siberian Railway. The Communal Bridge can also be found on the banknote. If you have time and energy cross this bridge on foot. Walking near the city quay you will be able to see the Opera and Ballet Theater, the Siberian Rivers cascade fountain, the local version of the Big Ben clock-tower (the mayor's office), the Museum of Regional Studies and the River Port.
If you are a bike or a roller-skating lover, you should visit Ostrov Tatysheva (Tatyshev Island), which can be accessed by another beautiful bridge from the Concert Hall Square. The Concert Hall itself is a very alluring site to see because of its grand piano shape.

What is an interesting anecdote about your city?
Once the film and theater actor and heartthrob Oleg Menshikov tasted venison in our restaurant "Chemodan" (suitcase) while on tour in Krasnoyarsk. He was so impressed that he decided to open this restaurant in Moscow. The rumor was that when he said, "I will take everything!" he literally meant it, taking not only the idea and the menu but also the staff members with him to Moscow. Nowadays, you can find Chemodan in Moscow where you can taste old Russian vodka recipes and "nastoyka" (vodka infused with berries, fruit and herbs) and, of course, Siberian cuisine.

What is your city's favorite holiday?
Krasnoyarsk residents' favorite celebration is undoubtedly the city's birthday. Each year since 1988 a big carnival is arranged with about 3,500 people participating in a large procession, including the mayor and other officials, dancers and artists. Here you can observe national costumes, see the commemoration of national heroes, and watch short theater performances and dances. Each year the Ministry of Culture invites popular artists from various countries. Last year, Korean guests performed the "Gangnam Style" dance.
Where do you like to go outside the city?
The most famous Krasnoyarsk wonder is indisputably the Nature Reserve "Stolby" ("Stables") where magma erupted and froze into stone sculptures. The reserve covers more than 47,000 hectares and is separated into two areas: one that is open to visitors and the another called "Wild Stolby," a restricted area located deep in the reserve. Almost all of the rocky giants in the reserve have their own names. There are some rocks that can be climbed by practically anyone and there are other rocks that can be summited by professional climbers only. This is the favorite place for many Krasnoyarsk residents and its guests, including myself. There you can connect with nature, experience peace and get a glimpse of the Siberian taiga around you and the city in the distance.
What is there to do in winter?
If you visit in winter there are many ways to enjoy your stay. For snowboard and ski lovers there are several fully equipped resorts nearby. But, when the weather is not favorable you can also visit several unique museums. I highly recommend Surikov's estate , one of Russia's most famous painters who was known for his large-scale historical subjects. This museum is located in the center near a house where Vladimir Lenin lived for two months while waiting to be sent to Shushenskoye for exile.
Of course, there are many more sights to see and places to visit in Krasnoyarsk. I am sure travelers will be amazed that in the middle of dense taiga forests there is such a modern, cultural and developed city. Don't be scared: behind the cold and closed-off looks there are the warm hearts and the geniality of Siberian hospitality. Welcome!
All rights reserved by Rossiyskaya Gazeta.