It is better to start your new Russian culinary journey in a traditional "revolutionary" spot where enthusiasts are given more freedom to improvise than in the serious and pragmatic confines of Moscow.
1. Rassolnik "Leningrad"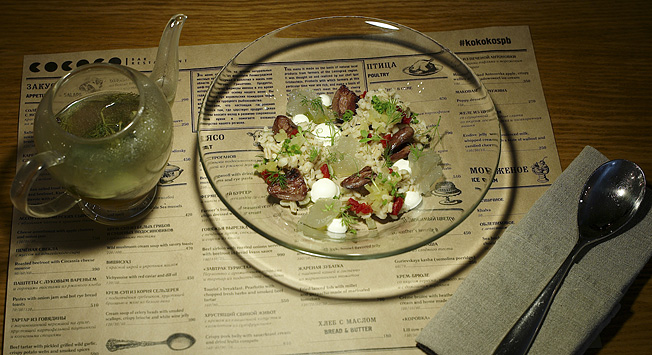 Photo courtesy: COCOCO restaurant
Chef Igor Grishechkin
Pickled cucumber soup with chicken hearts
COCOCO Restaurant
350 rubles ($5)
Igor Grishechkin, a graduate of the Institute of Arts, works with food according to the system of famous Russian theater director Konstantin Stanislavsky: There must be a "super-objective" in any dish he prepares. His theater on a plate has a touch of an in-depth historic memory and leaves a vivid emotional charge in the end.
Rassolnik, a soup based on broth and pickled cucumbers, is an old recipe that became a classic of Soviet cafeterias in Leningrad, due to the simplicity of its preparation and the availability of the ingredients.
COCOCO Restaurant presents a contemporary reconstruction of this recipe that is simpler, yet more interesting than the original. The chef is a proponent of locavore cuisine that uses only locally grown seasonal products. The dish is assembled in front of the customer's eyes: chicken hearts, barley, a tartare of pickled cucumbers, pickled and sun-dried tomatoes are all laid out in the bowl and covered with hot broth. On the side is an aromatic sweet and sour elixir full of healthy acids and minerals that produces a healing effect – the best remedy from a hangover – served in form of gelatin cubes, which creates a sensational and sudden contrasting taste explosion.
2. Altai crayfish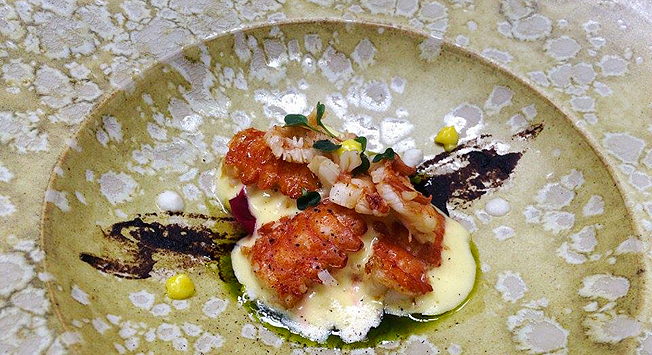 Photo courtesy: Restaurant "Moroshka dlya Pushkina"
Chef Roman Palkin
Restaurant "Moroshka dlya Pushkina" (Cloudberry for Pushkin)
It's best to call in a reservation: +7 921 947-25-00
1300 rubles ($19)
Roman Palkin denies that he cooks contemporary Russian cuisine. "Terms are limitations, a framework," he says. Instead his approach is to use Russian products selected according to the criteria of uncompromising quality.
This is why crayfish do not come from nearby lakes, but are delivered by plane on a weekly basis from Altai. The crayfish are grown in a secret mountain lake in the wilderness, so that they keep a refined wild taste.
The crayfish is cooked in a traditional way. They are placed in a concentrated vegetable broth while still alive. A contemporary rendering is achieved through a combination of sauces. The sweet meat of the crayfish is punctuated by a play on sweet and sour tones. Marinated beets, fermented marmalade-like garlic and a weightless mayonnaise with saffron are added.
The ingredient amounts are calculated with a pharmacist's precision. The consistency of the product is absolute and the time of cooking is verified to a second. Garlic is presented in three forms in this dish: fermented in the form of paste, marinated in the form of emulsion and seared into a powder. Russian cuisine here is something akin to the architecture of Northern Art Nouveau, a popular style in pre-revolutionary St. Petersburg that was based on a rendering of Scandinavian romanticism. This restaurant features Nordic stoicism, a great attention to detail, and a somewhat snobbish attitude that is all the same very St. Petersburg.
3. Victory Carp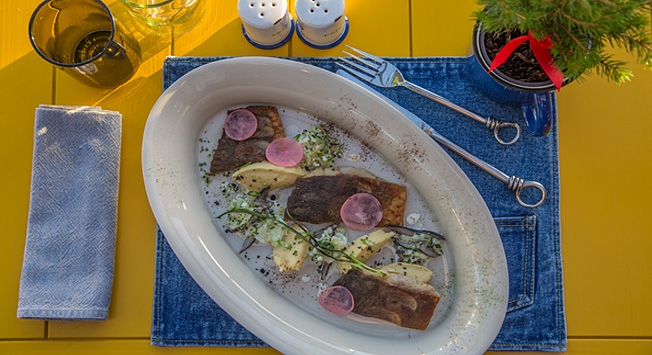 Photo courtesy: Restaurant Gastronomica
Chef Anton Isakov
Restaurant Gastronomica
http://en.ginza.ru/spb/restaurant/gastronomika
700 rubles ($10)
The contemporary Russian cuisine of Anton Isakov is a bold play on Soviet unconsciousness with the use of trendy moves and popular citations from Italy, Japan and other culinary favorites.
A fried carp fillet is placed by the chef against a background of a typical taste palette of the USSR, reconsidered in the format of a gastronomic circus. Canned sprats are added to mashed potatoes, akin to a Mediterranean brandade. Cod liver is served in form of a cream, radishes are marinated and mildly salted cucumbers are fried in sour cream, which makes one remember the common culinary history that Russia shares with China.
What you get a result is a lively representation of key Russian and Soviet tastes that is comprehensible to compatriots and cause curiosity for foreigners.
4. Pike perch topped with onion ashes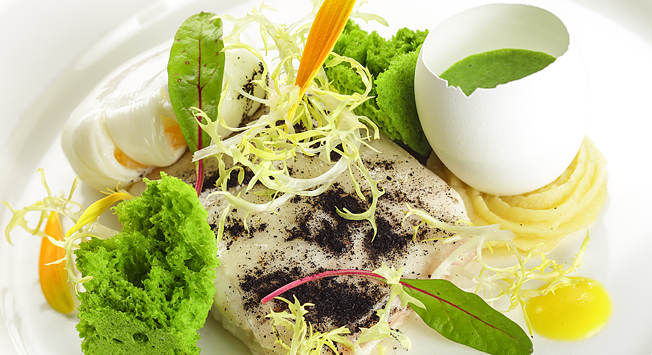 Photo courtesy: Palkin Restaurant
Chef Pavel Melnikov
Pike perch fillet topped with onion ash
Palkin Restaurant
960 rubles ($14)
Pavel Melnikov's bookcase features Elena Molokhovets and Urbain Dubois, the most famous housewife in all of Russia who wrote a culinary bestseller in the 19th century and the author of classic French cuisine who was a royal chef for Russian princes and Prussian kaisers.
Melnikov respectfully works with traditions, balancing between the restoration and reconstruction of old recipes. Palkin, one of Petersburg's oldest restaurants with its 150-year history, obliges its chef to be reserved.
Lake Ladoga pike perch is cooked slowly and delicately according to the technology of sous-vide and put on a cushion of Kamchatka crab. A folksy sour taste of sorrel is transformed into a light biscuit. Ashes of burned onions are a trendy accent and at the same time an allusion to the historical recipe. "I don't go in for provocations, I just work with the nuances of taste. In the end, people come to a restaurant simply for good food," says the chef.
5. Smoke-cured greenling with cod liver, poached egg and stewed mushrooms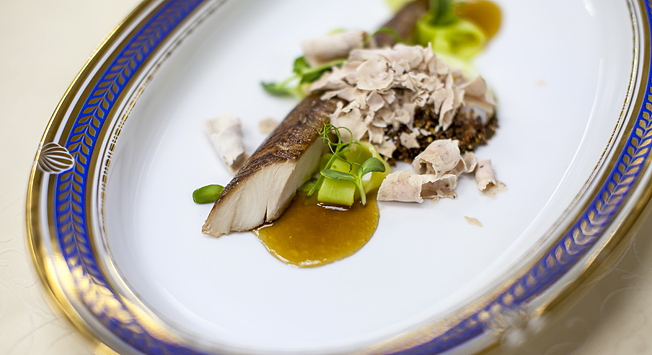 Photo courtesy: Restaurant "Yekaterina Velikaya"
Chef Nikolai Khvalynsky
Restaurant "Yekaterina Velikaya" (Catherine the Great)
About 900 rubles or $13 (dish is from a new menu and the price is being discussed)
Playing on the preferences of national tastes, Nikolai Khvalynsky is trying to bring back the popularity and restaurant recognition to such seemingly simple Russian products and dishes that have been so cruelly forgotten. "Smoke-cured fish is sold in Russia on highway shoulders," he says. "It became something of a highway delicacy. I thought it would be interesting to present it in the category of haute cuisine."
Khvalynsky rhymes the taste of juicy smoked fish with the shavings of cod liver that has undergone four stages of preparation. In the pursuit of necessary consistency and refined taste, the cod liver is marinated in spicy herbs, infused with apple smoke using a special smoking gun and excessive fat is removed in a low-temperature vacuum in a sous-vide and frozen.
The result is hot fish, frozen cod liver carvings, liquid egg yolks from a poached egg, stewed mushrooms and a concentrated aromatic sauce from an old recipe. In the end we get a traditional taste that is brighter and more contemporary due to the use of present-day techniques and a reconsideration of customary recipes.
All rights reserved by Rossiyskaya Gazeta.